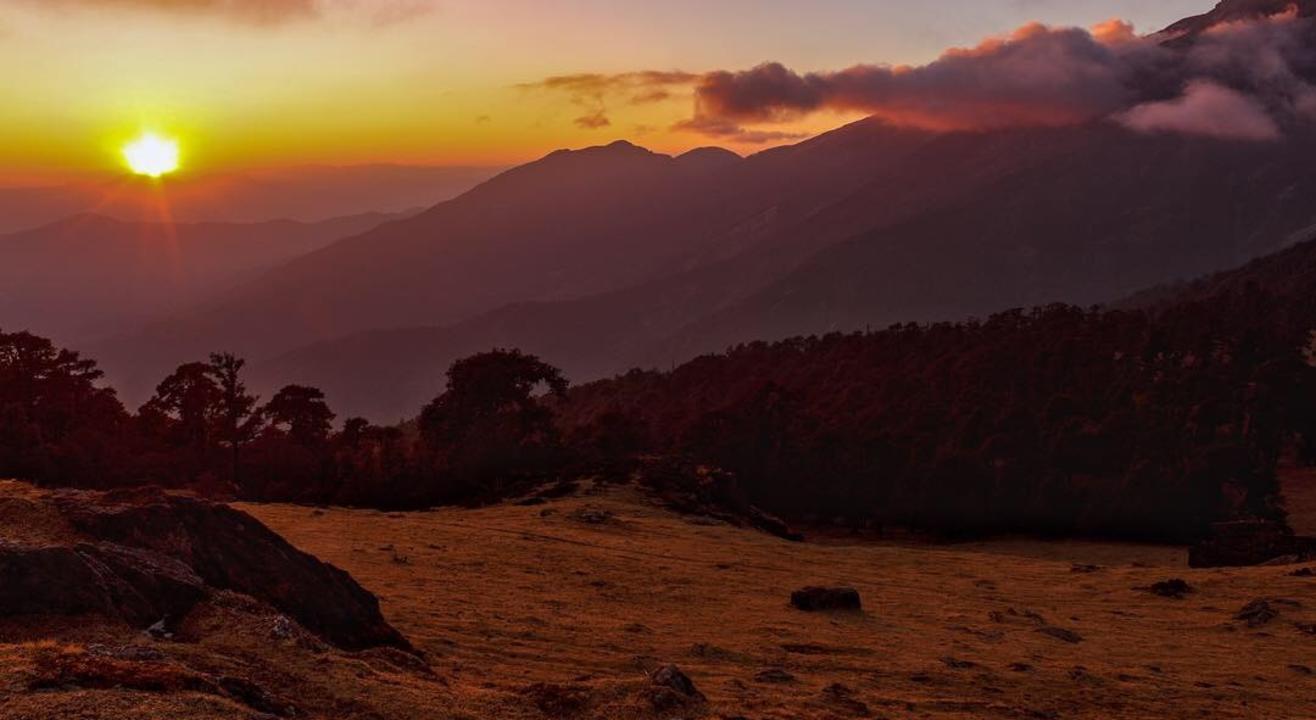 Uttarakhand Backpacking to Rishikesh Auli Kanatal
October 10 | 7PM - January 2 | 1AM
Step out and enjoy this event
Invite your friends
and enjoy a shared experience
Invite your friends
and enjoy a shared experience
About the Event
Description
Uttrakhand Backpacking trip will take you on a journey to the land of gods or 'Heaven in Earth', which is how Uttrakhand is referred by everyone who has been here. The trip will cover some of the very popular destinations in Uttrakhand namely Rishikesh, Auli, and Kanatal.
Uttrakhand Tourism is a popular choice between the traveler and there are a ton of reasons to visit Uttrakhand, at least once in your life. The high mountain-tops, green surroundings, sweet smell of the air and lovely people, what more can you ask from a place?
Uttrakhand is famous for its natural beauty and the fact that being closer to the Himalayas, the place offers some of the best nature viewing sites in the whole world. The folklore and stories from locals will make you fall in love with the places and each destination has its own set of stories, which makes the traveling experience even more wonderful.
Rishikesh is famous for adventure sports and people from all over the country come over to Rishikesh in search of adrenaline-spiking activities. Apart from Rishikesh, Auli is famous for its Ski-resorts while Kanatal is famous for its 8500 feet high summit, which provides a never-to-forget kind of trekking experience.
The best time to visit Uttarakhand is during the months of March to April and September to December. During these months, the weather in Uttrakhand is relatively pleasant and one can enjoy all the activities without any hassle.
There are tons of places to visit in Uttrakhand and all these places add up to the already beautiful Uttrakhand. Laxman Jhula and Triveni ghat are some of the places to visit in Rishikesh While Tehri Dam and kaudia forest are some popular destinations that makeup to the list of famous places to visit in Kanatal.
The reasons you need to check out Uttrakhand Backpacking trip in 2019 are far more than many but if you still got doubts then let us clear them up while you are on a trip to Uttrakhand with Justwravel.
Day 1 : Overnight travel from Delhi to Rishikesh via Haridwar
Approximately 230 km away from Delhi, Rishikesh is our first pit stop and will be the kick-off point of an incredible adventure!
The overnight journey would be around 5-6 hours long and you'll reach Rishikesh in the morning the next day, crossing Haridwar on the way which is a famous tourist spot for its artistic feels and is also a humble city, famous being one of the holiest in our country.
Day 2 : Rishikesh Local sightseeing. Rafting. Camp stay. Night stay
Check in to the campsite
Today, after breakfast, we'll head out for the sightseeing, covering the very beautiful and exquisite Beetle's Ashram, Laxman and Ram Jhula among others and post the sightseeing, we'll be doing the rafting that is actually one of the most famous adventure sports in the city of Rishikesh.
The white water rafting, although looks fun, but is actually quite hard to do and sometimes, the adrenaline rush is just too extreme and you cannot contain the excitement!
We'll head for the gangaaarti around sunset along with thousands of other devotees who come from afar to be part of this incredible moment.
We'll head towards our camps post that.
Bonfire Dinner and Night stay at the campsite
Day 3 : Rishikesh to Joshimath. Night stay
This is going to be a long day with a drive of around 300+ kilometers and 10-12 hours of the bus journey. This route goes beside the famous prayags of Uttarakhand such as:
Vishnuprayag, Nandaprayag, Karnaprayag Rudraprayag and Devprayag in the descending order of the flow sequence. These are the 'PanchPrayags' of the state of Uttarakhand that connotes the five sacred Garhwal Himalaya confluences.
Situated in the beautiful district of Chamoli is the town of Joshimath that serves as the winter seat of Lord Badri, who is brought to this town in idol form by the followers from the Badrinath Temple to the Vasudeva Temple.
Dinner and overnight stay at Hotel
Day 4 : Joshimath to Auli
Auli is 16 kilometers from Joshimath and can be called the capital of Winter Sports in India following the recent developments where athletes from all over the world have made their way to this scenic place in Winters to participate in the Annual Winter games held at Auli.
Auli is a Himalayan Ski Resort, surrounded by coniferous and oak forests, overlooked by the Nanda Devi and Nar Parvat mountains. The town of Joshimath and Auli are connected by long cable car links. The Badrinath Temple, Valley of Flowers National Park and the wildlife such as snow leopards and red foxes all lie North of Auli.
Post brief sightseeing of Auli, we'll come back to Joshimath.
Dinner and overnight stay at Hotel
Day 5 : Joshimath to Kanatal. Night stay at Kanatal
This long journey of around 300 kilometers will take us back through the PanchPrayag route and we'll be going through the Chamba district of Uttarakhand, crossing Tehri and Dhanaulti to reach this small place called Kanatal that many people drive by without knowing what they are missing out on.
For this reason, Kanatal is less crowded than your regular Hill Station and gives you the peace that one needs when in the mountains. The journey is going to be of around 10-11 hours so we'll be starting early in the morning and reach by sunset.
Kanatal is famous as being a very beautiful Swiss Camping spot and so, it is going to be a great experience for those who haven't camped before.
Bonfire , Dinner and overnight stay at Camps
Day 6 : Kanatal Day activities. Start from Kanatal by evening
Kanatal is also famous as an adventure activity hub for people from all around. Activities such as Ziplining, Burma Bridge, Sky Bridge among others are on the to-do list for the tourists who come to Kanatal. Post our breakfast,we'll be doing all the activities already planned for our wravelers.
Once we're done with the activities, we'regoing to rest for a while before leaving for Delhi in evening.
Day 7 : Return to Delhi early morning
We'll return to Delhi early morning and end the tour!
Inclusions
Transport by Tempo Traveller
Stay on double/ triple sharing basis
Meals as per Plan 10 meals ( Day 2 Breakfast + Dinner , Day 3 Breakfast + Dinner , Day 4 Breakfast + Dinner , Day 5 Breakfast + Dinner , Day 6 Breakfast + Lunch
Sightseeing as per Itinerary
Adventure Activities - Burma Bridge, Zipline at Kanatal , Rock climbing in Rishikesh
River Rafting in Rishikesh
Trip Lead - Delhi to Delhi
Exclusions
Anything apart from Inclusions
GST 5%
Any expenses arising out of unforeseen circumstances
Cancellation Policy
No cancellations will be taken over call or whatsapp msg. Please reply to the email of payment receipt that you have received at the time of booking.
Free Cancellation upto 60 days before the departure date
59 Days to 45 days of Departure date. 10% of total Trip cost. (Booking amount is non-refundable)
44 Days to 30 Days of Departure date. 25% of the total trip cost
29 Days to 15 Days of Departure date. 50% of the total trip cost.
15 Days to 8 Days of Departure date. 75% of the total trip cost.
7 Days to Trip Departure date. 100% of the total trip cost.
No Show . No refund.
Incase of government orders, harsh weather conditions , protests , landslides or any other unforseen circumstances , we work out the best possible alternate plans or trips/treks. At times even even certain activities are cancelled , the organization provides the best alternate but no refunds are provided.
If a trek is called off at the last moment due to a natural calamity/unforeseen circumstances (like rain, snowfall, earthquake, landslides, strike, bandh etc.), JustWravel will issue a trek voucher for the full amount and if possible will provide an alternate trek. The voucher can be redeemed upto same amount for the same trek or another trek in the next 365 days from the trek departure date.
If a trek or trip cannot be completed due to natural calamity/unforeseen circumstances (like rain, snowfall, earthquake, landslides, strike, bandh etc.). No refund would be provided.
Any extra expense coming due to any natural calamity/unforeseen circumstances (like rain, snowfall, earthquake, landslides, strike, bandh etc.), Will be beared by customer. Company will not be liable.
Cancellations policy will differ during the peak season and popular places.
Things To Pack
Down Jacket /Main Jacket
Thermals (Upper & Lower)
Clothes
Socks
Undergarments
Gloves
Slippers
Running Shoes/ Outdoor Shoes
Hats/Caps
Daypack
Medicines (Diamox – to reduce chances of AMS)
First Aid Kit
Documents – ID (Driver's License, AADHAR Card, Voter ID :: Passport and Visa copy for Foreign Nationals)
Sun Glasses
Torch
Water Bottle
Power bank
Mobile Charger / Travel Charger
Raincoat
Hand Sanitizer
Toiletries
Cold Cream
Lip Guard
Sunscreen Lotion