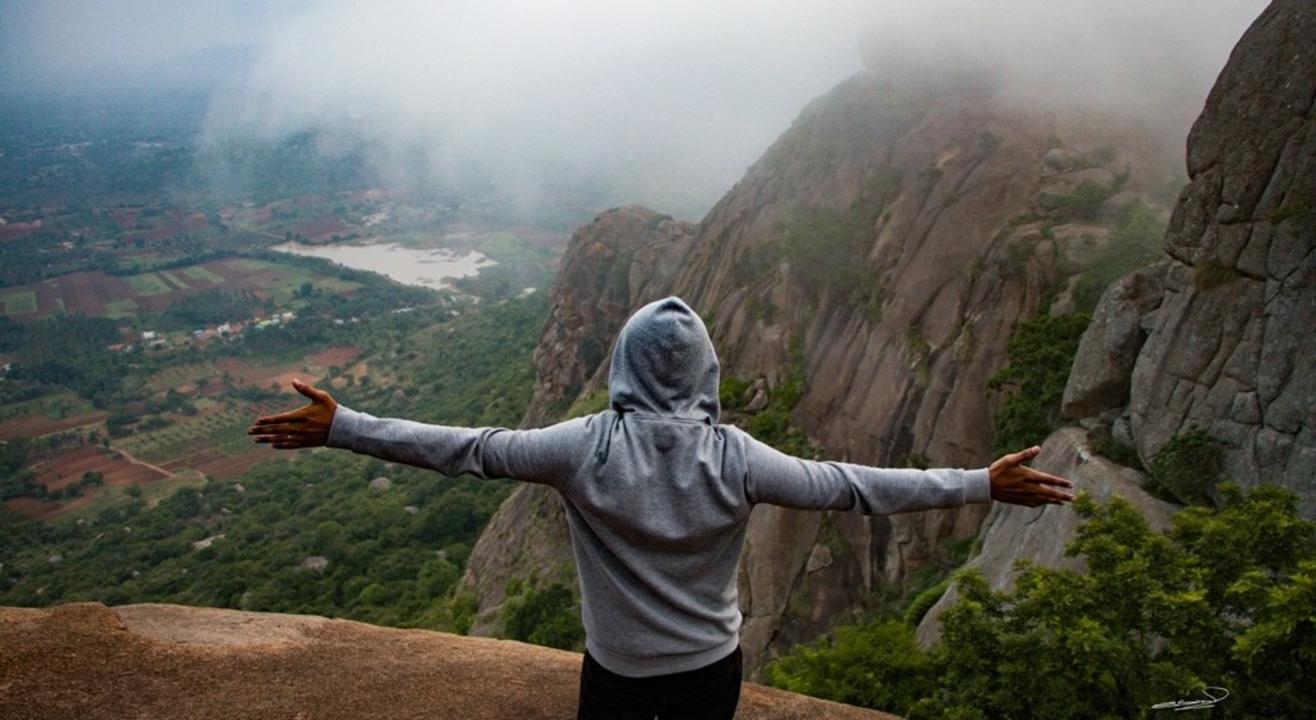 Uttari Betta Sunrise Trek | NammaTrip
Every Friday and Saturday | 11PM
Invite your friends
and enjoy a shared experience
Uttari Betta Sunrise Trek | NammaTrip
Every Friday and Saturday | 11PM
Invite your friends
and enjoy a shared experience
Invite your friends
and enjoy a shared experience
About Uttari Betta:
One of Bangalore's best hiking trail, the Uttari Betta is a 5 kms trek across a spectacular lush green landscape which offers a quite unique scenic view similar to that of Western Ghats. The trek starts from a small village, entering the fort wall and passes through seven doors of stone to reach the halfway point of the hike which has a temple of Shankareswar at the top. The view from the temple top is beautiful enough to seize your mind for a moment. Once we cross the temple, the trek continues ahead crossing a small jungle-cave, experiencing a whole new unexpected world and ends at the grassland top of the hill which is surrounded by huge boulders. After spending some time at the top with little chit-chat around the campfire, enjoy the sunset and after sometime we begin to descend back towards the base point of the trek.
DISTANCE FROM BANGALORE: 75 kms
TREK LEVEL: Easy
HIKE DISTANCE: 5 kms total
Inclusions :
Pickup & Drop from Bengaluru
Breakfast
Forest Permits
Coordinators/ Guides From NammaTrip
ITINERARY:
11:30 PM: Pick up starts from Bangalore from various designated points.
04:00 AM: Start the hike to peak Uttari Betta.
04:30 AM: Reach the top of Uttari Betta and chill around the campfire and enjoy sunrise.
07:00 AM: After the sunrise descend back towards the base.
07:30 AM: Stop on the way to freshen up and have some breakfast
12:00 PM: Reach Bangalore and end this amazing adventure.
Activity
Sunrise Hike
Transport
Pick up and drop from/to Bangalore
Other Inclusions
Breakfast
Trek Permits
Trek Leads from NammaTrip
Things to Carry
Small Backpack to carry below essentials
Water bottles
Energy bars
Personal medication or A First Aid Kit
Sweater/ jackets for the night.
Raincoat/Poncho (if it looks rainy)
Extra clothing (in case you plan to dive in the lake)
Good sports shoes or trekking shoes
Flashlight/Torch with extra batteries
Camera (optional)


Pickup Points
1. Marathahalli (11.00 PM) - Near Kalamandir
2. Silk Board (11:30 PM) - Bus Stop, Opposite To Pizza Hut
3. BTM (11:45 PM) Udupi Garden Bus Stop, Opposite To A2B
4. Banashankari (12.15 AM) - Banashankari Bus Stop
5. Gopalan Arcade Mall (12.30 AM) - Rajarajeshwari Nagar Arch
Pick up Times are tentative. Once you register with us,we will send you the exact pick up times and location on Whatsapp.
Note
Your equipment and equipment distributed are to be carried by self, like bags, sticks, etc.
As you are exploring nature, don't expect washrooms near hills. Washrooms are only available at hotel, campsite(you reach hotel/campsite for breakfast or lunch).
NammaTrip is not responsible for misplacing/loss of any personal belongings.
Don't expect electricity & luxury in the area.
About NammaTrip
We as a Adventure company aim to show you nice people the most beautiful and pristine places in Karnataka.
Preserving the cleanliness & beauty of our beautiful land is our top most priority.
Go deep into the nature
Hike to see the beauty of sunrise.
Trek to beautiful mountains..
Dip in the beaches of our beautiful coast.
Hike through the mystical rainforest of the Western Ghats.
Come Experience Namma Karnataka
Organizer Details
For Terms & Conditions/ Cancellation Policy
Get in Touch
In case of any queries.Do get in touch with us.
COVID-19 SOP
1) Mandatory use of face masks and gloves by the trekkers during the entire course of the trek.
2) The batch size will be limited to maintain social distancing. Trekkers must maintain a distance of 5ft among them during the course of the trail.
3) Trekkers must carry a hand sanitizer and use it regularly for their own safety.
4) Every trekker will be asked about their travel history during the last 10 days.If anybody has been in a red zone or has had an alarming travel history,he/she will be asked for covid tests done during the last 5 days and they can then proceed with the booking.
5) If the trekker shows any symptoms during the course of the trip or before, he/she will be advised to abort the trek.
6) The trekkers should not litter/spit/gargle during the course of the trek. They will also be strictly not allowed to share water bottles or any personal items.
7) Before boarding the bus, all the participants and the driver will be screened for temperature and face masks will be provided.
8) The mode of transportation used will be filled upto 70% of the capacity maximum.
9) All required information of the trekkers like Age,Phone Number and Home address will be recorded. A copy of Government Identification of all participants will be taken by us.
10) We will encourage all trekkers to follow respective Covid-19 Social Distancing Guidelines and State Government rules.
11) The trekkers will be made to sign a disclaimer form and made aware of everything they should not do during the trek.
12) The restaurants and hotels we choose for meals/accommodation will be of high hygienic standards and made sure the place is sanitized regularly.
13) All our Outdoor Leaders will be thoroughly briefed with everything that needs to be followed. We will also make sure there are organizers during the trip who will take care of all necessary precautions.
14) Any trekkers showing symptoms will be quickly isolated and will be asked to abort the trek at any time.
15) All the vehicles,restaurants,home stays and equipment used will be regularly sanitized with disinfectants.
Uttari Betta Sunrise Trek | NammaTrip
Every Friday and Saturday | 11PM
Invite your friends
and enjoy a shared experience