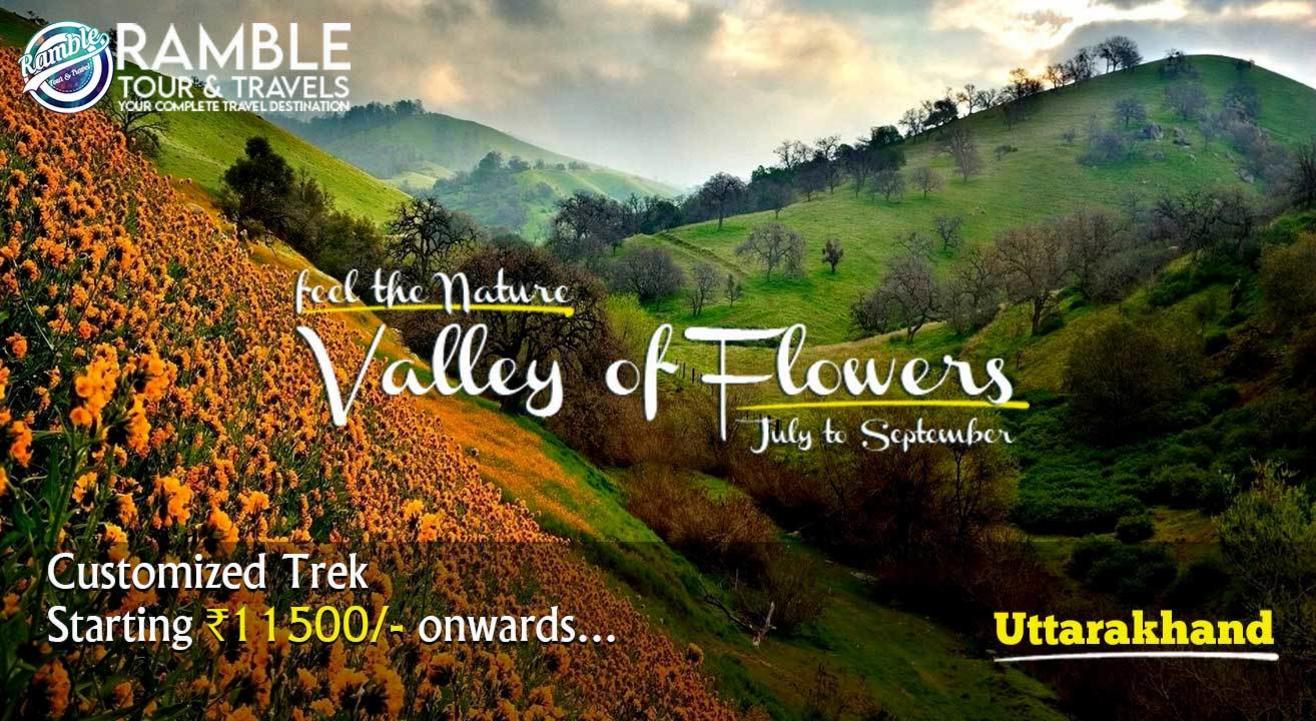 Step out and enjoy this event
Invite your friends
and enjoy a shared experience
Step out and enjoy this event
Invite your friends
and enjoy a shared experience
Invite your friends
and enjoy a shared experience
Event Description:
The snow on the Himalayas adds majesty to the mountains and the innumerable flower patches of vivid colors add to its beauty. When the sun shines hotly in this field, thousands of flowers bloom here. This valley was unknown until a British mountaineer Frank Smythe first discovered this place. In 1931, Smythe wanted to scale a peak in Garhwal called Kamet. While returning after successfully completing his mission, he took the western pass and lost his way and reached this valley after many difficulties. Thus, was born the Valley Of Flowers Trek.
Day 1: Getting to base camp, Govind Ghat:
Altitude: 6,300 ft (1,920 m)
Time taken: 11 hours drive to Govind Ghat. Pick up from Haridwar Railway station at 6.30 am (5.30 am for August batches)
The trek to Valley of Flowers (VoF) and Hemkund starts a little beyond Joshimath, at a pilgrim hamlet called Govind Ghat. Leave Haridwar or Rishikesh early in the morning and travel along River Alakananda on the Badrinath highway. The roads are dangerously cut on mountains edges and at times, you only see the river flowing in the gorge deep below. Do not carry food with you as there are plenty of eateries on the way. As a trekker, there is no need to hire porters or mules on this trail but if you need one to carry your backpack, Govind Ghat is the place to hire a porter or mule.
Day 2: Govind Ghat to Ghangria via Poolna:
Altitude: 6,300 ft (1,920 m) to 9,600 ft (2,926 m) via 7,200 ft (2,195 m)
Time taken: 4 km drive to Poolna. 5-6 hours trek, 9 km
Trek gradient: Easy-moderate. Gradual ascent throughout on a well- defined trail
Water sources: Carry sufficient water. You can refill your water bottles at any of the several dhabas that you will find on the trail.
There is now a motorable road to Poolna. This reduces the distance to be trekked today to 9 km from the earlier 13 km. Start with a 4 km cab ride to Poolna. The trail is well-defined. It is usually full of Sikh pilgrims walking up and down. Notice the cleanliness on the trail despite hundreds treading upon it every day. It's a heartening and motivating sight. All thanks to volunteers who sweep the trail every day. The 9 km trek from Poolna to Ghangria goes all the way along the river. Stop by any roadside dabha for a drink or a bite to eat. The trail is alternately sunny and shaded. At around the midpoint of the day's trek, you cross the river and go to the other bank. After this, you no longer trek alongside the river. The trek takes 5-6 hours and you approach a tabular land. This is when you know you are close to Ghangria. Ghangria has a helipad and some space for camping. Half a kilometer from the helipad is the one-street village of Ghangria, lined with hotels, restaurants, and a Gurudwara. The Gurudwara offers free accommodation and food to all.
Day 3: Ghangria to Valley of Flowers and back:
Altitude: 9,600 ft (2,195 m) to 11,500 ft (3,505 m) and back
Time taken: 6-7 hours, 3.7 km each way
Trek gradient: Easy. Flat walk in the valley
Water sources: Carry 2 liters of water. You can refill your water bottles from streams that you will find in the Valley, after a couple of hours of trekking.
Leave Ghangria early (6.00 am) to give yourself the whole day to spend at Valley of Flowers. The trail splits in less than a kilometer. There is a gate to buy entry tickets to the valley. Walk inside and notice the small flowering plants springing up on either side. A kilometer into the gate, there is a scenic bridge across a stream gushing below. Tall rocky mountains rise before you. Notice that the well-laid-out trail has now become a small footway along the side of the valley. The stream flows below you and there are small, hard snow patches by the side. On the trek inside Valley of Flowers, you see very few people around you. This may come across as a big and welcome contrast to the previous day's trek, where there were hundreds. The scenery has also taken a drastic turn for the better and any direction you turn to looks picture-perfect. Trek along for a couple of kilometers on the flat path and to your right opens up the valley. Cross another rickety bridge and collect water to drink from below. The entire valley is generally a carpet of colors – green, yellow, red, blue. It is surrounded by mountains with trees at lower levels, brown and grey soil in the middle and bright snow at the top. A bright sunny day will ensure deep blue skies completing the picture and taking it beyond your imagination. The valley is really a botanists' dreamland! One can find flowers, leaves, buds of various shapes, sizes, colors, all growing together. Notice various types of bees and insects hovering on these strange flowers. Walk further into the valley and you will be engulfed with an amazing scent, which unfortunately cannot be captured but can only be felt. The valley stretches 5-7 km further until it ends with a glacier visible at a distance. The stream flows all the way through the valley. Take off your shoes and dip your feet into it to experience the icy cold water.
Prominent flowers that you will see in July-August include Meadow Geranium, Snake Foil, Hooked Stick Seed, Himalayan Rose, Blue Poppy, River Anemone, White Leaf Hog Foot, and Dog Flower. Carry packed lunch from Ghangria on the Valley of Flowers trek day. There is no food available in the valley. Overnight camping isn't allowed either. Plan your return along the same path by early afternoon. The afternoon sun falling on the valley from a different direction gives a whole new perspective to the same place you saw in the morning.
Day 4: Ghangria to Hemkund Sahib and back:
Altitude: 9,600 ft (2,926 m) to 14,107 ft (4,300 m) and back
Time taken: 9-10 hours, 6 km each way
Trek gradient: Moderate – difficult. Steep ascent for about 4 hours to reach Hemkund Sahib and steep descent all the way back.
Water sources: Carry sufficient water. You can refill your water bottles at the hotels that line the trail.
Start your day early. The weather can be impulsive in the afternoon and sudden cloud cover and rain can get you stranded if you do not get down on time. The thought of getting up before 5.00 am can be daunting but the Gurudwara makes it easy. Their day starts at 4.00 am with singing of bhajans. By 5.00 am, you hear people outside the gate of the Gurudwara chanting in chorus and the horses being readied to go up to Hemkund Sahib. Get up and grab a hot drink of chai. A poncho (light rain coat) and a trekking pole can be handy on the trek to Hemkund. Pass the deviation to Valley of flowers. Continue to trek up the steep path slowly but steadily. Spot a pretty water fall on your right falling through the rock walls on the right. After about 2 hours of walking, you are higher than the tree line and the views begin to get better. Mark the route to Valley of Flowers on the mountain in front across the river gorge. After another hour of slow walking with numerous breaks, you begin to feel reduced oxygen levels in the air. A melting glacier lies on the way. Take generous breaks while climbing up the steep path. These breaks are important as going up very fast could only mean inviting altitude sickness. Do not sit down during these breaks. Sitting down causes your muscles to relax and getting back on track can be very difficult. An hour of stiff climbing brings you to Hemkund Sahib Gurudwara. The lake lies just behind it. The Hemkund Sahib lake remains frozen for six months. Warm yourself in the Gurudwara and have generous helpings of hot tea and khichdi.
Walk around to the other side of the Hemkund Lake. It exudes an aura of peace and serenity. It's crystal clear, undisturbed and reflects mountains the mountains surrounding it. The lake and the Gurudwara in this setting are a sight to watch. Around Hemkund, the Himalayan flower, Brahma Kamal grows abundantly. This flower grows only at heights of 10,000 ft to 15,000 ft. Leave Hemkund by early afternoon. The walk down can be strenuous on the knees and toes. It takes 4- 5 hours to walk down the 6 km.
Day 5: Ghangria to Govind Ghat via Poolna:
Altitude: 9,600 ft (2926 m) to 6,300 ft (1,920 m) via 7,200 ft (2,195 m)
Time taken: 4 hours, 9 km + 4 km drive
Trek gradient: Easy descent to Poolna on the same trail that you trekked on earlier.
Water sources: Carry sufficient water. You can refill your water bottles at the several dhabas that line the trail.
The trail back to Poolna is on the same path that you took on Day 1. Drive from Poolna to Govind Ghat. Start after breakfast and reach Govind Ghat by 2.00 pm.
Day 6: Govind Ghat to Haridwar:
Drive down to Haridwar.
What's Included
Meals during the trek (Starting Lunch on Day 1 till Lunch on Day 6)
Forest Permits/Camping Charges (only if availing transportation through Ramble Tour and Travels)
Tents on twin sharing basis, Sleeping bags, mats
All camping gears
Micro-spikes, Helmets, Gaiters, as required
Experienced Trek guide, cook, helpers, Mules or porters for carrying common supplies
Mountaineering course certified Trek Leader with First Aid certification along with special rescue course from NIM, Uttarkashi
What's not Included
Portage of personal bags during the trek
Cost of any kind of Travel Insurance
Any Expense of personal nature
Any Expense not specified in the inclusions list
LIST OF ESSENTIALS
It is very important for this adventure trip that you need to be equipped properly and with a bit of back up. Mountain/adventure travel requires one to be adequately equipped with the right kind of personal gear. Since one is travelling in the wilderness there will be hardly any opportunity to buy anything once you hit the trail so we urge you to carefully pack everything into your bags. Also please keep in mind you can rent out or purchase equipment from our Gear Store, if required.
Shirts / T-shirts – 2/3
Warm shirt/light micro fleece pullover/full sleeve T shirt
Trekking Pants (water resistant/repellent & having inside lining for extra warmth) – 2
Windproof/water resistant outer shell (jacket) of good quality (no flimsy wind cheaters please!) with a proper hood
Down jacket with min 600 fill power rating
Thick Fleece / Full-sleeve Woollen sweater
Thermal inner wear (upper & lower)
Woollen cap (Balaclava)
Inner fleece gloves
Outer water proof gloves
Thick woollen socks & regular socks (4 – 5 pairs)
Scarf/muffler (optional)
Comfortable waterproof (Goretex) Trekking/Hiking shoes (shoes with a thick sole and high ankle are recommended)
Camp shoes (these can be easy to slip in sneakers/sport shoes)
Gaiters
Raincoat / Poncho
Small light weight towel
Insulated water bottle & hydration pack (optional)
Cap / floppy hat to keep the strong sun away from your face
Sun glasses with UV protection and ability to cut the glare (imp when traversing through snow)
Sturdy walking stick / Trekking pole
Sunscreen Lotion
Lip Balm
Torch / Flashlight (with extra batteries)
Medicines, if requiring any specific medication
Personal toiletries
Book, if you like reading
Day pack/small bag which you will carry on your back every day and keep your essentials in it Carry rain cover for your bags
Keep a few poly bags or waterproof bags in your bag in which if required you can put your belongings in case of heavy rain
Camera if you like (with fully charged batteries)
Carry Personal Medical Kit
Personal Medical Kit (Carry minimum 5 tablets and maximum 10) (Our Trek Leader always keep a specialized Medical Kit but we always advise you to keep a Personal Medical Kit)
Medical Kit
Diamox – (Prevents altitude sickness)
Digene – (It cures discomfort in stomach, acidity)
Crocin Advance – (Cures fever and headache)
Aspirin/Combiflam – (Pain reliever)
Disprin – (Cures headache)
Avomine – (Prevents motion sickness)
Avil – (It treat allergies)
Norflox TZ & Lomofen – (Prevents Diarrhoea)
Ranitidine – (Reduces the amount of acid in stomach)
Volini/Moov spray – (For sprains)
Betadine/Savlon – (Antiseptic cream)
ORS
Band aid
Cotton
Stretchable/Elastic bandage
Gauze
Note: Use medicines only when prescribed by the doctor. In case you face any problem during your trek, discuss and take advice from the Professional guide.
Terms and Conditions
Age Limit: 15 & Above
In the Himalayan region, the climate is unpredicted, we strive to provide every comfort however you have to be organized for some compromises.
We are not liable for any losses at some point of your whole journey or any injuries at the trek.
If the trek is cancelled via us because of any purpose (heavy snowfall, rainfall, herbal disaster, etc.) then refund would no longer be initiated but you can go at the identical trek next year.
If climate changes, we are able to exchange the trek routes.
If you return in between the trek because of any cause then, on this case, you will be provided stay if there's our accommodation at the trek in hotel/guest residence or homestay. Otherwise, you have to pay in your expenses.
Do no longer consume alcohol during the trek it is totally banned
If someone is a chain smoker then he has to head 300 meters faraway from the camp to smoke
Tickets as soon as booked cannot be exchanged or refunded.
We recommend that you arrive at least 20 mins prior at the venue.
Do no longer carry precious things like jewellery or another thing.
Participants should no longer deface or damage any monument via writing or scribbling on them. Please help us to conserve and keep our heritage along with our Trek Buddies.
Your protection is our prime concern and we do now not make any compromises on the same. Please abide through the commands of the Trek Buddies always in the course of the event in your own safety and protection of the institution members. Each member will be responsible for his/her own protection and baggage.
Taking pics or selfie close to the edges aren't allowed. Please make certain to preserve your Trek Buddies knowledgeable if you want to transport away from the institution for any reason.
Participants are requested to hold the waste returned to the metropolis and dispose it off in dustbins. We accept as true with that, "when you visit the mountain leave most effective your footprints and bring lower back most effective memories"
7 days before your Trek date, we are able to send you a mail / SMS with whole info of factor of contact, things to carry, directions etc.
The organizer does no longer take the responsibility for the loss or robbery of any personal assets or any damage that the ticket holder may also accrue at the events.
There are chances that you could sense the effects of altitude sickness and oxygen deprivation at the same time as on this trek. Please conscious that the trek leader may deem it unsafe with the intention to continue trekking at any time, and arrange for you to descend to a lower altitude.
The trek leader will conduct recurring health checks in any respect camps to measure oxygen saturation, pulse, and blood pressure. Ramble Tour and Travels reserves the proper to exclude any trekker from climbing better on the trek without monetary refund if the trekker's vital readings are under widely wide-spread norms for that altitude. These norms are to be had with Ramble Tour and Travels trek leaders.
You have to realistically self-assessed your fitness and suitability for this trek before registering.