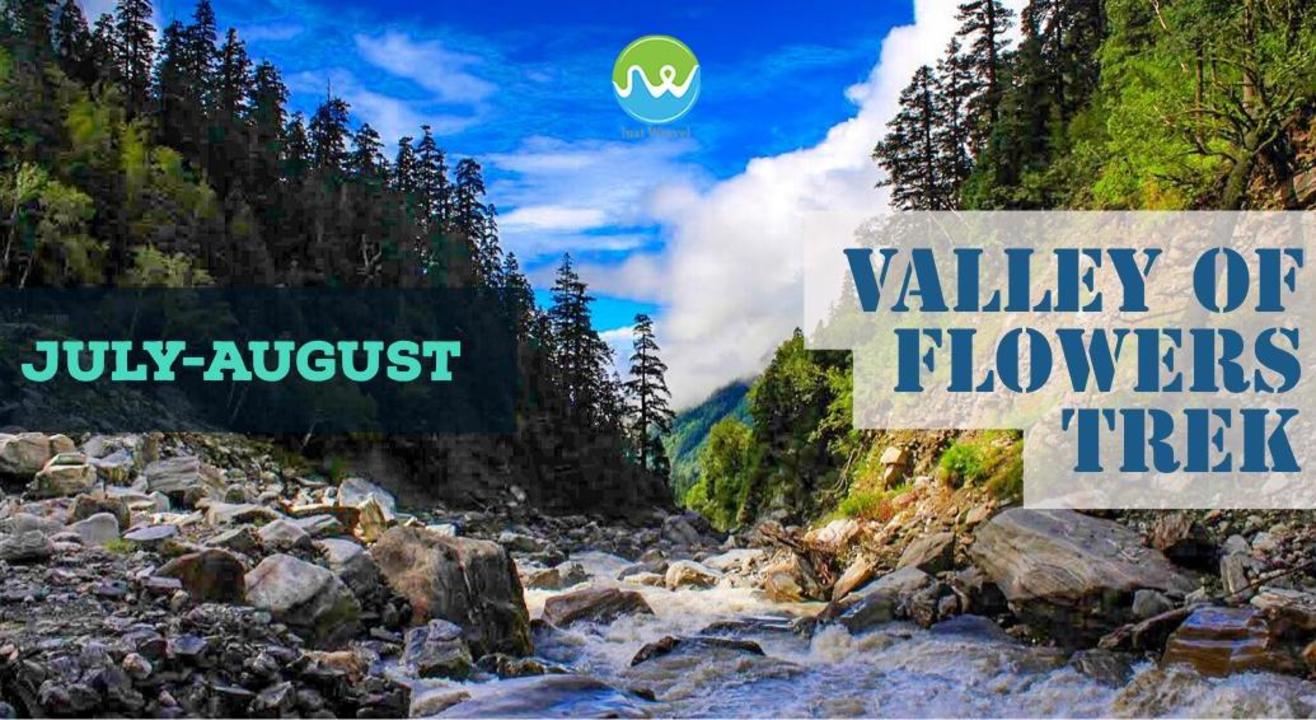 Trek
Valley Of Flowers Trek With Justwravel
About
Valley of Flowers is a vast valley settled in the vicinity of Nanda Devi Biosphere Reserve. The entire valley is rich in biodiversity and lies in the transition zone between the Greater Himalayas and Zanskar Range. The best time to visit Valley of Flowers is in the months of July and August when the blooming of flowers is at peak. Around 300 species of wild-flowers bloom during this season. The prominent species are Brahmakamal, Blue Poppy, Cobra Lily Anemone, Geranium, Marsh Marigold & Prinula. Apart from a wide range of flora, the park is also home to rare and endangered animals such as Himalayan Black Bear, Brown Bear, Snow Leopard, Red Foxes, Himalayan Tahrs, Musk deer and Monals. Also, the valley has to offer much more than flowers. There are waterfalls, glaciers, towering mountains, gushing rivers and quaint villages.
The landscape of Valley of Flowers showcases the wilderness and raw beauty of Nanda Devi Biosphere Reserve. The Valley of Flowers national park covers an expanse of 87.5 square km and about 8 km long and 2 km wide.
Itinerary
DAY 1 : DRIVE FROM HARIDWAR TO GOVINDGHAT (290 KM, 12 HOURS DRIVE)
Gather at Haridwar ISBT in the morning, after that, we start our journey from there. Govindghat is 290 km far from Haridwar and it takes around 12 hours to reach there. We drive through Devprayag, Srinagar, Rudraprayag, Chamoli, and Joshimath. The drive is scenic and it goes along the Alaknanda river, which is one of the tributaries of Ganges. The interesting thing about the drive is that you will be crossing all five confluences of sacred rivers (also known as Panch Prayag in local language). These five confluences take place at Devprayag, Rudraprayag, Karnaprayag, Nandaprayag, and Vishnuprayag. Don't forget to take photos at the confluence of Bhagirathi and Alaknanda in the town of Devprayag. We reach Govindghat by evening. Dinner and overnight stay in Hotel at Govindghat.
DAY 2 : DRIVE FROM GOVINDGHAT TO PULNA AND TREK TO GHANGARIA (4 KM DRIVE AND 9 KM TREK)
Wake up, freshen up and get ready. We will take a taxi from Govindghat to Pulna village and then began our trek towards Ghangaria village. The trek is 9 km long and is completely paved. The gradient of the trek is easy and is steep at few stretches. More than half of your trek goes parallel to the river. The whole trek is scenic and is full of scenic views of valleys, mountains, and waterfalls. Ghangaria is a kind of settlement situated at an altitude of 3010 meters and offers some great views. The village houses some shops where one can buy daily need stuff. After arriving at the village, relax and enjoy the beauty of the place surrounded by conifers covered mountains. Dinner and overnight stay in hotel/guest house at Ghangaria.
DAY 3 : TREK FROM GHANGARIA TO VALLEY OF FLOWERS AND BACK (8 KM TREK)
Wake up and get ready for the most important day of the trip. This day you will be visiting Valley of Flowers. The trek to the valley is around 4 km long from Ghangaria. We take the upwards route from the village and after walking for barely 500 meters we will reach a dividing point. The route will be divided into two routes, the straight one going towards Hemkund Sahib Gurudwara and the left going towards the Valley of Flowers. We take the left turn and continue our trek and reach the forest check post. We resume our trek through that narrow route, after getting the entry permit. The trail is covered by dense bushes on both sides and soon we start seeing flowers on the way. We cross a bridge over the Bhyundar river and continue our trek on the trail. The waterfall near the bridge looks massive and beautiful. We will reach the main valley after getting out from the forest route. The valley looks amazing. Enjoy the heavenly beauty of the place. We will explore the valley to its fullest and try not to miss any flower. We start getting back to the village by late afternoon and reach there by evening. Dinner and overnight stay in hotel/guest house in Ghangaria.
DAY 4 : TREK FROM GHANGARIA TO HEMKUND SAHIB AND BACK (16 KM TREK)
We start a bit early today as we have to trek up to Hemkund Sahib, which is the highest gurudwara in the world, situated at an altitude of 4632 meters and 15,200 feet above the sea level. The trek is 8 KM long on each side and is quite steep throughout the way. We take the same upwards route from Ghangaria and continue it on the Hemkund Sahib route. After crossing the waterfall, the steep ascent starts and the route continues in a zig-zag way. We could see the village Ghangaria from the route while trekking. After 3 hours of continuous trek, we reach a point from where the tree line ends. It will take us around 4-5 hours to reach our destination. The gurudwara is beautiful and offers magnificent views. One can also spot the mighty Nilkanth peak if the weather is clear. We will have Langar there and then start descending back to the village. The downhill trek will take less time and we will reach back by evening. Dinner and overnight stay in hotel/guest house at Ghangaria.
DAY 5 : TREK FROM GHANGARIA TO GOVINDGHAT (9 KM TREK)
Wake up and we start our downhill trek to Govindghat in the morning after having breakfast. We take the same route that we took on the Day 2 while trekking up. It will take us around 3-4 hours to reach Govindghat. After reaching the village, one can visit the famous Badrinath temple and Mana village (Last Indian village at the Indo-China border) if time and weather allow. Dinner and overnight stay in Hotel/Guesthouse at Govindghat.
*The taxi for Badrinath and Mana village is not included in the cost.
DAY 6 : DRIVE FROM GOVINDGHAT TO HARIDWAR
We start our drive from Govindghat by morning and take the same route. We will drop you at Haridwar by late afternoon or evening and you can continue your onward journey.
*It is recommended that you keep the buffer time and book your return bus/train tickets scheduled in the night.


INCLUSIONS
1) 3 Night Stay at Gangaria on triple sharing
2) 2 Night Stay at Govindghat on triple sharing
3) All stay on Triple Sharing Basis
4) Guided Trek
5) Travel from Haridwar to Govindghat and back
6) Entry Fees
7) Meals during Trek and Stay (from Dinner on Day 1 to Breakfast on Day 6)
8) Trek Leader services
EXCLUSIONS
1) Meals apart from mentioned in the Itinerary
2) Stay apart from mentioned in the Itinerary
3) Any expenses for optional activities or tickets, unless quoted in Inclusions.
4) Insurance, Items of personal nature like porterage, tips, laundry etc
5) Anything not mentioned in Inclusions
6) Any Kind of Expense for Loss / Misplaced / Theft of personal belongings.
7) Any additional expenses caused by a disturbance in the trip program due to circumstances like weather conditions, sickness, natural disasters, riots etc.
8) Any additional expenses arising out of unforeseen circumstances like cancellation/ roadblocks/landslides/strike or any other natural causes out of human control or any emergency evacuation expenses.
PACKING LIST
Down Jacket /Main Jacket
Thermals (Upper & Lower)
Clothes
Socks
Undergarments
Gloves
Slippers
Running Shoes/ Outdoor Shoes
Hats/Caps
Daypack
Medicines (Diamox – to reduce chances of AMS)
First Aid Kit
Documents – ID (Driver's License, AADHAR Card, Voter ID :: Passport and Visa copy for Foreign Nationals)
Sun Glasses
Torch
Water Bottle
Power bank
Mobile Charger / Travel Charger
Raincoat
Hand Sanitizer
Toiletries
Cold Cream
Lip Guard
Sunscreen Lotion
CANCELLATION POLICIES
No refund of booking amount to be provided if customer cancels the booking 10 days prior to departure date.
50% refund if done between 11-20 days prior to schedule departure.
90% refund if done between 21-90 days prior to schedule departure.
100% refund if cancelled 90+ days prior to schedule departure date.