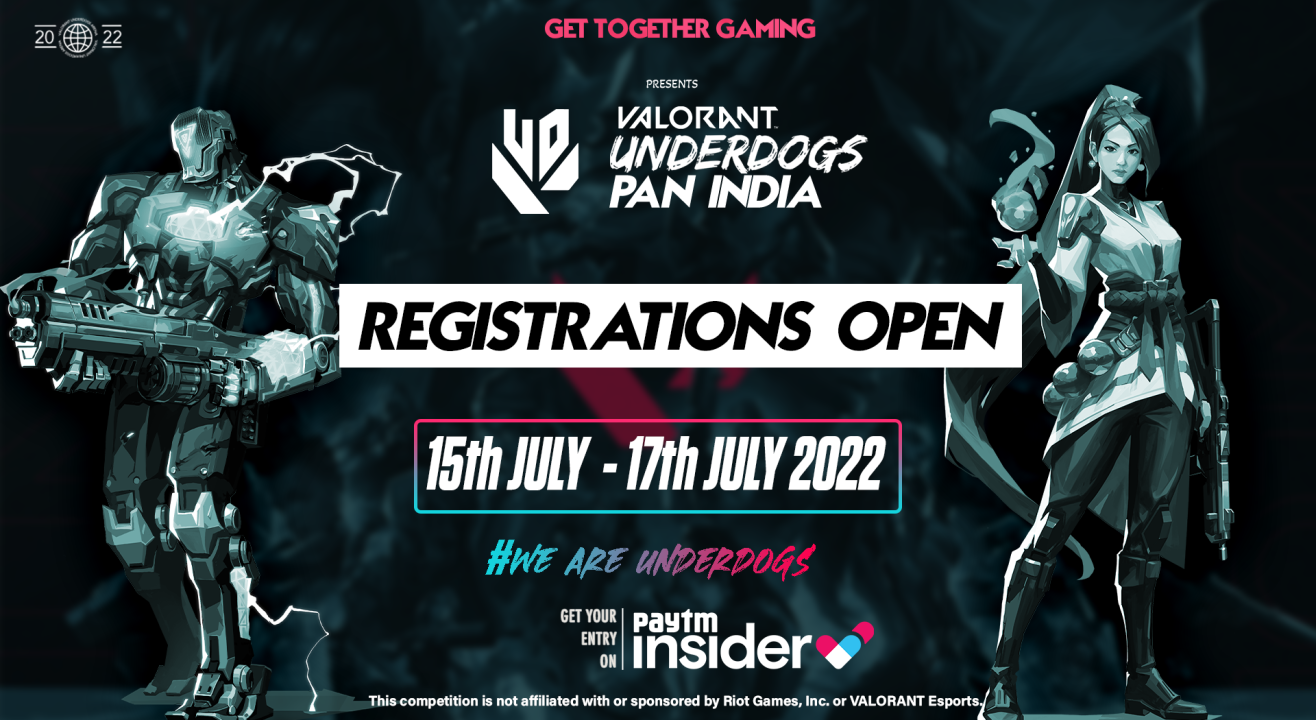 Valorant Underdogs PAN-India
July 15 | 10AM - July 17 | 6PM
Enjoy this event from your home
Event Guide
For Age(s)
Family Friendly
Online Game
Participate and have fun
Invite your friends
and enjoy a shared experience
Valorant Underdogs PAN-India
July 15 | 10AM - July 17 | 6PM
Enjoy this event from your home
Event Guide
For Age(s)
Family Friendly
Online Game
Participate and have fun
Invite your friends
and enjoy a shared experience
Event Guide
For Age(s)
Family Friendly
Online Game
Participate and have fun
Invite your friends
and enjoy a shared experience
Valorant Underdogs PAN-India is finally here!!
'Get together Gaming', Pune's Gaming community is hosting a Valorant Online Tournament.
Get your gaming PC's ready to win exciting prizes.
Prize Pool.
1st Place: INR 3000/-
Runners UP: INR 1500/-
And a chance to win free entry on the Valorant Underdogs LAN Event
Schedule and Format:
The gaming tournament will host an Elimination Knockout rounds format.
Dates for the Tournament:
From 15th July 2022 to 17th July 2022**
Day 1: QUALIFIERS 1
Day 2: QUALIFIERS 2
Day 3: Finals
**The tentative schedule is subjective to change.
The event would be livestreamed on our YouTube channel Get Together Gaming in Hindi/English, from 10:00am IST from 15th JULY
For further details or enquiry DM us on instagram:
https://instagram.com/getogethergaming
Disqualification:
• If any team or player is caught any kind of Cheats, Scripts, Etc., the entire Squad will be disqualified from the tournament.
• If there is a mismatch from given details.
• In case of disqualification, organizers team will not be liable for refund of registration fee.
• You will be contacted 15 minutes prior to your chosen timing. Failure to respond and show up to event on time will disqualify you for the event. No refund will be given.
• For further rules and instructions join our discord server: https://discord.gg/BxHUVXnbaE
• 1 ticket would be valid for 1 team (i.e 5 players) only.
• Tickets once booked cannot be exchanged or refunded or canceled.
• Insider will not be responsible for any commitment about the cash prize or what so ever made by the organizers.
• We recommend that you be present at least 20 minutes prior to the matches
• Match timings are fixed and can be altered only by the organizers. You have to report on the given time.
• Prize pool is fixed but can vary with the variation in the ticket sale.
• Details provided should be correct or else you will be disqualified
• By making payment you agree that all the details provided are correct and you accept all the terms and conditions.
• You will be asked for ID at time of prize money collection. Failure to provide this proof will disallow you from receiving any prize money.
Valorant Underdogs PAN-India
July 15 | 10AM - July 17 | 6PM
Enjoy this event from your home
Event Guide
For Age(s)
Family Friendly
Online Game
Participate and have fun
Invite your friends
and enjoy a shared experience