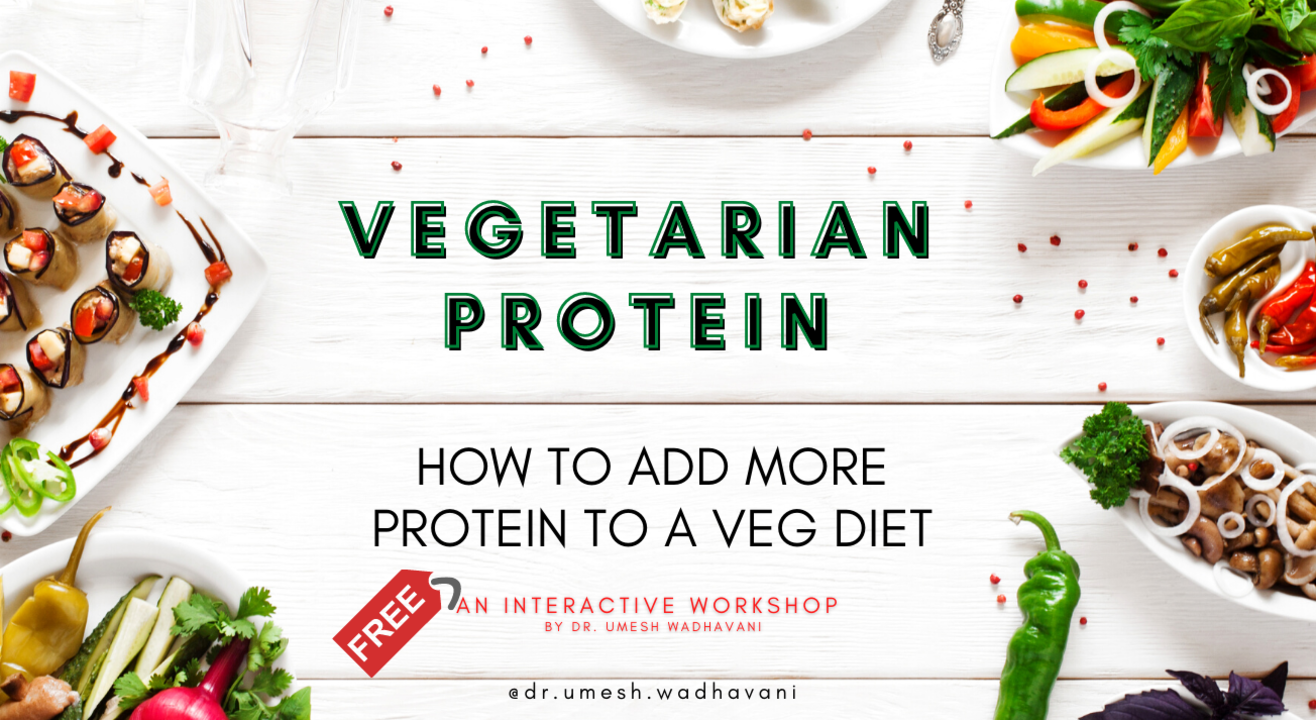 Vegetarian Protein : How to meet your daily requirements
Enjoy this event from your home
Invite your friends
and enjoy a shared experience
Invite your friends
and enjoy a shared experience
About the Event
Vegetarian Protein : How to meet your daily requirements | an interactive workshop by Dr. Umesh Wadhavani
Who is it for?
Anyone who is following a vegetarian or a vegan diet and finds it difficult to meet the daily protein requirements.
Session Contents
What is protein and why do we need it?
How much protein do we need on daily basis?
Veg protein vs animal protein
Simple and practical tips on how to add more protein to a vegetarian diet
Protein supplements - good bad or ugly?
Myths vs reality
Why this session is needed?
Most of our current lifestyle disorders such as Obesity, Diabetes, Hypertension, PCOS, etc have their roots in Sugar Abuse and protein deficiency. Dr. Wadhavani strongly believes that if one gets control of their sugars, fix the protein and health fats intake, they can manage their lifestyle conditions without relying on medications.
When is it happening?
This Saturday the 23rd Jan at 7pm IST
Platform
It will happen via zoom.
When will I get the joining details?
The zoom meeting link will be sent on the day of the event during the early half of the day.
About Dr. Umesh Wadhavani
Dr. Umesh Wadhavani is a Nutritionist and Mental Health Professional, completely unlike anyone in the profession. After completing his Bachelor's degree, he went to Oxford to pursue his Masters in Health Care Management. He completed his training in Fitness and Nutrition while managing a Psychotherapy clinic based in Harley Street, London. He relocated to India in mid-2019 and has been actively involved in enhancing people's lives by assisting them with their fitness and nutrition goals. He is also the founder of SIMPLY WELLNESS, a virtual clinic that seeks to address the various lifestyle issues and concerns people have, such as Diabetes, PCOD, Hypertension, and many more.
Check Dr. Wadhavani's previous work on his website
https://www.umeshwadhavani.com
On social media
@dr.umesh.wadhavani
Any questions
Please feel free to WhatsApp Dr. Wadhavani on +918000001025 if you have any questions.
Looking forward to see you all.