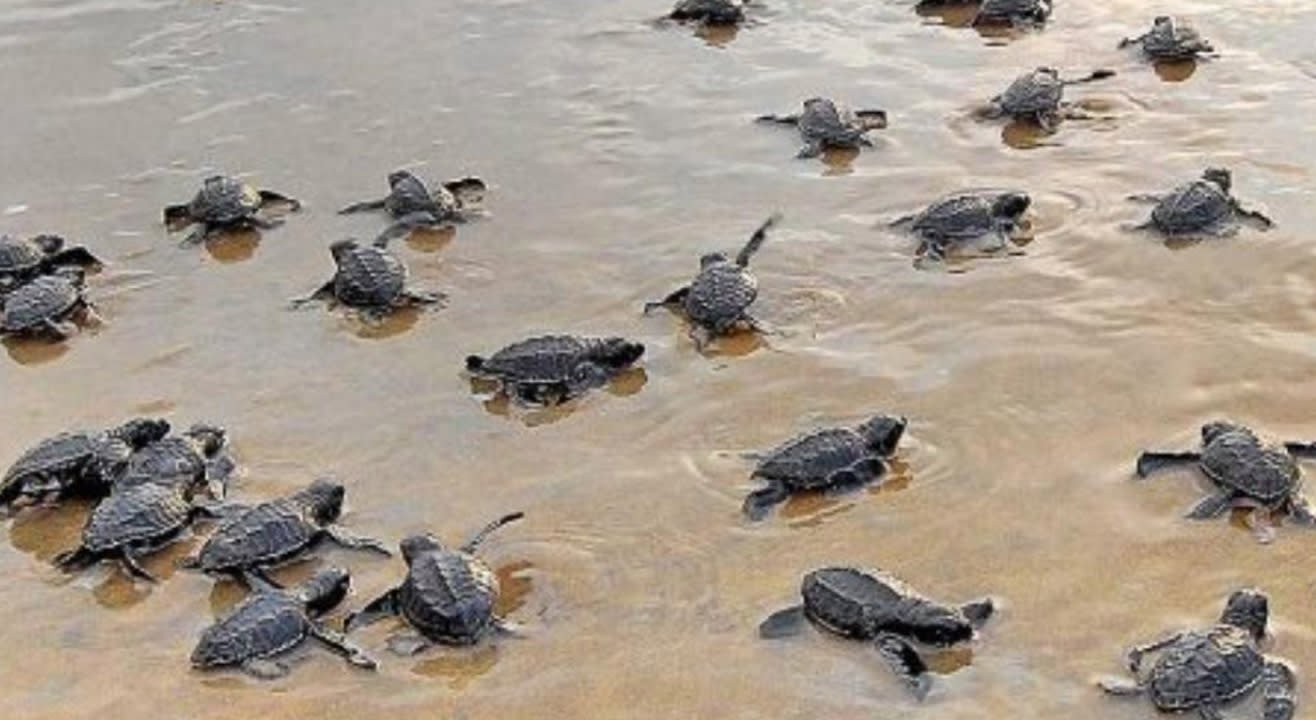 Experiences
Velas Turtle Festival | 99Hikers
About
Velas is located in Mandangad Taluka of Ratnagiri District 230 kms away from Mumbai & 200 kms away from Pune. Velas is a coastal town famous for its Beach, Harihareshwar Temple, Bankot Fort and Turtles Festival. The festival is about witnessing the birth of the turtles, how they break the eggs and crawl their way into the ocean to start off their journey of life. This Olive Ridley Turtle festival is organized by local villagers in co-ordination with an NGO named as Sahyadri Nisarg Mitra.
Buy a ticket & get 15% stashback upto ₹500. Use code: TRAVEL15 (T&C apply)
Highlights- 3 opportunities to view egg hatching /Velas beach / ferry ride / Bankot Fort/ Harihareshwar temple.

● Travelling from Mumbai to Mumbai by A/c bus
● Accommodation in beautiful home stays of Velas Village
● 2 Breakfasts, tea & 1 Snacks
● 2 Lunch, 1 Dinner (Veg and Non-Veg)
● Jetty charges
● Expertise charge and first aid

Day 0: Friday
*We are waiting for you*
Please reach Dadar near Pritam Hotel at 09:45 pm and by 10 pm we will head to Velas to enjoy the Olive Ridley Turtle Festival.

Day 1: Saturday
*Cherish the Olive Ridley Turtle -*
We will reach Velas village around 5:30 am. We will head straight to the beach to witness the breaking of Eggs by the Turtles.

*Breakfast is Calling*
We will head for breakfast around 07:30 am. Enjoy the home stay in typical Konkani House and culture. You can unpack your bags, freshen up and relax for some time before we proceed to Bankot Fort.

*Bankot Fort*
We will head to Bankot Fort around 11 am. Enjoy the Fortification wall and cannons available at the fort. The view from fort will gives ample opportunity to witness the Arabian Sea along the Velas coastline.

*Lovely Rural Lunch*
We will head back to our Konkani House around 12 noon as we'll feast on the meals made by the local villagers.
Rock Climbing
Zip Line
Archery
SLack Line
Rifle Shooting
Sumo fight
Monkey crawling
Burma Bridge

*Cherish the Olive Ridley Turtle -*
We will head to Velas Beach around 5:30 pm to witness the birth of Olive Ridley Turtles again. After the sightings, we will explore the beach to watch the sunset.

*Delightful Dinner*
We head back to enjoy our dinner. Savour the local delicacies of Vegetarian and Non – Vegetarian dishes. Post Dinner we will play some fun games like Antakshari, UNO, Group games,etc. Lights out around 11 pm.

Day 2: Sunday
*Good Morning Friends!*
Wake up at 5 am and freshen up. We will proceed to the beach in 1 hour to witness the turtles for the last time.

*Cherish the Olive Ridley Turtle –*
We will proceed to the Velas Beach around 6 am to watch the turtles crawl back into the ocean.

*Breakfast is Calling*
Around 7:30 am we will head back to have our breakfast. Pack your bags as around 10 am we will leave for Harihareshwar Temple through a Boat Ride.

*Harihareshwar Temple*
We will reach Harihareshwar Temple around 11:00 am. Take the Blessings of Bappa as we will head to fill our stomach with Lunch.

*Lovely Lunch*
We will have lunch around 1 pm in a nearby Restaurant. Post Lunch We will head back to Mumbai.

*Wow What an Experience!*
We will proceed to Mumbai in our transfer vehicle around 2 pm thanking Velas and our fellow travellers for providing one of the best experience.


● Any medical emergency occurred during the program
● Anything other than inclusions

● Extra clothes / towel
● At least 2 litres of drinking water
● Photo ID card
● Some ready to eat food (plum cakes, biscuits)
● Electral/Tang powder/Glucose-D/salt
● Cap, camera, mobiles phones, socks (if required)
● Any personal medicine