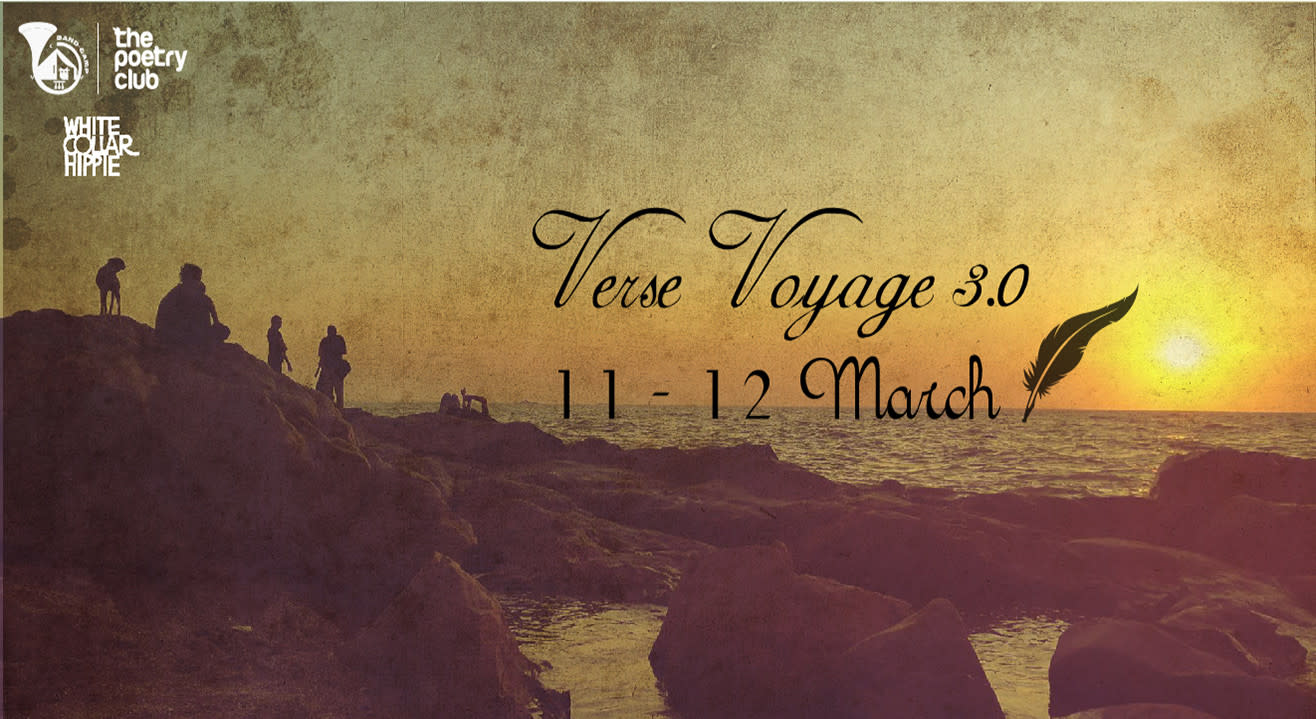 Verse Voyage 3.0- A Poetry Workshop
U-Tan Sea Resort, Mumbai, Mumbai
Step out and enjoy this event
Invite your friends
and enjoy a shared experience
Verse Voyage 3.0- A Poetry Workshop
U-Tan Sea Resort, Mumbai, Mumbai
Step out and enjoy this event
Invite your friends
and enjoy a shared experience
Invite your friends
and enjoy a shared experience
Verse Voyage, hosted by BandCamp and curated by The Poetry Club, Mumbai, is a two-day poetry workshop. It will let you experience poetry out in the open, amidst the verdant green forest, the cool sea breeze and hillocks.
At "Verse Voyage", the aim is to give poets and aspiring poets a push to tap into their creative minds. It will include discourse and discussion by the workshop moderators and writing/reading exercises, that will equip every participant with the important aspects of writing and performing poetry. The activities will also include collaborations with fellow campers/poets, where there will be an exchange of ideas, opinions and knowledge. There will also be plenty of time to retreat and finally convert that idea you have always had into the poem it should be. Reading material (including any pre-reading material) will also be given to every participant.
About the workshop moderators:
Ramneek Singh :
Hindustani spoken word poet, featured poet at the Kala Ghoda Festival 2016, Kavya Hotra 2016 Goa, Being Indian, Podcasts by Radio City Freedom and Saavn, and Curator of literature events at The Hive (2015).
Ankita Shah :
English poet, featured at Poets Translating Poets Festival 2016, Kala Ghoda Arts Festival 2016, Kavya Hotra 2016 Goa, Lil Flea, AISEC Youth Forum, co-curator of poetry writing workshops at Alliance Francaise and Akansha Foundation and Co-curator of events at TPC.
About The Poetry Club:
The Poetry Club, Mumbai (TPC) is an organisation dedicated to enabling more people to read, write, share and discuss poetry. Their regular events include monthly poetry sessions, Canvas Kavita (a collaboration with visual arts at TARQ Art Gallery), TPC Mehfil (a discussion cum reading of classical and contemporary poetry) and poetry workshops, with poetry in multiple languages and forms. In collaboration with various art and cultural organisations, they've also curated poetry events at the Kala Ghoda Arts Festival, Lil Flea, Hive, NSPA, Akanksha Foundation, Alliance Francaise de Bombay and more.
About the venue:
A stone's throw away from the city (clock says 60 mins!), BandCamp is located off Gorai beach. The layout is such that you can enjoy nature and have your privacy even though it's a bustling campsite. Expect tents, sleeping bags and camping goodies, unwind in the main area or walk around the fishing village down to the sea anytime.
Since Uttan is a coastal town (home to the Koli community), meals are freshly made by locals. Sundown brings with it a pre-gig BBQ and beer that sets the mood for the rest of the evening.
BandCamp is best suited for groups, solo campers, corporates, couples and pets. Basically, everybody! You can even attend our Movie Nights or Music Nights every weekend.
There will also be bonfires, a barbeque, long walks, and some great food! The campsite has huge grounds and has added hammocks, books, and games to ensure that there is something for everyone.
Stay
1 spacious tent for two for a night.
Foam Mattress
1 Sleeping bag per person
1 Solar lamp per tent
White Collar Hippie Goodie bag

Meals
Evening- tea and coffee on Day-1 and 2.
1 super Barbeque and Dinner [ Veg, Non Veg & Jain Options ]
Everything edible on the breakfast table on 2 days
2 awesome lunches.
Chips, biscuits and other munchies on all days.

Other Things
Band performances and/ or Movie screening.
A poetry workshop spread over 2 days.
Access to the swimming pool on one day.
Clean and well-functional loos and showers.
House full of Board games books etc for entertainment.
Beautiful walks, conversations and memories.
Bonfire, which you can also help us build.
White Collar Hippie's curated stash of music and if it is a weekend, then a live band.
Boat ride

Alcohol and aerated drinks
Any purchase/ extra cost you incur
Travel to the campsite and back
Any extra meals
Swimming pool charges

U-Tan Sea Resort, Mumbai
CHOWK DONGRI VIA UTTAN, Bhayandar West, Near Pali Beach Resort, Dongri, Uttan, Mumbai, Maharashtra 401106
GET DIRECTIONS
Verse Voyage 3.0- A Poetry Workshop
U-Tan Sea Resort, Mumbai, Mumbai
Step out and enjoy this event
Invite your friends
and enjoy a shared experience