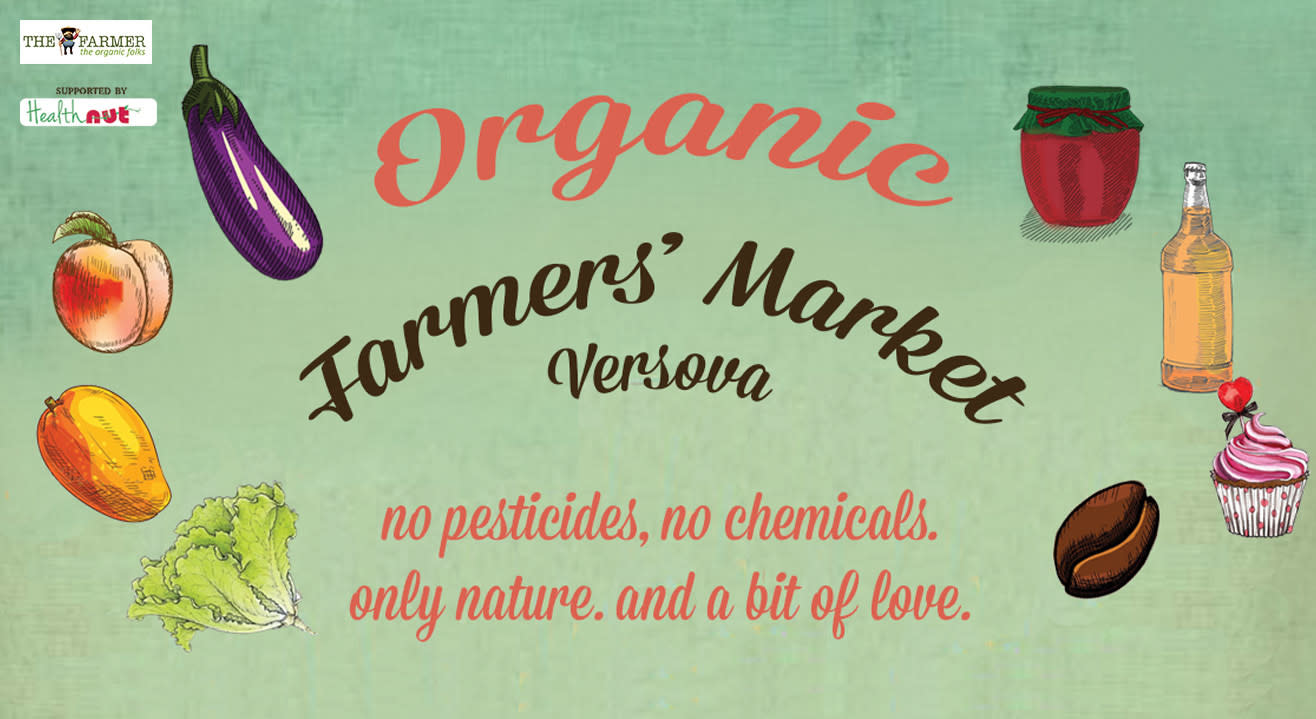 Versova's First Completely Organic Farmers' Market
Harkat Studios, Versova, Mumbai, Mumbai
Step out and enjoy this event
Invite your friends
and enjoy a shared experience
Versova's First Completely Organic Farmers' Market
Harkat Studios, Versova, Mumbai, Mumbai
Step out and enjoy this event
Invite your friends
and enjoy a shared experience
Invite your friends
and enjoy a shared experience
Fully Organic. Sourced Locally. Brought to you with lots of love!
Tucked away amidst green trees and bird songs, you will find the freshest, most delicious fruits, a variety of seasonal veggies you didn't even know existed & some extraordinary healthy snacks and drinks.
The Versova Farmers Market is all about food. It's not a flea market, it's a food market. From traditional, seasonal farm produce to exciting, innovative food creations, the fruits and vegetables are from farmers who farm exclusively organic, without chemicals or artificial pesticides. The carbon footprint of all produce is kept as low as possible. So most of the veggies and fruits are from farmers in the Pune/Nashik/Mumbai belt and all seasonal. They attempt to have only organic products from nearby.
The market has products for every taste and need - from vegan and gluten-free sweets and savories to organic meat and metabolism-boosting drinks. Pick your fruits and veggies under the badam & aam trees in the courtyard and tickle your taste buds at the organic market "hall" inside. And in case you come hungry, the wonderful Moonlight Cafe will provide you with delicious snacks - from granola to sandwiches.
The Indian Bean
Bombucha
Pickle Shickle
Glutenfree by Chetna
Dough Re Mi
The Odd Hour Kitchen
The Baking Game
Tossed and Dressed
Navdanya
Alpine Farms and Healthnut
Harkat Studios, Versova, Mumbai
HARKAT STUDIOS, BUNGALOW 94, FIRST FLOOR, ARAM NAGAR 2, VERSOVA, ANDHERI WEST, 400061-MUMBAI
GET DIRECTIONS
Versova's First Completely Organic Farmers' Market
Harkat Studios, Versova, Mumbai, Mumbai
Step out and enjoy this event
Invite your friends
and enjoy a shared experience