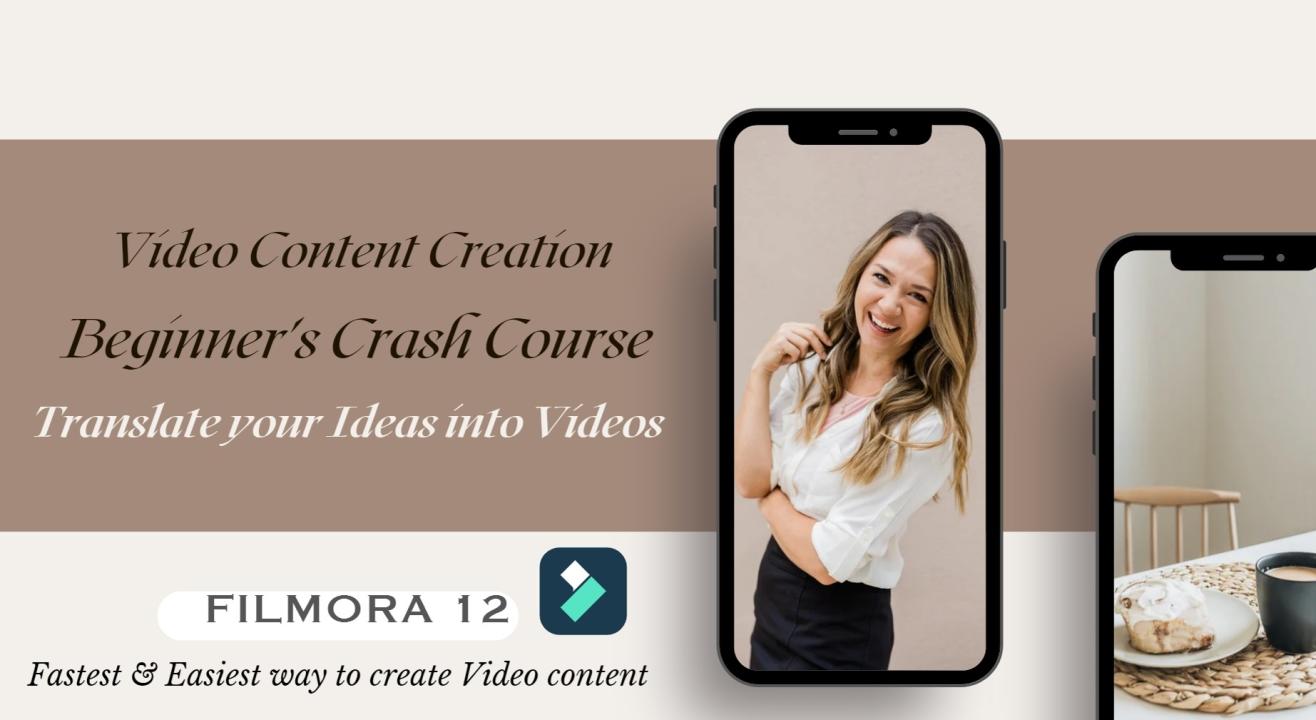 Video content creation: Beginners crash Course Using Filmora 12
Event Guide
Digital Event
Watch on Insider
Masterclass
Learn from an expert
Invite your friends
and enjoy a shared experience
Video content creation: Beginners crash Course Using Filmora 12
Event Guide
Digital Event
Watch on Insider
Masterclass
Learn from an expert
Invite your friends
and enjoy a shared experience
Event Guide
Digital Event
Watch on Insider
Masterclass
Learn from an expert
Invite your friends
and enjoy a shared experience
CONTENTS OF THE COURSE
Introduction
Filmora 12: Free Downloading & Installation
Filmora 12 Interface & Layouts
ElementsOverview: Video, Audio, Images, GIFs, Animations
Creating a Simple Video & Exporting it to PC: with stock footage only
Project Media & Global Media
Quick Text ( Basic & 3D)
Video Titles in Filmora: Trending
Video Titles in Filmora: Popular
Video Titles in Filmora: Lower Thirds
Video Titles in Filmora: 3D Titles
Video Titles in Filmora: Social Media
Video Titles in Filmora: Vertical / Instagram Reels for Business
Video Titles in Filmora: Cinematic
Video Titles in Filmora: Promos
Video Titles in Filmora: News
Video Transitions: Trending
Stickers (Trending)
Filmora Templates: Powerful way of creating videos
What you will Learn:
This comprehensive crash course is designed for beginners, empowering you with the skills and knowledge to create stunning videos that will leave a lasting impact on your target audience. Using the industry-leading Filmora 12 software, we provide you with an immersive learning experience that will elevate your video creation skills to new heights.
Why is video content creation so important in today's digital landscape? The answer lies in the way we consume information. Studies have shown that video content has a far greater impact compared to traditional text-based content. Videos have the unique ability to convey emotions, tell stories, and convey complex ideas in a concise and engaging manner. Whether you're promoting a product, sharing your expertise, or building your personal brand, video content is the ultimate tool to grab attention, increase conversions, and leave a memorable impression.
Moreover, the demand for skilled video content creators is skyrocketing in today's world. As more businesses and individuals recognize the power of video, there is a pressing need for talented professionals who can produce high-quality content that stands out in the crowded digital landscape. By acquiring the skills taught in this crash course, you position yourself as a sought-after specialist capable of meeting the growing demand for captivating video content. Whether you're looking to start a career in video production, enhance your existing skills, or simply explore a creative outlet, this course equips you with the expertise to thrive in the digital realm.
Don't miss out on this incredible opportunity to become a master of video storytelling. Enroll in our beginners crash course today and unlock the limitless potential of video content creation with Filmora 12!
In today's digital age, video has become the most powerful medium to captivate, engage, and connect with audiences across the globe. Whether you're an aspiring entrepreneur, a seasoned marketer, a creative artist, or a professional in any field, mastering the art of video content creation is essential to unlock unlimited opportunities and drive unprecedented success.
What sets this crash course apart is our focus on Filmora 12, the cutting-edge video editing software that combines simplicity with powerful features. Filmora 12 enables you to unleash your creativity and bring your vision to life without the steep learning curve associated with other professional-grade tools. Our expert instructors will guide you through every aspect of the software, from basic editing techniques to advanced effects and transitions, ensuring that you have all the tools necessary to create stunning videos with ease.
Join us on this transformative journey into the world of video content creation. By enrolling in our crash course, you gain access to comprehensive video tutorials, practical exercises, and insider tips from seasoned professionals. Whether you're a business owner seeking to expand your reach, a freelancer looking to diversify your skill set, or an enthusiast eager to express your creativity, this crash course is your gateway to success in the dynamic world of video content creation.
Video content creation: Beginners crash Course Using Filmora 12
Video content creation: Beginners crash Course Using Filmora 12
Event Guide
Digital Event
Watch on Insider
Masterclass
Learn from an expert
Invite your friends
and enjoy a shared experience