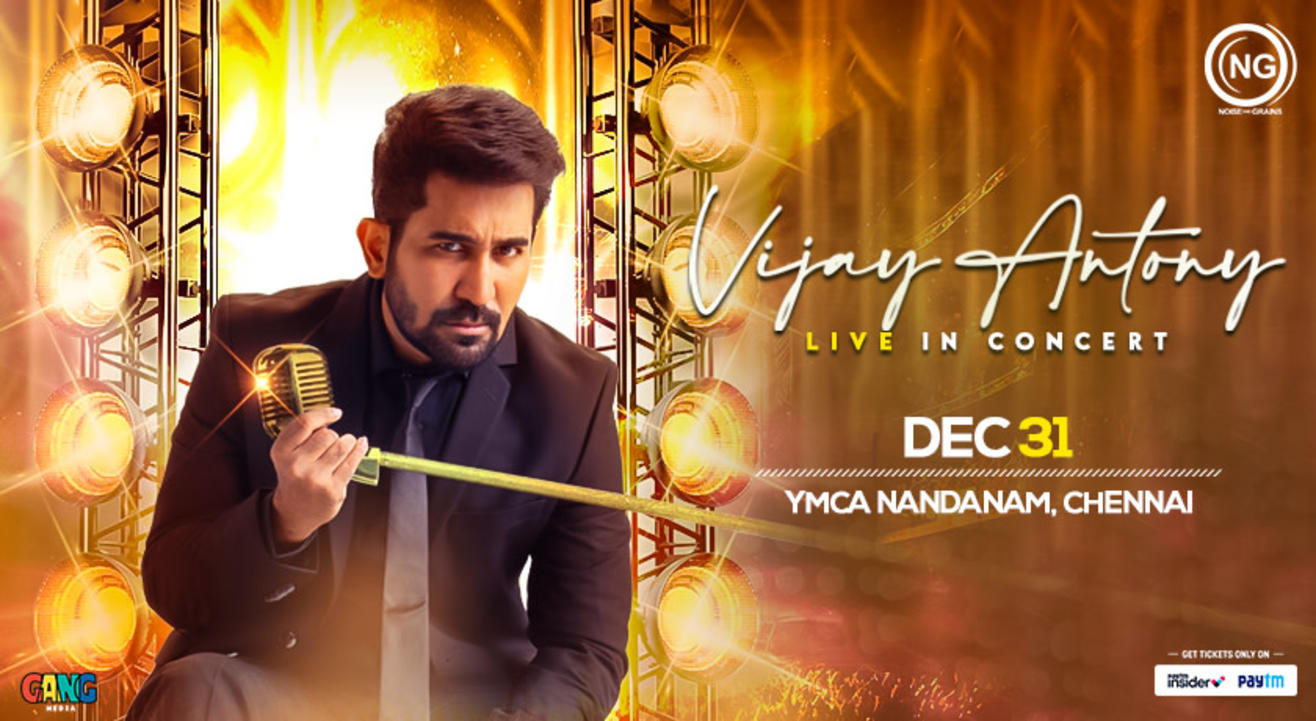 December 31 | 6PM onwards
YMCA Ground, Nandanam, Chennai
Event Guide
For Age(s)
Family Friendly
Live Performance
Enjoy a unique experience
Invite your friends
and enjoy a shared experience
December 31 | 6PM onwards
YMCA Ground, Nandanam, Chennai
Event Guide
For Age(s)
Family Friendly
Live Performance
Enjoy a unique experience
Invite your friends
and enjoy a shared experience
Event Guide
For Age(s)
Family Friendly
Live Performance
Enjoy a unique experience
Invite your friends
and enjoy a shared experience
Vijay Antony, predominantly known for his movie and a top rated hero who started his career as a Music Director and Singer in Tamil Entertainment Industry. He is the 1st music director to make a regional song go viral world wide with Naaka mukka and several other hits.
Vijay Antony live in concert is going to be his debut in the world of concerts with Noise and Grains. This show happens to be the most anticipated show of the decade.
Let the vibe take over and we continue to live in live with all dance, fun and celebrations.
FAQs
Q. Is this a standing or a seated show?
This is a partially seated show. Except Fan pit & General categories rest other categories are seated. Seats will be available on a First come first serve basis.
Q. What does Early Bird, Phase 1, Phase 2 mean?
Each category (General, Bronze, Silver, Gold, Platinum, MIP) tickets are sold in different phases which allows the ticket holder for entering the same category where the early bird is a discounted price for the customers who buy in advance then phase 1 prices are a little more expensive than the early bird and phase 2 are more expensive than early bird & phase 1.
All the ticket holders who purchased tickets in the respective category either an early bird or phase 1 or phase 2 are allowed to the respective category there is no difference in seating/standing for early bird or phase 1 or phase 2.
Seating is on a first come first serve basis in the respective category zone if the category is seating.
Q. Is there an age limit to attending the concert?
We wouldn't want anyone to miss out on this amazing experience. A few things to keep in mind though, children up to the age of 4 years can enter for free but no seating may be provided for them. Children above that age will require a ticket. Due to the live performance event, all parents/guardians are requested to bring their kids at their own discretion. If you are under the age of 16, you will need to be accompanied by an adult guardian.
Q. Will photography or videography be allowed?
No professional photography/videography will be allowed at the concert.
Q. Will food, beverages & alcohol be available at the venue?
Yes, Food & Non-alcoholic beverage stalls will be present at the venue. This is a non-alcoholic event.
Q. Is ticket shift allowed?
No.
Q. Will I get a refund if I cancel my ticket?
No.
Q. Is the show family-friendly?
Yes.
Q. What is the age limit to buy a ticket?
The age group 5 and above needs a full ticket.
Q. Are pets allowed?
No.
Q. Does the venue have ATMs?
No, there is no ATM facility in the venue.
Disclaimer: Please note that all registrations and tickets are exclusively available only on Paytm Insider. Beware of unauthorized parties claiming to issue tickets. Tickets purchased or secured from other sources will not be valid.
Listen to Vijay Antony's Songs
YMCA Ground, Nandanam
26HR+324, Y.M.C.A College of Physical Education, Nandanam, Chennai, Tamil Nadu 600035, India
GET DIRECTIONS
December 31 | 6PM onwards
YMCA Ground, Nandanam, Chennai
Event Guide
For Age(s)
Family Friendly
Live Performance
Enjoy a unique experience
Invite your friends
and enjoy a shared experience