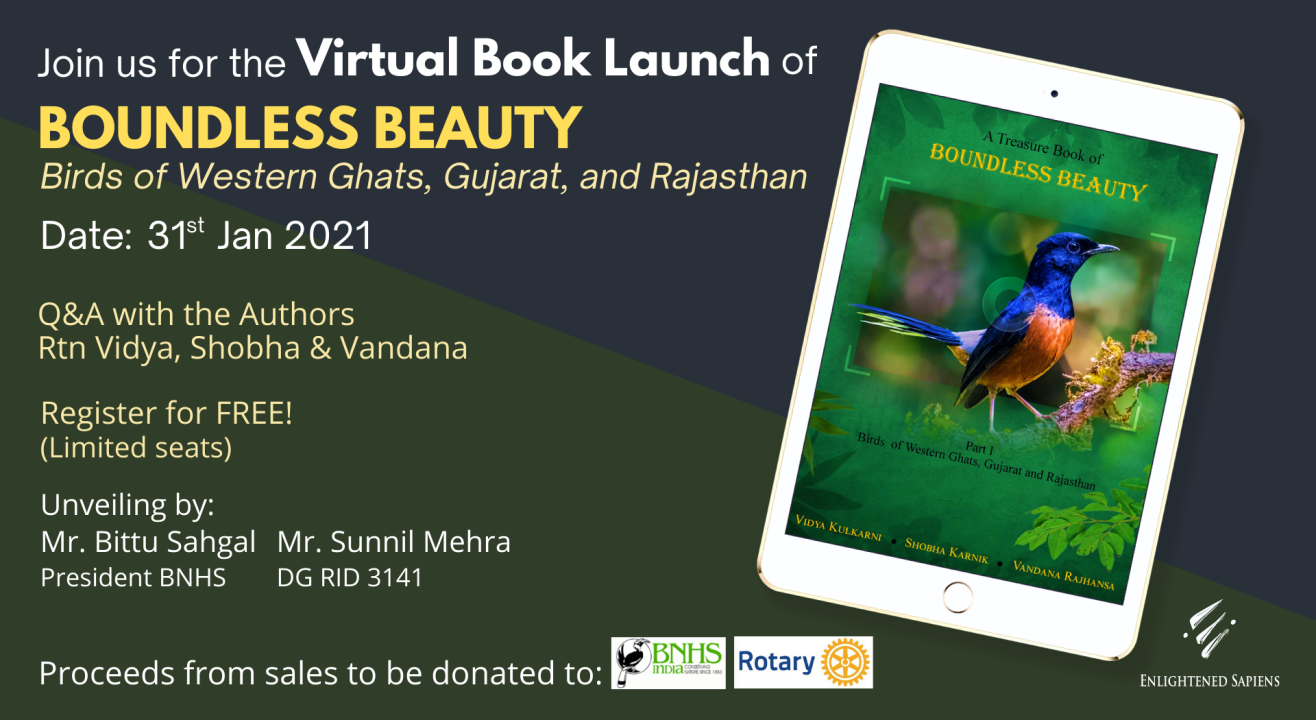 Virtual Book Launch of Boundless Beauty – Birds of Western Ghats, Gujarat and Rajasthan
Enjoy this event from your home
Invite your friends
and enjoy a shared experience
Invite your friends
and enjoy a shared experience
About the Event
It's finally here! We are so excited to host our first ever Virtual Book Launch- unveiling the much awaited e-book - Boundless Beauty – Birds of Western Ghats, Gujarat and Rajasthan, written by Vidya Kulkarni, Shobha Karnik & Vandana Rajhansa. Be part of this experience with talks by Bittu Sehgal (President, BNHS), Sunnil Mehra (District Governor RID 3141) and Megh Roy Choudhuri (Editor, Wild Sojourns), and a presentation on select avian beauties from the book by Vidya Kulkarni. But not just that – sticking to our true nature of being interactive – we've also managed to throw in an open question / answer session with the authors of the book themselves! So don't forget to register for the event and of course pre-order your book if you haven't already!
About Enlightened Sapiens
We are a Social Enterprise, focused on inspiring each one of us to share our Experiences and Knowledge with one another and foster an open environment of Growth and Mindfulness. We aim to help you discover and pursue your interests and hobbies through interactive videos and try-at-home activities. Know more through our website: www.enlightenedsapiens.com
Let's get to know the Authors
Vidya Kulkarni, an engineer by profession has worked on defense projects. Starting her hobby of photography in her golden age, she is the perfect example of the fact that age should never be a barrier to pursue your passion. She developed a tremendous love for Wildlife, and birding in particular. In a short few years, she went from an amateur photographer to the go-to person in the birding community, with honours' and felicitations by professional bodies like National Geographic FB – 'Wild Bird Trust', Photographer of the World, Nature Photography, Camarena, Birds Planet – Strabo Pixel Club to name a few.
Shobha Karnik is an engineer by profession and got involved in birds because of her college friend Vidya. Out of curiosity, she joined her friend in her photo walks, even accompanying her to places like Uttarakhand. This kindled the interest to know more about the birds and both started working on bird articles. They have been working together on birds for more than two years. She has been involved right from conceptualization to translating the book to e-format, for release.
Vandana Rajhansa is a Chartered Accountant by profession, who always had a flair for photography. When she joined Rotary in 2016, her fellow Rotarian Vidya Kulkarni took her under her wings and pursued her to take up wildlife photography. Both travelled together to places like Tadoba, Jim Corbett etc. for birding. She then joined Vidya Kulkarni and Shobha Karnik in their endeavor of writing and presenting about birds, culminating in book writing.


What you'll need for the session
1 hour of your time
A working internet connection
What you won't need for the session
No professional camera
No prior birding experience
Are you ready to be part of the Birding Community?