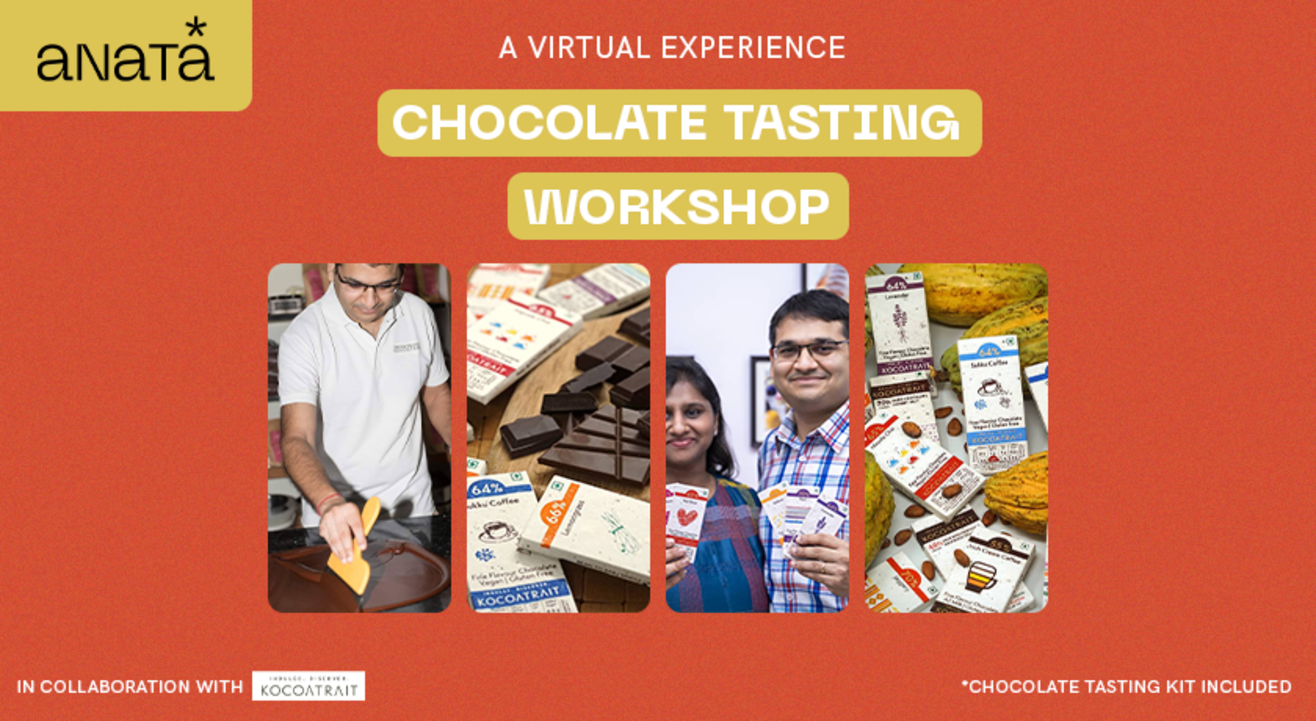 Virtual Chocolate Tasting Experience
Event Guide
For Age(s)
Family Friendly
Masterclass
Learn from an expert
Invite your friends
and enjoy a shared experience
Virtual Chocolate Tasting Experience
Event Guide
For Age(s)
Family Friendly
Masterclass
Learn from an expert
Invite your friends
and enjoy a shared experience
Event Guide
For Age(s)
Family Friendly
Masterclass
Learn from an expert
Invite your friends
and enjoy a shared experience
Overview
We're hosting our first virtual workshop in collaboration with Kocoa Trait & its founder Nitin Chordia. Our virtual chocolate tasting workshop is an immersive and sensory experience that brings the wonderful world of chocolate and mindful eating directly to your home.
About the workshop
Using the principles of professional chocolate tasting, you'll taste a variety of single-origin, bean to bar chocolates in a guided demonstration with Nitin Chordia. Each participant gets a chocolate tasting kit, consisting of 4 exquisite, uniquely flavoured single-origin chocolates delivered to their doorstep a few days before the workshop.
What to expect in this 90-minute session:
Slow sensory tasting of 4 different types of fine quality single-origin chocolates.
Learn about the flavour fundamentals of tasting chocolate like a professional
An overview of zero-waste, bean-to-bar chocolates, what they are & how they're made, the difference between industrial and micro-batch chocolate production and pure and compound chocolates.
Plenty of time for chocolatey questions
How it works:
Length: 90 minutes
Equipment: Each participant will be sent a chocolate tasting pack: Containing 4 types of single-origin handmade chocolates by Kocoa Trait, flavours include Red Rose, Masala Chai, Banana, Filter Coffee and the classic, 70% Plain Dark Chocolate.
Your facilitator: A fully accredited chocolatier and chocolate awards judge.
About L. Nitin Chordia & Kocoa Trait
Nitin is currently India's 1st and only certified chocolate taster and an active member of judges at the International Chocolate Awards based in London. Nitin travels the world in search of fine Cocoa/Chocolates and operates Cocoatrait. Nitin's main objective with his efforts is to promote the creations of chocolate makers, to connect them with chocolate lovers.
Kocoatrait, is the World's 1st Sustainable Luxury, Zero Waste, Planet Friendly (Plastic & Paper free) Vegan Eco-friendly Sustainable Bean to Bar Chocolate brand. It is an initiative to bring the best fine chocolates to consumers in India for their appreciation. It represents Indian chocolates across the globe and is involved in the promotion of fine chocolates across India and the globe.
Please note:
The session will be conducted on Google Meet
The session will be 90 minutes
Meeting invite will be sent via email after the payment & the chocolate kit will be sent a few days before the session. In case you don't receive a confirmation email, please check your Spam folder for an email from info@anata.in
Registrations close a week before the date of the session.
All communication will take place via email. Please make sure you're entering the correct e-mail ID at which we may reach you.
Contact us at +91 93544 62924 or write to info@anata.in / support@anata.in in case of queries!
Virtual Chocolate Tasting Experience
Event Guide
For Age(s)
Family Friendly
Masterclass
Learn from an expert
Invite your friends
and enjoy a shared experience