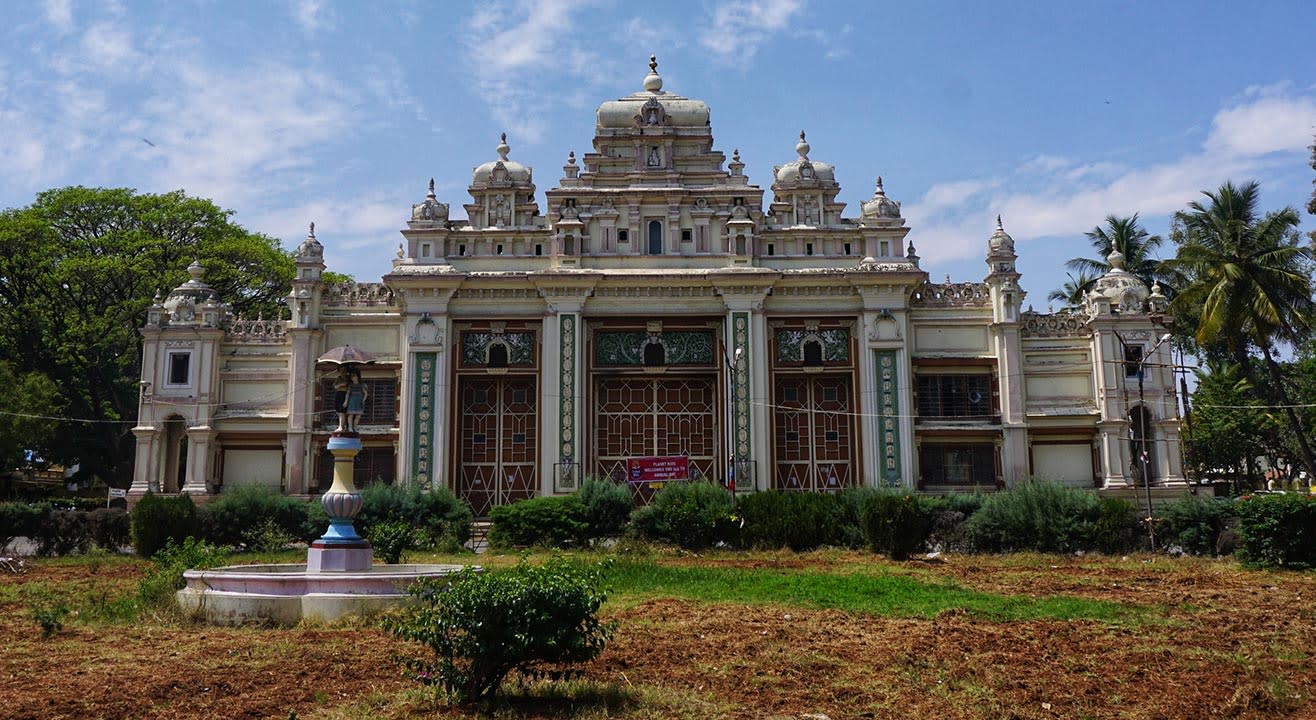 Monuments
Visit Jaganmohan Palace Art Gallery
Jaganmohan Palace Art Gallery And Auditorium
About
Book tickets to Jaganmohan Palace Art Gallery online for exclusive, hassle-free entry! Save the time on waiting in line and gaze at the gallery's collection of 2000+ paintings. It houses 16 original works of Raja Ravi Verma himself. In addition to that, it features works from different artist schools, you can browse through everything from the Mughal to the Shantiniketan styles of painting.
There's also antique furniture, and a number of artefacts including old hand coloured photographs of the royal family. Jaganmohan Art Gallery also has on display a 160 year old clock that still chimes every hour is a real treat to see too!
Initially built as a retreat for the Mysore royal family, the Jaganmohan Palace itself is a striking structure that has important history attached to its name! It's also why the art gallery is considered one of India's best, and makes for a delightful visit.
Lady with the Lamp painting, by artist Haldenkar
A French clock which has a mechanism in which a parade by miniature soldiers is displayed every hour
"Gold Leaf" paintings
Well-known oil paintings of Svetoslav Roerich
Paintings made on a grain of rice which can be viewed only through a magnifier
Exhibits of weapons of war, musical instruments, sculptures, brass-ware, antique coins and currencies
Mysore Palace
1. Is there an audio guide?
Yes, you'll have to provide your ID to be able to use it.

1. Are photos and videos allowed?
No.

2. Is it accessible to persons with disability?
It is not wheelchair friendly, and there is no information in Braille.

3. Is there a restroom?
Yes.

4. Is there parking?
Yes.


Nearest Airport: Bangalore International Airport
Nearest Railway Station: Mysore Railway Station
Nearest Bus Station: KSRTC Bus Station
Tickets for Indian children - Rs. 45
Tickets for Indian adults - Rs. 150
Tickets for international citizens (kids) - Rs. 75
Tickets for international citizens (adults) - Rs. 225

Venue
Jaganmohan Palace Art Gallery And Auditorium
Opp City Bus Stand, devraj mohalla, Deshika Road, Chamrajpura, Subbarayanakere, Chamrajpura, Mysuru, Karnataka 570024
GET DIRECTIONS