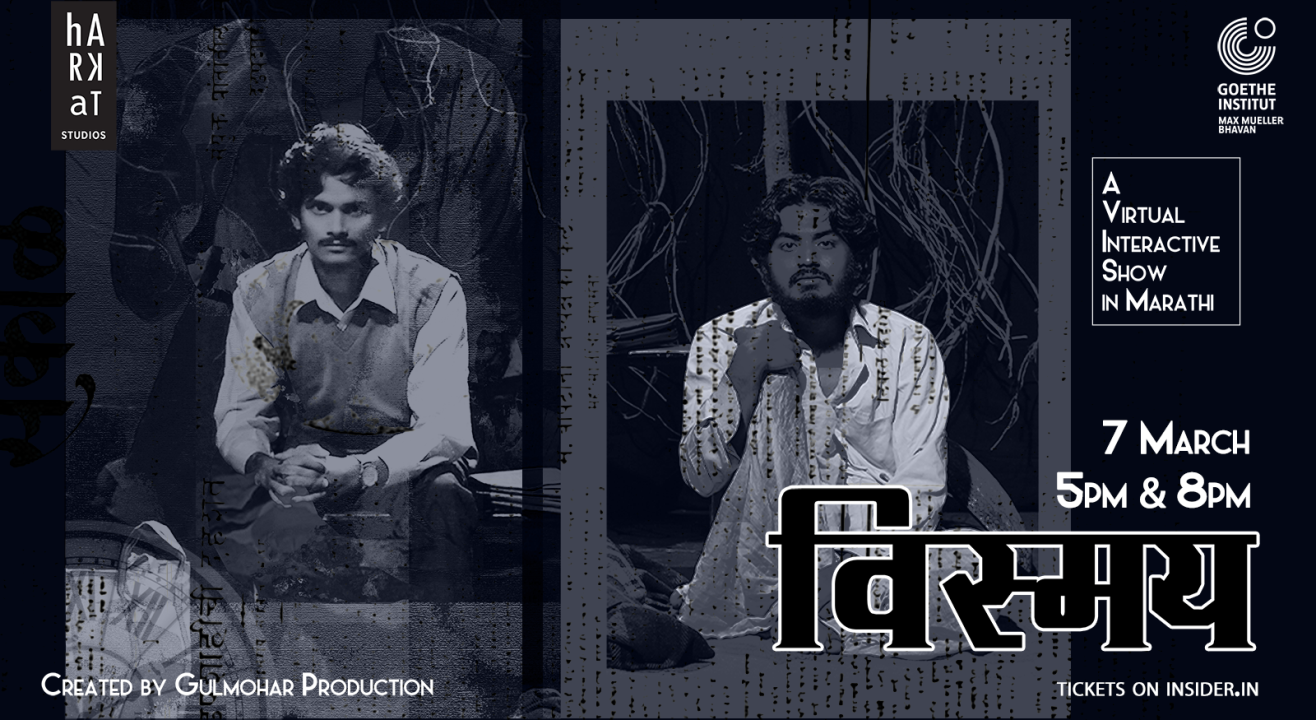 Vismay : A Virtual Interactive Show
Enjoy this event from your home
Event Guide
For Age(s)
Family Friendly
Interactive show
Be a part of the show
Invite your friends
and enjoy a shared experience
Vismay : A Virtual Interactive Show
Enjoy this event from your home
Event Guide
For Age(s)
Family Friendly
Interactive show
Be a part of the show
Invite your friends
and enjoy a shared experience
Event Guide
For Age(s)
Family Friendly
Interactive show
Be a part of the show
Invite your friends
and enjoy a shared experience
ह्या कथेतील नायक वैज्ञानिक असून आपल्या गावातील घाटात काही कामानिमित्त आलेला असतो. पण पुन्हा परतताना त्याला रस्ता मात्र आठवत नाही. तो काही विसरला नाहीये, पण त्याला आठवतही नाहीये. इथून कथेला सुरुवात होते. त्याला अचानक आलेल्या या विस्मरणाचा विस्मय वाटू लागतो. घाटात नेमकं काय घडतं हे तुम्हाला शोधावं लागेल. तो तुमच्याजवळ मदत मागेल, त्याला तुम्ही मदत करा. तुमच्या मदतीला तो नक्की प्रत्युत्तर देईल. तो नक्की कुठे आला आहे आणि त्याला नक्की कुठे जायचं आहे, हे तुम्हाला नीट पाहिल्यावर आणि त्याची आठवण ऐकल्यावर कळेल. तुम्ही नीट पाहाल ना?
In this intangibly convoluted story, our protagonist, a scientist, visits his village for some work. On his way back, events take a slightly unusual turn and for the life of him, he cannot remember the way back! This is how our story, and his, too, starts unfolding. Such an unnaturally struck oblivion astonishes him and he sets on a quest to solve this mystery. You'll have to find what lays ahead of him. He'll ask for your help most certainly, and I hope you'll answer. He'll acknowledge it. Where is he? Where is his village? Where is this baffling path going to take him? And where is he taking us with him? His journey will give you the answer, but do you promise to look very closely for it?
Show Notes
The show will be performed live and to access all the interactive features, it is best viewed on a desktop computer, laptop or a tablet. The show can be accessed via a phone as well but some interactive features will not be available.
On booking, the show link will be shared 24 hours before the show. Please make sure to give a correct email id and contact us on shows@harkat.in if you do not receive the link.
Created By Gulmohar Productions
About the Harkat Virtual Interactive Stage
Theatre – as imagined for proscenium and even informal performance spaces – is a communal, and very physical experience, for both performers and the audience. A truly 'for the internet' platform, where we have retrofitted the Harkat physical space with state of the art capturing and streaming equipment, interactive tools and a technical team on standby. The Harkat Virtual Interactive Stage is a new form of art, a new medium if you will, to audiences and directors alike. It's not theatre, it's not film, it's not a cheap mid-way and it's not trying to be like anything else.
Supported by the Goethe-Institut/ Max Mueller Bhavan Mumbai.
About Harkat
Harkat is an international boutique arts studio with a passion for film, new media, community art spaces and contemporary art. Based in Mumbai & Berlin, Harkat takes many forms and identities across disciplines & related creative industries. As an alternative performance & arts space, we have hosted more than 300 shows in the past year in the mediums of theatre, film, music, community projects & contemporary art. We support the new, unheard, upcoming, exciting, cutting edge, the political, the forgotten, nostalgic, melancholic, soul stirring, the beautiful & more. And that's what Harkat is. Harkat.
(Money should not be a reason that you don't experience art. To sign up for a 'pay what you want' ticket email shows@harkat.in. We also have a special discount of 50% off for the students.)
Vismay : A Virtual Interactive Show
Enjoy this event from your home
Event Guide
For Age(s)
Family Friendly
Interactive show
Be a part of the show
Invite your friends
and enjoy a shared experience