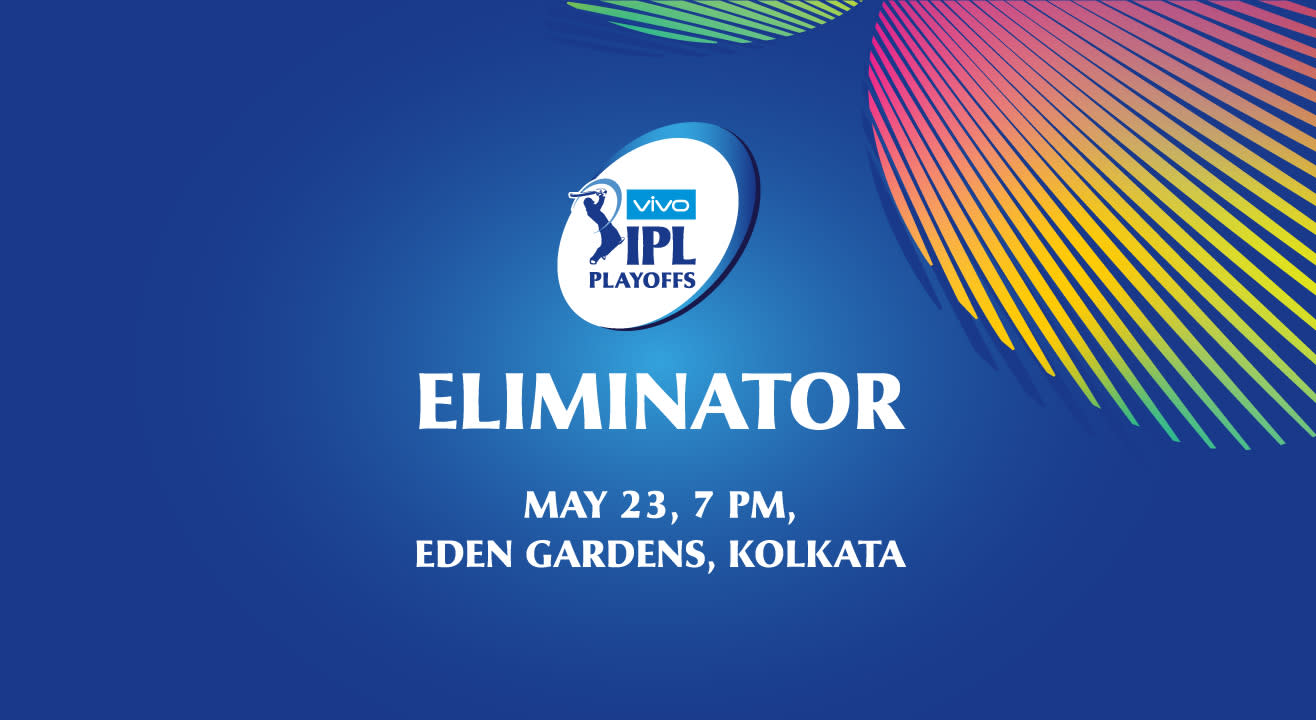 Cricket
VIVO IPL 2018 Playoffs: Eliminator - Kolkata Knight Riders vs Rajasthan Royals
Eden Gardens Stadium, Kolkata
About
This match is over! To be updated of future seasons' VIVO IPL matches and other events that might interest you, please click here.
Match Result
KKR 169/7 (Dinesh Karthik 52, Andre Russell 49*, K Gowtham 2/15)
beat
RR 144/4 (Sanju Samson 50, Ajinkya Rahane 46, Piyush Chawla 2/24)
by 25 runs
Have questions regarding this event or your order?
Please mail help@insider.in or call us at +91-22-61548585 / +91-9136622662.
For corporate (bulk and hospitality) bookings
Please click here.
You can also mail corporatebookings@insider.in, or call us at +91-22-33604736.
Please note Children of two years of age or over must have their own ticket and all persons under the age of 18 must be accompanied by and under the supervision of (in each case constantly) an adult who also has a ticket for the match.
Pick-up your physical tickets from here (Open on May 23 till 4 PM)
Your e-ticket for this match, purchased on Insider.in must be exchanged for a physical ticket for entry into the stadium. To get one, please head to the Box Office. Remember, entry to the stadium without a physical ticket is not permitted! Carry your ID card with you, along with the e-ticket. It's recommended you pick-up your physical ticket as soon as possible, to avoid long wait times.

BOX OFFICE ADDRESS
Box Office @ Mohammedan Sporting Club, Tent Field, Indira Gandhi Sarani, Kolkata - 700 021
View on Google Maps
TIMINGS
May 19-22 (10 AM - 7 PM) May 23 (10 AM - 4 PM)
Special seats for differently-abled fans
Special seats for valued differently-abled fans who use wheelchairs are allocated in the ground. Fans can buy a ticket online on Insider.in, and exchange their ticket for special differently-abled fan seat tickets. If you would like to avail of this, please contact Insider.in customer care: You can mail help@insider.in or call +91-22-61548585 / +91-9136622662.
Playoffs at Eden Gardens, Kolkata in VIVO IPL 2018