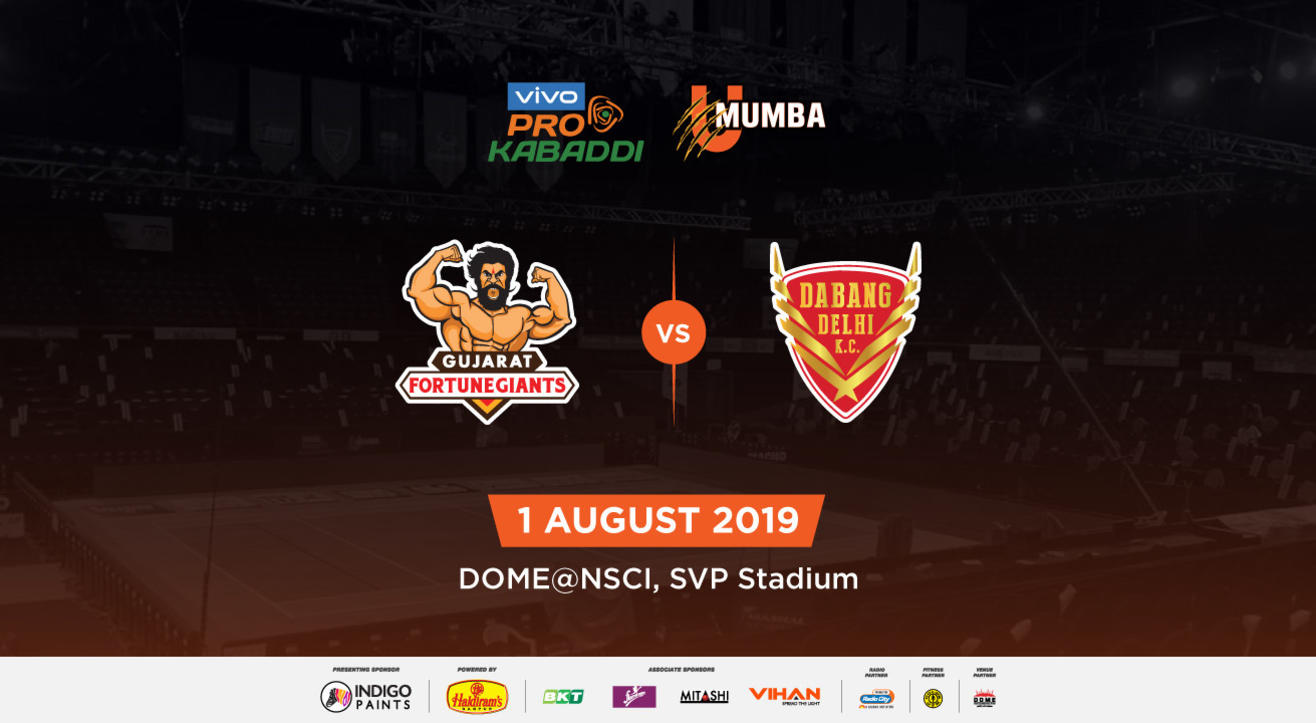 Kabaddi
VIVO Pro Kabaddi 2019 - Gujarat Fortunegiants vs Dabang Delhi K.C.
Dome, NSCI, SVP Stadium, Worli, Mumbai
About
Special Offer: Buy 3 or more tickets in Section 2 or Section 3 and get a 20% discount. Use Code UMUMBA20 TnC Apply.
Watch the big boys of Delhi test the FortuneGiants' young squad on the mat! There are players like More GB, Gurvinder Singh on FortuneGiants out to make their mark on the league - will Dabang Delhi KC's inconsistent form give them an easy win?
About VIVO Pro Kabaddi League:
Stunning leaps. Powerful holds. Do-or-die raids. All in a matter of minutes. Watch the action at VIVO Pro Kabaddi League, India's biggest sports league, with 12 teams from all over the country, and one of the most-watched tournaments as well.
Frequently Asked Questions:
What can I carry and not carry to the venue?
- Bags (except ladies' handbags but including backpacks, laptop bags, suitcases), laptops, helmets, bottles, lighters, tins or cans, musical instruments, water balloons, eggs, flammable, toxic, illegal or hazardous substances, tobacco or tobacco products, metal containers, firecrackers, fireworks, weapons (including Swiss army knives and similar instruments), motorcycle helmets, bags, animals (except guide dogs) or any other article which might endanger or unduly annoy any other person are not allowed inside the Stadium. No item, including without limitation clothing, caps, banners or flags etc, displaying commercial logos, which, in the Organizer's view, conflicts with or in any way detract from the rights of any official sponsor related to the Match, and/or any such items which, in the Organizer's view, constitute 'ambush marketing', will be allowed into the Stadium at any given point of time. No outside food, beverages and/or alcohol may be brought into the Stadium. No smoking is allowed within the Stadium.
I have purchased a single ticket, will it be applicable for both the matches?
- Yes, the ticket is common for both the games held on the same day.
What ID proof is required for gate entry?
- Any Government certified photo ID of the ticket buyer is required to be shown at the gates. Soft copy is accepted.
I have booked multiple tickets for the game. How do we go about entering the venue?
-Download the PDF attached to the email confirmation. The PDF will have a single page with a QR code for every ticket bought. Share the PDF pages with your friends and family if entering at different time. However, we urge you to come together for ease in the entry process.

Venue
Dome, NSCI, SVP Stadium, Worli, Mumbai
Lala Lajpatrai Marg, Lotus Colony, Worli, Mumbai, Maharashtra 400018