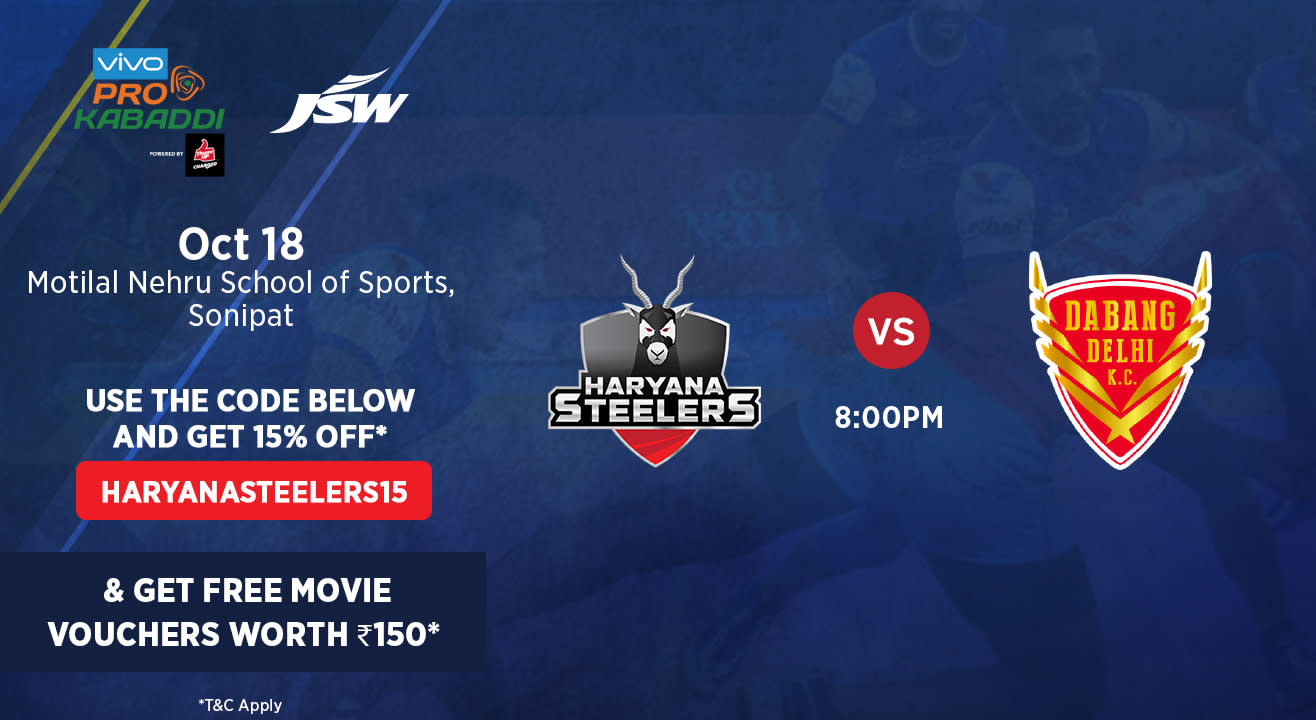 Kabaddi
VIVO Pro Kabaddi - Haryana Steelers vs Dabang Delhi K.C
Motilal Nehru School of Sports, Sonipat
About
Limited time flash offer: Use the offer code STEELERS50 and get 50% off on all Haryana Steelers home matches.
Additional movie vouchers offer: Buy 2 or more tickets and get free movie vouchers worth ₹150. T&C apply.
The final day of the Sonipat leg of VIVO Pro Kabaddi Season VI sees home team, Haryana Steelers, face Dabang Delhi. Surender Nada and the boys will prove a tough opponent to the Delhi outfit and it is expected to be a fitting end to Haryana's home leg.
Looking for more?
Get tickets to other Haryana Steelers / Sonipat leg matches in Vivo Pro Kabaddi 2018-19 here.
About VIVO Pro Kabaddi 2018:
VIVO Pro Kabaddi is the popular franchise-based tournament for kabaddi, India's own sport. Since its inauguration in 2014, the tournament has been mesmerizing audiences across the country. Pro Kabaddi has 12 franchises based in the following 11 states: Maharashtra, Haryana, Delhi, Uttar Pradesh, Rajasthan, Tamil Nadu, Karnataka, Gujarat, West Bengal, Bihar, and Andhra Pradesh. The main aims of the tournament are promoting the game of Kabaddi, nurturing new talent and giving it a global platform. VIVO Pro Kabaddi Season VI begins on 5th October 2018.
Have questions regarding this event or your order?
Please mail help@insider.in or call us at +91-22-61548585 / +91-9136622662.
For corporate (bulk and hospitality) bookings
Please mail corporatebookings@insider.in, or call us at +91-22-33604736.
Haryana Steelers: About the Team
Haryana Steelers took VIVO Pro Kabaddi Season V by storm by hustling their way into the Eliminator. The experience of raider Wazir Singh and defender Surender Nada combined with the franchise's young guns firing at the right time, helped the Steelers' have a memorable debut tournament. With a record-breaking move for raider Monu Goyat, the Steelers have made their intentions clear for VIVO Pro Kabaddi Season VI. The star performer of Season V will be motivated to help his new team go the distance come October 5.
Dabang Delhi K.C: About the Team
Dabang Delhi has had a string of talented players donning the colours over the years. This year, the Eagles, as they're nicknamed, will be looking to make it past the group stages - something they have not done before. Their squad should ensure just that: Retaining Ravinder Pahal and acquiring Vishal Mane has strengthened the Delhi defence for VIVO Pro Kabaddi Season VI. Adding firepower to their attack are the dependable Shabeer Bapu and Rajesh Narwal. With a new coaching staff and new players, the Eagles will be hoping to make VIVO Pro Kabaddi Season VI their most memorable outing.
Venue
Motilal Nehru School of Sports, Sonipat
Grand Trunk Road, Rajiv Gandhi Education City, Rai, Sonipat, Haryana 131029