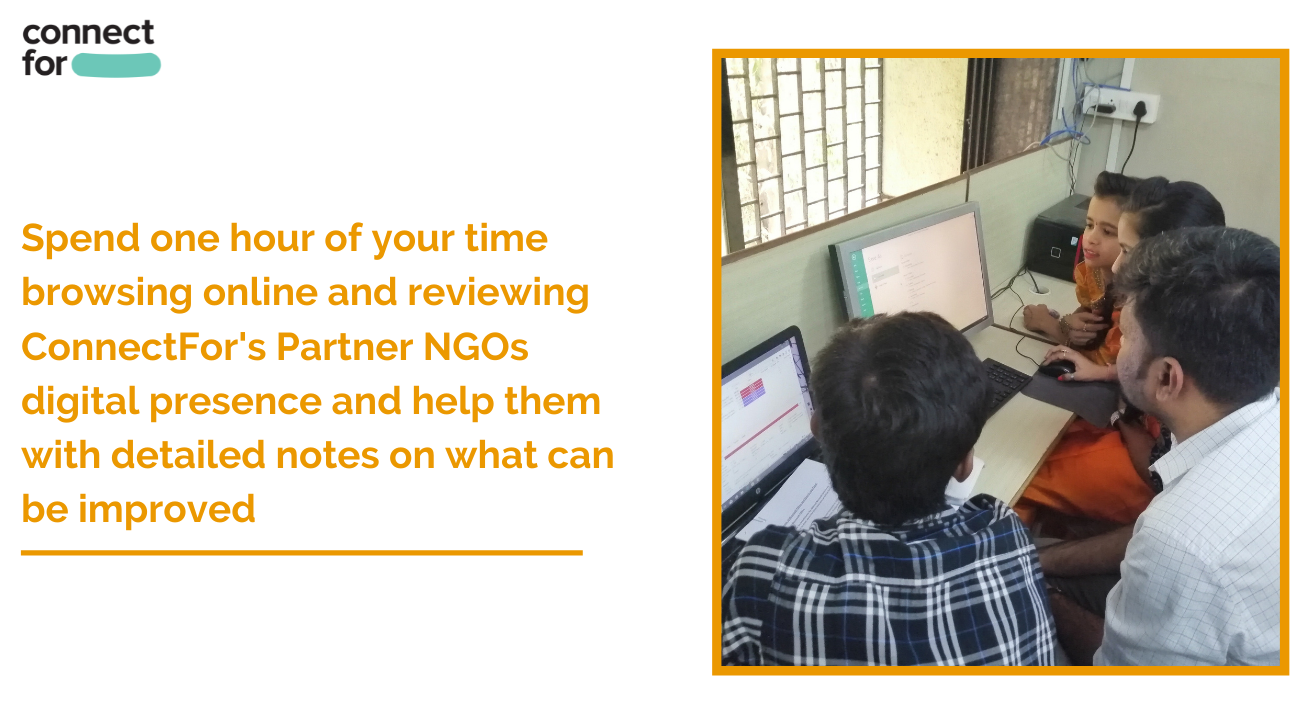 Volunteer to help an NGO analyze their digital presence
Event Guide
Interactive show
Be a part of the show
Invite your friends
and enjoy a shared experience
Event Guide
Interactive show
Be a part of the show
Invite your friends
and enjoy a shared experience
About the Event
Imagine using an hour of your screen time productively to help make a meaningful difference to NGOs
Volunteer with ConnectFor to help their partner NGO's understand their digital presence and share feedback for improvement.
How can volunteers help?:
Volunteers will help the assigned NGO analyzing their digital presence ranging from their website to their social media pages. This includes sharing detailed notes on their inputs, providing suggestions for improvement of their website and social media pages and sharing any new ideas which will help gather more footfall.
ConnectFor will conduct a sensitisation session and provide volunteers with a list of NGOs along with their digital presence links as well as a feedback framework on the day of the event.
Please note: Once you sign up, the ConnectFor team will reach out to you to provide further details and share all necessary content for the activity including an activity related guide
Things to keep in mind:
Volunteers must be:
over 18 years of age
fluent in English and have good communication skills
have excellent research and analytical skills
keen interest and knowledge of the social sector
have access to a Desktop/Laptop/ mobile phone with a stable internet connection
Meet the Team
ConnectFor (A research project of the Rosy Blue Foundation) is a digital volunteering platform that matches and connects volunteers to NGOs based on their requirements. ConnectFor was founded in 2015 by Shloka Ambani and Maniti Shah when they understood the value of human capital and it's dire need in the development sector. ConnectFor has grown in these 5 years to almost all of the major metrocities and has now over 500+ NGOs across India and have connected them with more than 24,000+ volunteers. Since inception, they have saved more than Rs 2.7 crores for these NGOs via volunteering.
Additional Questions? Contact the team:
virtualvolunteering@connectfor.org or 7977347851