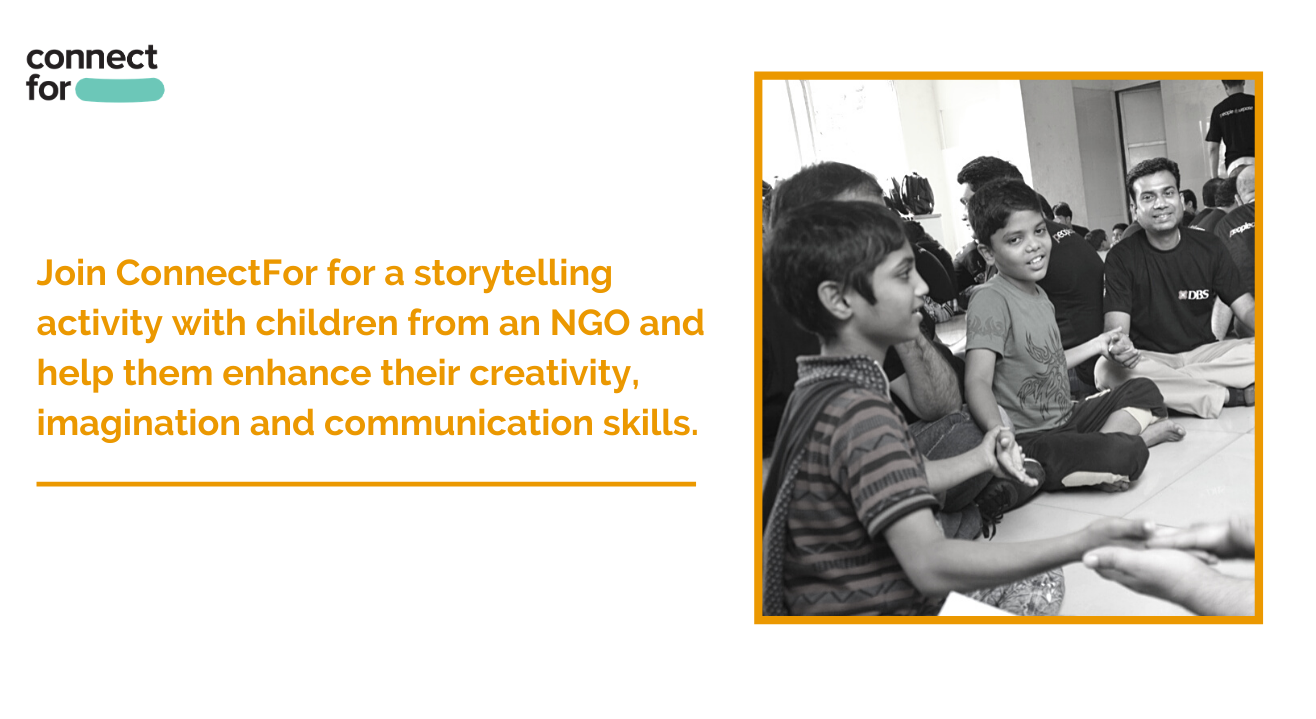 Volunteer to narrate stories to children
Event Guide
Online Game
Participate and have fun
Invite your friends
and enjoy a shared experience
Event Guide
Online Game
Participate and have fun
Invite your friends
and enjoy a shared experience
About the Event
Are you a good storyteller? Would you like to engage young minds to foster their imagination and critical thinking abilities?
Volunteer with ConnectFor and its NGO partners to help children from under underprivileged backgrounds improve their communication skills through storytelling.
How can volunteers help?:
Volunteers will narrate stories to children through a set of pre-decided creative tasks. Through various interactive activities over a zoom call, volunteers will virtually engage with children to help them enhance their creativity, imagination, and communication skills. Volunteers will be expected to engage with the children and provide the children with feedback at the end of each activity.
Please note: Once you sign up, the ConnectFor team will reach out to you to provide further details and share all necessary content for the activity.
Things to keep in mind:
Volunteers must be:
over 12 years of age
fluent in both English and Hindi
Meet the Team
ConnectFor (A research project of the Rosy Blue Foundation) is a digital volunteering platform that matches and connects volunteers to NGOs based on their requirements. ConnectFor was founded in 2015 by Shloka Ambani and Maniti Shah when they understood the value of human capital and it's dire need in the development sector. ConnectFor has grown in these 5 years to almost all of the major metrocities and has now over 500+ NGOs across India and have connected them with more than 24,000+ volunteers. Since inception, they have saved more than Rs 2.7 crores for these NGOs via volunteering
For this event ConnectFor is partnering with Angel Xpress Foundation. Started as a platform for concerned citizens willing to tutor, mentor, and guide first-generation learners from slums in their neighborhood, Angel Xpress Foundation believes that an involved, educated adult can lead a child to discovering his or her own true potential and every child deserves that opportunity.
Additional Questions? Contact the team:
virtualvolunteering@connectfor.org or 7977347851