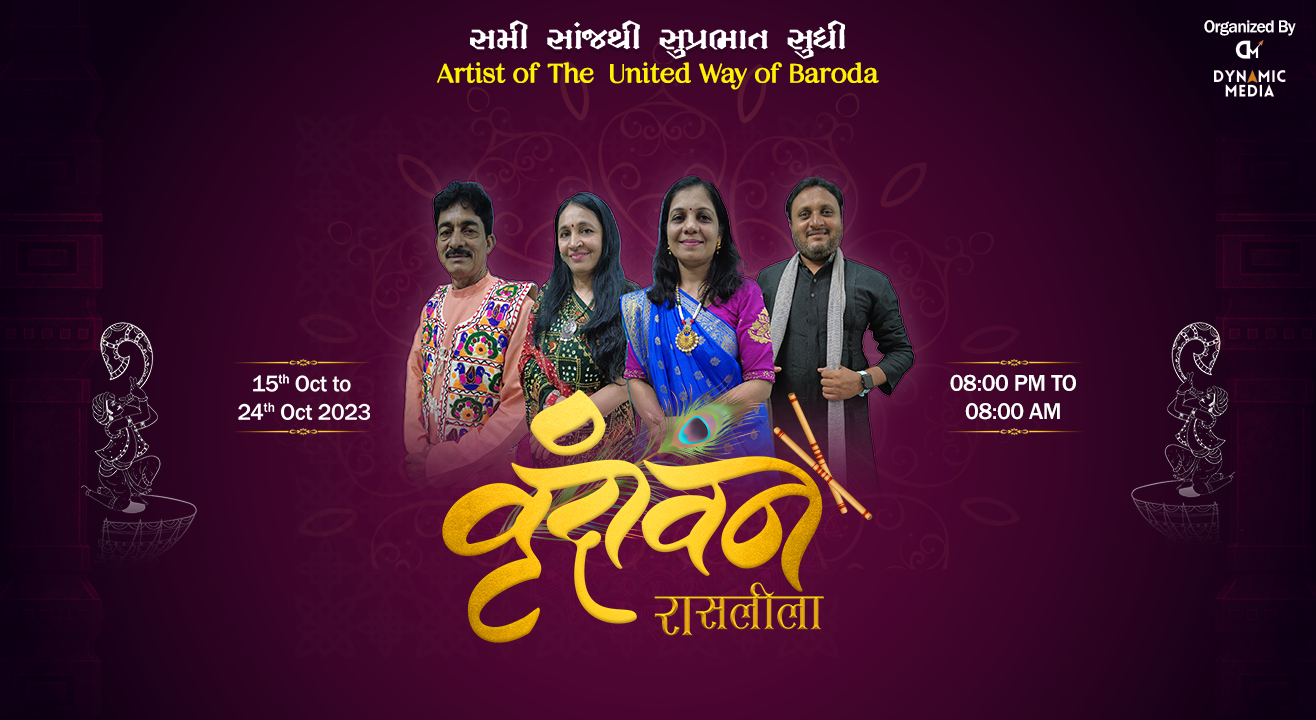 Vrundavan Raas Leela 2023| સમી સાંજથી સુપ્રભાત સુધી | Navratri 2023
October 15 - 24 | 8PM - 8AM
Iscon Palmsprings, Ahmedabad
Event Guide
Language
Gujarati, English, Hindi
Invite your friends
and enjoy a shared experience
Vrundavan Raas Leela 2023| સમી સાંજથી સુપ્રભાત સુધી | Navratri 2023
October 15 - 24 | 8PM - 8AM
Iscon Palmsprings, Ahmedabad
Event Guide
Language
Gujarati, English, Hindi
Invite your friends
and enjoy a shared experience
Event Guide
Language
Gujarati, English, Hindi
Invite your friends
and enjoy a shared experience
🌟 Vrundavan Raas Leela 2023: The Grandest Navratri Celebration in Ahmedabad 🌟
Dates: October 15th to October 24th
Timing: 12 Hours of Non-Stop Fun, 8:00 PM - 8:00 AM
Venue: Vrundavan Raas Leela, Iscon Palm Springs,
Opp. Zydus School of Excellence, Godhavi, Ahmedabad
Get ready for an unforgettable journey into the heart of Ahmedabad's heritage and culture at the "Vrundavan Raas Leela 2023," the most spectacular Navratri event in the city!
🪕 Theme: Mandali Garba 🪕
🌌 Experience the Magic of the Night: 🌌
Dance the night away with our special "Full Night Mandali Garba" that will keep you grooving from dusk till dawn.
🌆 Heritage of Ahmedabad Comes to Life: 🌆
Step into a world where the rich heritage of Ahmedabad unfolds before your eyes. Immerse yourself in the traditions and culture that make our city so unique.
🎺 Live Music by United Way of Baroda: 🎺
Feel the rhythm of the heart-pounding beats as United Way of Baroda takes the stage, setting the night on fire with their scintillating tunes.
🎤 Supporting Local Talent: 🎤
We take pride in being the first to promote local street artists to the grand stage. This event isn't just an ordinary gathering; it's a once-in-a-lifetime experience where we provide a platform for local talents to shine, turning rags into riches.
🌳 Garba in Nature: 🌳
Escape the city's hustle and bustle and dance amidst the serene beauty of nature. Our event is hosted in the lap of lush greenery, away from the crowded city, making it a Garba experience like no other.
🚗 Ample Parking Space: 🚗
Worry not about parking! We've got you covered with convenient parking spaces right near the venue, ensuring a hassle-free experience.
Mark your calendar for the grandest Navratri celebration in Ahmedabad - Vrundavan Raas Leela 2023. Join us for an unforgettable night of Mandali Garba, culture, and heritage. Book your tickets now and be part of this mesmerizing journey!
🎟️ Grab your tickets 🎟️
Vrundavan Raas Leela Navratri Garba #mandlithemegarba #garbanight #ahmedabadgarba
Iscon Palmsprings
Iscon Palm Springs, Opp. Zydus School of excellence, Godhavi, Ahmedabad 382115
GET DIRECTIONS
Vrundavan Raas Leela 2023| સમી સાંજથી સુપ્રભાત સુધી | Navratri 2023
October 15 - 24 | 8PM - 8AM
Iscon Palmsprings, Ahmedabad
Event Guide
Language
Gujarati, English, Hindi
Invite your friends
and enjoy a shared experience