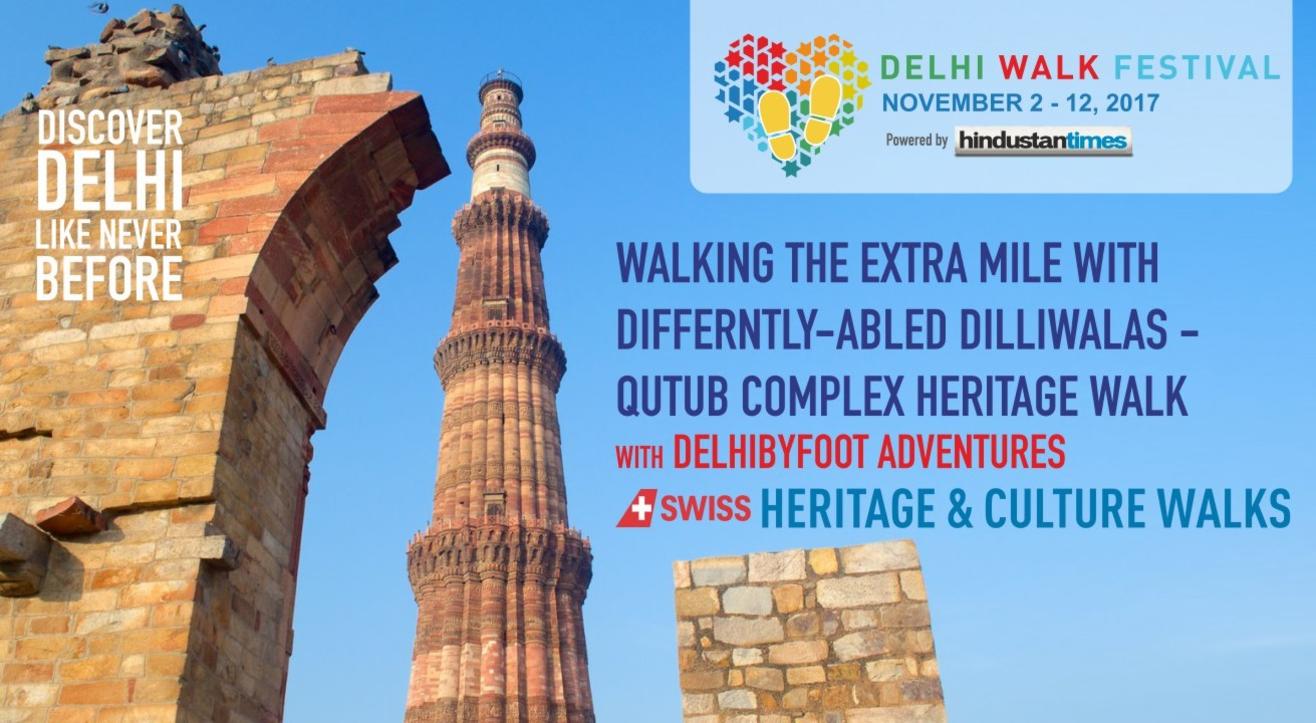 Culture & Heritage
Delhi Walk Festival- Walking the extra mile with Differntly-abled Dilliwalas - Qutub Complex Heritage Walk
About
Welcome to the DELHI WALK FESTIVAL!
Put on your walking shoes – and join us.
Choose from Nature Walks, Ecology walks, Design Walks, Photography Walks, Alternative and Experimental Walks, Culture Walks, Heritage Walks, Art Walks, Music Walks and Food Walks.
Discover a city that is brimming with experiences that are rich, diverse, vibrant, inclusive, unique and unforgettable.
ABOUT THE WALK
DelhiByFoot has always believed that our city's monumental heritage and historic tales must be shared with everyone, thereby promoting inclusion and the rights of a person with disabilities.
Our walk in the Qutub Minar Complex offers a unique experience that is suitable for the visually/hearing impaired and physically challenged Dilliwalas using relevant 'helping aids'. Our team has designed and implemented multiple modules that will help the differently-abled to experience Qutub Minar in a new light, with a new perspective!!!
DelhiByFoot is a community of Dilliwaalas, who have been sharing stories of this ancient city with educational hubs, corporates and curious individuals for the past 12 years.
ZUBAIR IDRISI, is a core team member of DelhiByFoot, who has over ten years of experience in working with young adults for social and inclusive development. He specializes in all outdoor adventure programs for the differently-abled. Having spent his life in and around the medieval city of Mehrauli, he is a treasure trove of 'qissaas'.
Contact Number of walk Leader-Zubair 9868486272/9871181775
Please bring all the necessary aids you will need for 3-4 hours of outdoors activity.
Wear comfortable walking shoes and comfortable clothes
Carry mosquito-repellent creams and patches.
Our city is choking on plastic waste, we wish to avoid adding to the city's woes, so please carry drinking water in your own bottles.
Carry sunshades, umbrellas, walking sticks etc.

Participants have to pay for their own entrance tickets

Venue
1 AQ
Qutub Minar Roundabout, 1AQ, Qutub Minar Complex Rd, Seth Sarai, Mehrauli, New Delhi, Delhi 110030