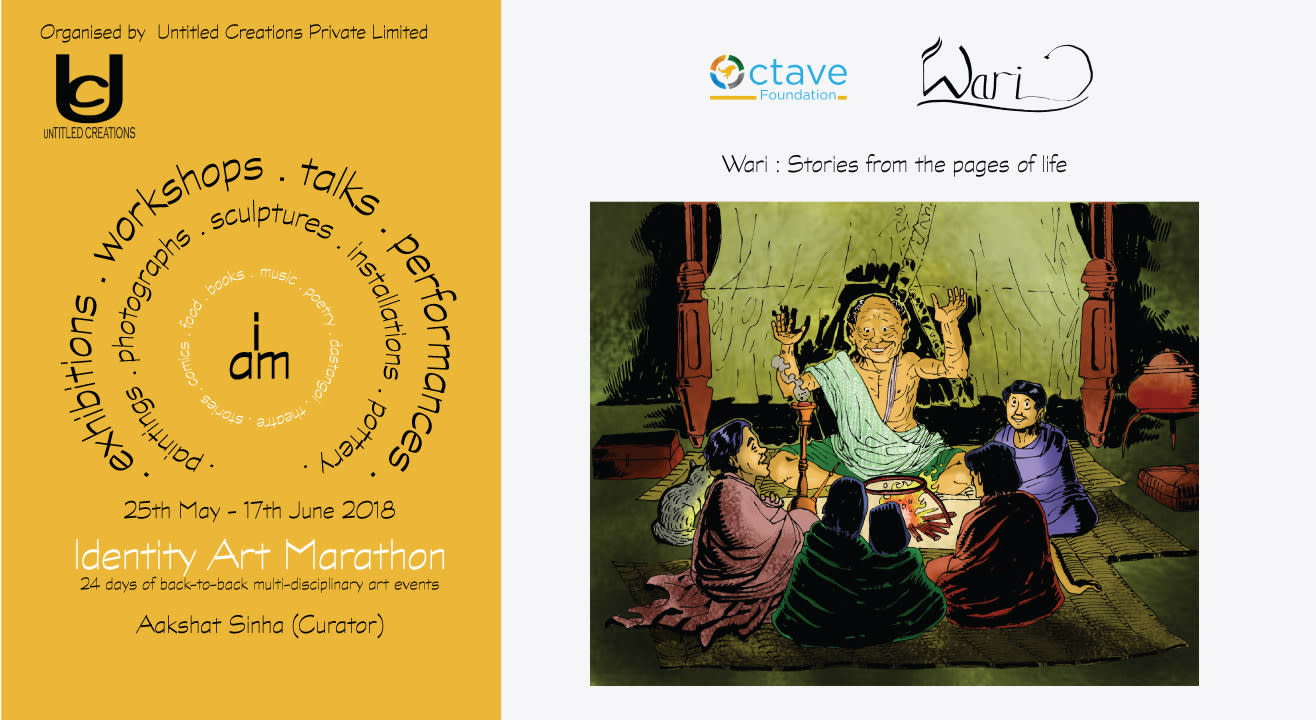 Storytelling
Wari: Stories from the pages of life
About
Octave Foundation's Wari - a storytelling series; started its journey in June 2016.
The word Wari means 'story'.
Wari is an initiative about celebrating ethnic diversity and showcasing the weft and warp of our social fabric through folktales. Our carefully curated and written stories connect, entertain and make you ponder. Our forte is to provide a platform to the lost art form of live narration of folk stories as a tool to promote cultural insights and unity amongst diverse communities. Translated into Hindustani, these folk tales are from different parts of the country (and the world).
Stories from different Wari chapters have been showcased more than 30 times at different spaces across India.
At this presentation, we bring two Manipuri folktales and a story from Middle East
Loushing Tannaba urf Gupp
Through this Manipuri tale (preceded by a Jewish story), we see how the oral tradition rests upon the teller's ability to stretch the narrative. Enjoy the richness of folk by listening to this contest of wits.
Adapted by Ankit Chadha and Nicky Chadam
Duration: 20 mins
A story about how fear of the unknown came into the world.
Adapted from a Manipuri folk tale by Nicky Chandam.
Duration: 25 mins
Nicky Chandam is an emerging writer, poet, curator, producer and a passionate story-seeker. She is an avid chronicler of arts through her photographs and words. Originally from Manipur, she is a now a Dehalvi (resident of Delhi) after living in the city for more than a decade. She is the Founder and Director of Octave Foundation which aims to bring people together to celebrate the cultural diversity of our planet.

Tarique Hameed took on his theatrical endeavor 12 years ago working with 'institutions' of theatre like Salima Raza, Amal Allana, Banwari Taneja, Danish Iqbal, H.S. Shivaprakash, Samkutty Pattomkary, Soumyabrata Choudhury, K.S. Rajendran, Dev Raj Ankur, Mushtak Kak, Suman Kumar, Ajay Kumar and Anoop Trivedi. He has directed Topi Ki Dastaan, The Wave, Sara Ka Sara Aasmaan, Khamosh Adaalat Jaari Hai, Kabira Khada Bazaar Me, Pratibimb, Mahabhoj, Gandhi Park,The Birth of Dreamers and Ladka Hua Hai. He is the
Venue
Arpana Fine Arts Gallery
Arpana Fine Arts Gallery, Academy of Fine Arts and Literature, 4/6 Siri Fort Institutional Area, Opp. Gate No. 2, Siri Fort Auditorium, New Delhi 110049. Metro Green Park.