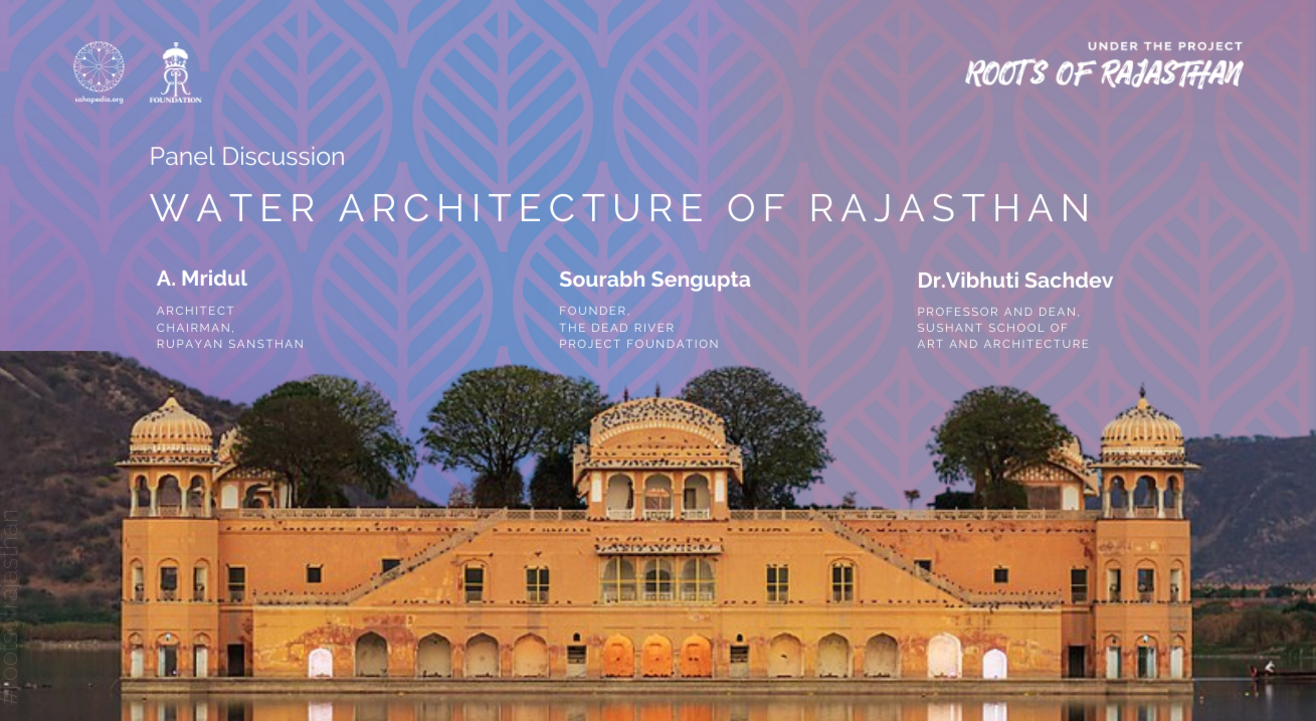 Water Architecture of Rajasthan
Event Guide
Digital Event
Watch on Zoom
For Age(s)
Family Friendly
Interactive show
Be a part of the show
Invite your friends
and enjoy a shared experience
Event Guide
Digital Event
Watch on Zoom
For Age(s)
Family Friendly
Interactive show
Be a part of the show
Invite your friends
and enjoy a shared experience
About the Event
The desert state Rajasthan is well known for its water architecture. The land of forts is also a land of man-made water bodies, exemplifying a culture of valuing each drop of precious water. With the entry of piped water supply and tubewells, most of these forms of water architecture have fallen prey to neglect. The panel shall highlight the history, restoration, and even tourism opportunities around the water architecture.
About the speaker:
A. Mridul, an internationally awarded architect, has a varied palette of projects in India and the US. His projects are an extension of heritage and contemporise traditional practices to make them timeless, thus modern and futuristic. This is best exemplified by, among others, a massive subterranean step‐well, Birkha Bawari, built out of site‐quarried sandstone for harvesting 17.5 million litres of rain‐water in a water strapped region of India's arid zone. Mridul is passionate about the ancient water heritage of India. He believes and practices the idea of making India water positive by contemporising the traditional water heritage through its regeneration, replication and mainstreaming. He is currently officiating as Chairman of Rupayan Sansthan, a folklore institute founded by noted anthropologist Padma Bhushan Komal Kothari. He co-founded The Jodhpur Lore, (www.thejodhpurlore.com), an initiative to promote centuries old traditional crafts of the region through workshops and training.
Sourabh Sengupta, Founder and Member of The Dead River Project Foundation. Their mission is to spread awareness on water conservation, connect communities and come up with a collective solution and create real-time Immersive Solutions in Virtual Reality, Augmented Reality & Mixed Reality, along with 3D interactive application development for environment sector for future changemakers that will benefit the world at large. He is a young entrepreneur with a plan in heart and team in place to build a futuristic world which balances technology and environment.
Dr. Vibhuti Sachdev is Dean at SSAA and Director, Architecture, Planning and Design Schools, Sushant University. She qualified as an architect in 1989 from SPA, Delhi, completed her PhD in Vastu Vidya in 1996 from the University of London, and has worked as a conservation consultant, writer, and designer. She is interested in issues of negotiating modernity, urbanism, and the craft and cultural traditions. She has taught at the University of Sussex and written four books and several articles on the subjects of Jaipur, traditional knowledge systems, Indian cities, and Indian modernities. She has worked and written extensively on the city of Jaipur, focusing on its planning, architecture, and craft traditions. Since publishing these books, Dr. Sachdev has been a consultant on the restoration of the Jal Mahal in Jaipur, was the design curator for the artwork of its pavilions, and the co-curator of the exhibition 'Painted Pleasures'. Her latest book is on the Festivals at the Jaipur Court. She is currently working on devising an integrated approach to learning and developing a research ecosystem for the creative fields of Architecture, Planning, and Design.