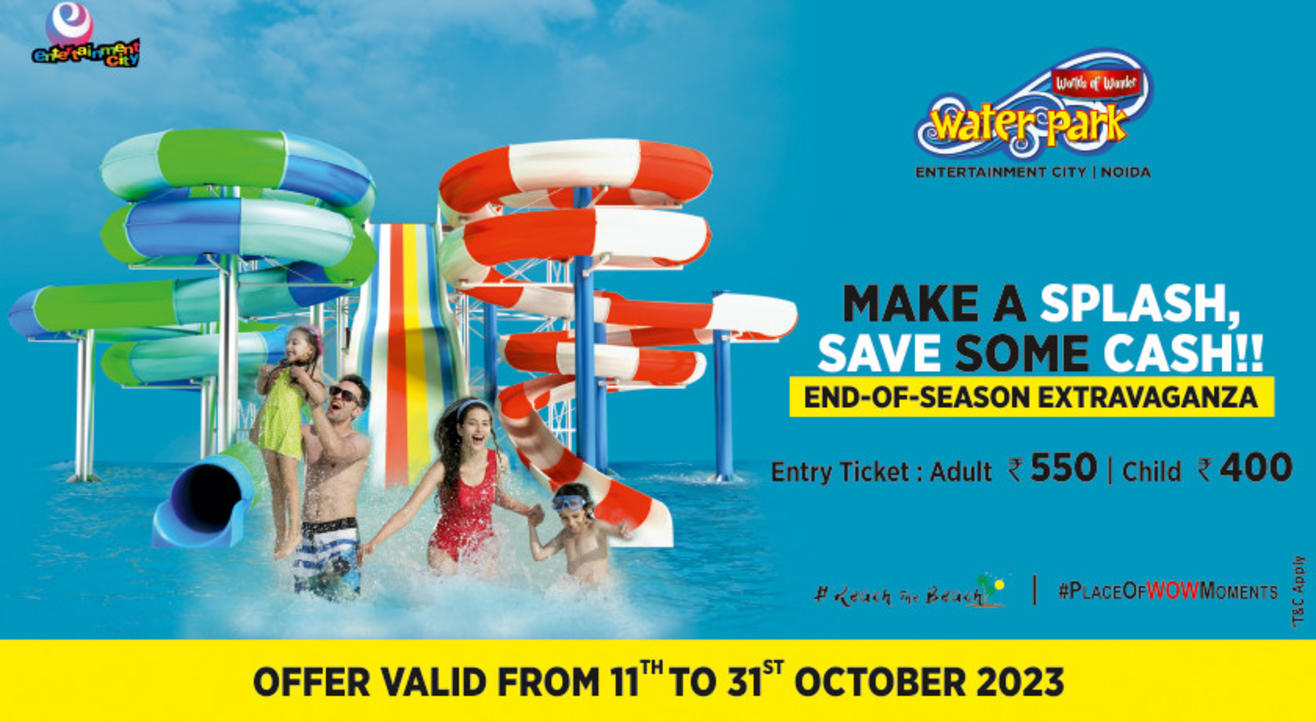 Worlds of Wonder - Water Park (WOW)
Till October 31 | 11AM - 7PM
Event Guide
For Age(s)
Family Friendly
Invite your friends
and enjoy a shared experience
Worlds of Wonder - Water Park (WOW)
Till October 31 | 11AM - 7PM
Event Guide
For Age(s)
Family Friendly
Invite your friends
and enjoy a shared experience
Event Guide
For Age(s)
Family Friendly
Covid 19 Safety Measures
This event adheres to the following

Health & safety measures
Social Distancing
Hand Hygiene Stations
Limited Capacity
Sanitisation before the show
Invite your friends
and enjoy a shared experience
Covid 19 Safety Measures
This event adheres to the following

Health & safety measures
Social Distancing
Hand Hygiene Stations
Limited Capacity
Sanitisation before the show
If you are sick of the heat and daily hassle, Worlds of Wonder Water Park is the perfect getaway to cool off and chill starting from 10:00 am to 6:00 pm each day. Bring your family to enjoy the thrill, the entertainment and the fun. Worlds of Wonder is considered the cleanest and well maintained Water Parks in the country and known for its kid friendly rides. Spread across 10 acres, the Worlds of Wonder's Water Park boasts of 23 attractions. Designed by White Water West, Canada and Arihant, India, all activities in WOW's Water Park are closely monitored by a team of highly trained lifeguards.
Each of our slides provide you with a different way of going with the flow. Have a blast as you twist, turn, splash or just float around all day. Take a pick from slides for the whole family and friends, indulge on some healthy competition. Rest assured, whichever ride you choose, you'll end up going right with the flow.
Worlds Of Wonder Noida Tickets Highlights
Indulge in an exciting time at the 'World of Wonders', Noida- India's largest theme park
Feel the adrenaline in your veins as you indulge in rides like bid beat & download
Spend time in the water with the thrilling ride of boomerang & chill of the wave pool
Worlds Of Wonder Noida Tickets Overview
Location: Sector 38, Noida
Timings:
Amusement park: NOT OPERATIONAL
Water park: 10:00 AM - 6:00 PM
Duration:
About Worlds of Wonder Noida Tickets:
The Worlds of Wonder park is located in Noida's Entertainment City. It is India's largest theme park, featuring 20 TUV-certified attractions and 26 world-class slides to let you forget about your problems. Aside from rides, there are 20 themed restaurants to tempt your palate. Worlds of Wonder is the ideal spot to hang out in Delhi-NCR because it offers total entertainment, amusement, food, and shopping. The park also has the best amusement park rides for all age groups. Spend some amazing time with your companions and have a blat
Spread across 10 acres, the Worlds of Wonder Water Park boasts 23 attractions for all age groups.
All the rides the safety ensured and are under the supervision of trained Lifeguards always.
The waterpark is known to be one of the cleanest and most well-maintained Water Park in the country. Its standard pH and chlorine levels are well maintained.
The service team provides a safety inspection of all water slide components, access areas, and support structures to ensure the proper functioning of the equipment.
The theme park boasts 20 various rides for thrill-seekers, divided into two zones known as La Fiesta, for families and kids, and The roadshow or teen zone.
The amusement park, on the other hand, has more than 20 breathtaking rides, shopping, dining, and other recreational activities available.
Plan your visit now to make every moment epic making it worth taking with friends and family. Children love to enjoy fun rides and games.
How to reach?
The location is 10.1 km from the city center of Noida, it can be easily accessed using the public or private modes of transportation.
Nearest Metro Station: Noida Metro Station, Sector 18 is located at a distance of 1.1 km from the property.
Nearest Airport: Delhi Airport is located at a distance of 22.9 km from the property. Flights from major cities are available to reach the spot.
Ticket criteria:
Adult (Height above 130 cm) Rs 1399
Child (Height between 90 cm - 130 cm) Rs 999
Sr. Citizen (60 years & above) Rs 699
Terms & Conditions
Standard Worlds of Wonder rules, regulations, terms and conditions apply. Check rules and regulations.
Entry Ticket:
Your entry ticket entitles you a single entry to the Park with access to all rides / slides and attractions/ activities in operation on the day of your visit. All other in-park services are charged separately.
Tickets are non-transferable, non-exchangeable, non-refundable, non-redeemable for cash and non-replaceable, if lost or stolen, and will be void if altered.
Re-entry to Park is not permitted after you have made an exit from the Park.
NO Split entry is allowed on Easy tickets / e-tickets
NO Preponement or Postponement is allowed on Easy tickets / e-tickets
NO conversion of tickets from Theme Park to Water park & vice versa allowed on Easy tickets/e-tickets
Your Belongings:
You and your belongings are subject to security check. We reserve the right not to allow an item or belonging into the Park.
Please take care of your belongings. Worlds Of Wonder will not be responsible for any losses.
Safety Measures
All our Staff is Vaccinated.
We request you to avoid traveling and visit public places which includes Worlds Of Wonder in case you have any symptoms related to Covid-19
Aarogya Setu app is mandatory for the Park entry. This is to ensure safety for all staffs and guests at the park.
Guest body temperature will be checked using a contactless thermometer. If the body temperature found above 37 degrees Celsius / 98.6 degrees Fahrenheit , for the safety of yourself and the other guests you will be sent back & the entire booking will be extended for a future date without any additional charges
As per government guidelines, Senior Citizens above 65 years of age, persons with co-morbidities, pregnant women & Children below the age of 10 years are advised to stay at home.
In case if guest do not adhere to safety measures at the Park, Worlds of Wonder holds the right of admission or to expel the guest from the Park premises for safety of all guests and employees without sighting any further reasons or explanations
There Might be certain Rides & Attractions which will be non-operational due to Covid-19 Safety purpose and as directed by Government rules and regulations from time to time
We encourage you to make in-park payments using Card or UPI mechanism
For reasons of safety , Guests won't be allowed to re-enter the Park once stepped out for any reason
Following Items are not permitted inside the Park:
Licensed / unlicensed weapons
Explosives, fireworks, hazardous material/ chemicals
Sharp objects like arrow, dart, knife, blade, scissors, pen knife etc.
Bags, trolleys, cartons, parcels (except hand bags & baby bags not more than 56 cm x 36 cm x 23 cm)
Food, drugs, alcoholic/non-alcoholic beverages (except baby food)
Chewing gums and candies
Carts or other wheeled carriers (except strollers & wheelchairs)
Pets
Magic markers, spray paints and aerosol cans
Lawn chairs and folding chairs
Selfie sticks
Clothing / Attire:
NYLON AND LYCRA COSTUMES ARE MANDATORY TO ENJOY THE WATER RIDES
Please wear appropriate attire whilst inside the Park.
THEME PARK: Proper attire must be worn at all times, including shirts and appropriate footwear. Clothing with rude, vulgar or offensive language or graphics is not permitted, and shirts cannot be turned inside-out as a solution. Shirt, shoes, and a bottom (shorts, pants, skirt, etc.) must be worn at all times in the theme Park. Park admission may be denied if clothing is deemed inappropriate by Worlds of Wonder. Long hair must be securely tied up.
WATER PARK: Appropriate swimwear, which is durable for use on the water slides/attractions, must be worn. We do not accept any responsibility for any damage to swimwear. Worlds of Wonder reserves the right to evict you from the ride / attraction, and the Park, if your attire is considered inappropriate or offensive. Long hair must be securely tied up. Babies and toddlers, if not toilet-trained, must wear swim-nappies at all times.
You may buy appropriate swimwear, clothing, socks or leggings from our retail stores inside the Park.
Parking:
Vehicles are parked at the owners' risk. Worlds of Wonder takes no responsibility for damage caused to any vehicle using the car park and no guarantee is given as to the security of your vehicles in the car park or any contents. A parking fee applies. No vehicles are permitted to remain in the parking premises of the Park outside the Park operating hours. Please follow parking instruction given by parking Representative.
Lockers:
Loose items (including neck, wrist and hand jewellery, watches, glasses, cameras, phones, hats, keys and purses etc.,) are not allowed to be taken in to the Park and must be left in lockers provided, although Worlds Of Wonder accepts no responsibility for any loss or damage to such property.
Smoking:
Smoking is prohibited inside the Park.
Children:
Please supervise your children at all times whilst inside the Park.
Code of Conduct:
Please be polite & courteous to fellow guests while waiting for attractions. Guests are not permitted to save places in queue or exit the queue and return to claim same place, for any reasons.
Do not distribute any printed material for marketing of any kind.
Photography, videotaping, recording, broadcast or transmission for commercial purposes is prohibited.
Do not engage in unsafe, illegal activities or offensive behaviour. It may result in expulsion from the Park without refund.
Do not interfere with the duties of the Park staff.
Do not disrupt any program, activity or facility at the Park.
Do not urinate or defecate on Park property. Please refer to the Park map for washrooms.
Do not deface, destroy, injure, misuse or remove any Park property.
Do not litter.
Posting notices, signs or any other objects on Park property is prohibited.
Do not engage in gambling.
Do not create noise through gadgets etc. so as to disturb the peace.
Do not enter restricted areas.
Do not conduct an unauthorized event, hold demonstrations or unauthorized public gatherings and, make speeches.
In case you notice any irregular activity or misconduct please report it to the Park staff.
Excessive consumption of alcohol is cause for ejection from the Park without refund. No one under the age of 25 is permitted to consume alcoholic beverages, and proper ID is required to purchase and/or consume alcohol
Safety Instructions:
For your own safety and to avoid injury, you must comply with the instructions displayed and adhere to health and height requirements posted at each attraction. Due to your height or weight you may not be able to enjoy certain rides due to safety restraint.
Please follow the warnings and instructions given by the ride operators.
Please be aware of any health risk that may apply to a ride / slide / attraction / activity. This may include: heart problems, back problems, high blood pressure and pregnancy. This can also include those who have fainting spells, blackouts and dizziness.
Stay seated until the ride comes to a full and complete stop.
Please keep all limbs within the interior of the vehicle. Utilize all safety devices to include safety harness and safety bars.
No eatables or drinks allowed inside the attraction or the queue area.
Seating is available on a 'FIRST COME FIRST SERVE' basis. If a ride is full, and you are unable to get on please wait for the next ride.
Please be careful not to push or move ahead of others in the queue. Queue jumping is strictly prohibited.
Please note that you may get wet in some attractions.
Worlds Of Wonder RESERVES THE RIGHT TO REVOKE YOUR ENTRY TO THE PARK OR EXPEL YOU FROM THE PARK/S WITHOUT REFUND IF YOU ARE FOUND MISUSING OR VIOLATING PARK POLICIES, STAFF INSTRUCTIONS AND RULES & REGULATIONS OF ANY RIDE OR ATTRACTION.
Cancellations / Refunds:
Cancellations of entry tickets are permitted only up to 48 hours prior to the intended date of visit, and 25% cancellation charges shall be levied on the total price paid. No refunds are permitted if cancellations are made within 48 hours prior to the intended date of visit. Partial cancellations or modifications are not permitted.
No refunds are admissible on cancellation or alteration of vehicle bookings.
No-Show: Please note that the Park tickets are issued only for the date as mentioned thereon. These tickets cannot be used on any other date and no refunds shall be given for unused tickets.
Chargeback: Similarly, no chargeback is permissible on unused tickets
Disclaimer:
Worlds Of Wonder is not responsible and does not assume any liability for any damage, loss, disappearance, theft, or any other form of alteration, physical or otherwise to your personal belongings. The use of Park facilities is entirely at your own risk.
You are liable for any alteration or damage, loss, theft, physical or otherwise, to Park property caused by your negligence, omission, or non-compliance to any of the rules and regulations of the Park.
You may be photographed / video graphed during your visit to the Park and such photographs/video recordings may be used by Worlds of Wonder for promotional purposes without any monetary compensation.
Emergency:
In case of any emergency, please contact our staff
Worlds of Wonder
Entry from Gate No. 11 Adjacent, The Great India Place Mall, Ashok Marg, Sector 38, Noida, Uttar Pradesh 201301, India
GET DIRECTIONS
Worlds of Wonder - Water Park (WOW)
Till October 31 | 11AM - 7PM
Event Guide
For Age(s)
Family Friendly
Invite your friends
and enjoy a shared experience