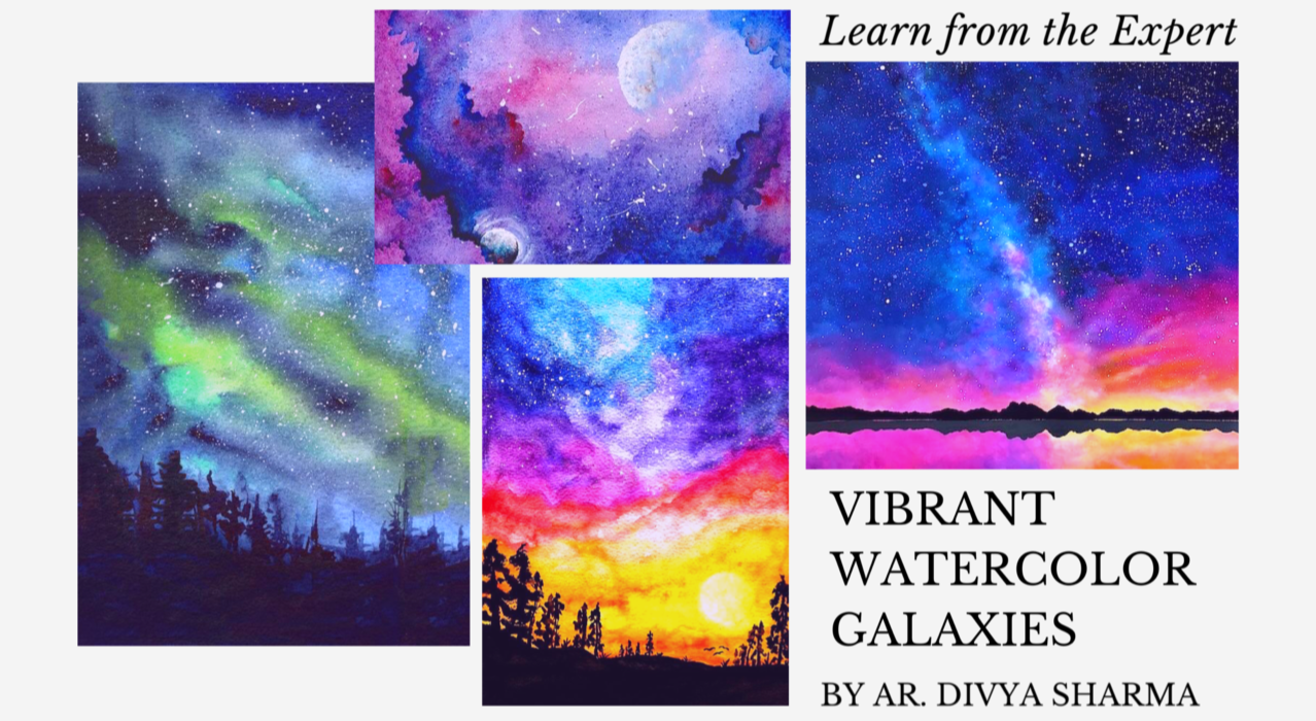 Watercolor Galaxies- Vibrant starry night skies, Northern lights & Landscape
Invite your friends
and enjoy a shared experience
Invite your friends
and enjoy a shared experience
About the Event
About the course-
Time to indulge in some art therapy!
We are bringing you a fun and interesting WaterColor Workshop where you will learn the techniques to create Trending Watercolor Galaxy Paintings which will include- Vibrant starry night skies, Northern lights & Landscape.
The workshop is beginner-friendly. Your love for colours and curiosity to learn is enough to join. Great for both beginners and artists.
About the instructor-
Divya Sharma is an architect and interior designer, and has mastered the Art by attending Art classes in the USA. Her international exposure to art from all over the world, places like- Paris, London, San Francisco, Los Angeles and Seattle has lead her to conduct successful Art Workshops in India.
Her knowledge of colours and aesthetics combined with watercolors leads to creating awe-inspiring paintings. Over the years she has developed a unique watercolour style which she is here to share with you.
There are many ways to use watercolours, which can be intimidating, but the techniques which she is going to teach you in this workshop will make this process easy and fun for you, soon you shall get a good hang of it and be able to make beautiful and interesting water colour paintings.
In this guided session the artist will guide you and paint along with you. She will teach you how to guide the water across the paper effectively and dutifully along with colours in order to create a magical painting.
Pick colors that fascinate you!
Attending this class would be a great advantage in your water colour journey and will add a new skill set.
So pick up your brush and use it as a wand to create a magical piece of art.
Materials-
1.Watercolor paints
2.Brushes - Round brushes of 2-3 different sizes
3.Palette / Plate
4.Watercolor paper (300 gsm+) or any Thick paper - A4 size
5.Glass of Water
6.Tissues / Thin towel
7.Pencil
8.Eraser
When-
9th August 2020
Time-
5:00 pm - 7:30 pm
Fee-
INR 500
This is a Live and Interactive session conducted over ZOOM video.
The ticket price is for one user only per session.
Zoom link for the workshop will be sent 30 mins before on the whatsapp no. given by you, as well as on the email ID.