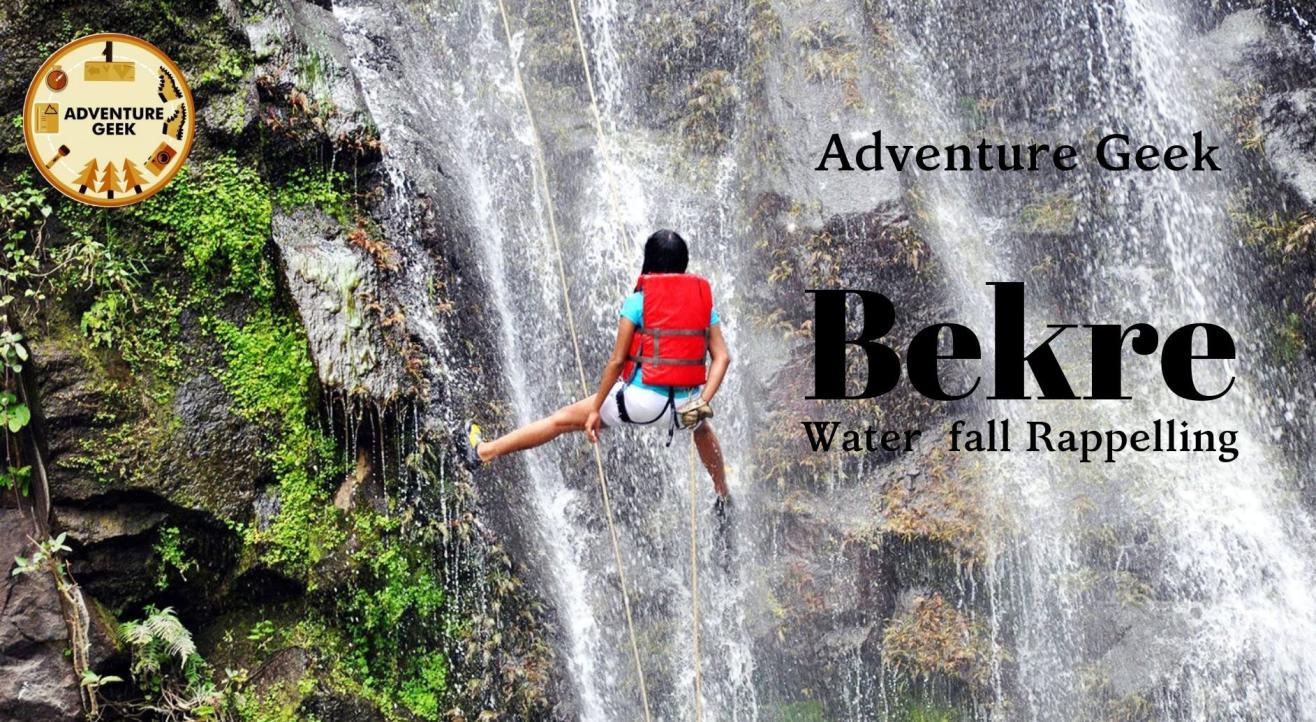 Adventure
Waterfall Rappelling at Bhekre
About
Waterfall Rappelling at Bhivpuri (Bekre)
Short Info:
Location: Diksal Waterfall near Bhivpuri.
Height: Appx 115 ft.
Grade: Thrilling.
Cost for Only Rappelling is 1000/-
Cost: 1350/- Per Person
About:
Bekare waterfall rappelling is close to Bhivpuri station. A short 10 minutes drive from Bhivpuri station takes us to a village from where this waterfall is 30 minutes away. The route to this waterfall is scenic in monsoons with lush greenery around. The trek from the
village till the waterfall is very easy and no pre-trek experience is required. Once at the waterfall other than the main rappelling patch you can also spend time in the nearby pools.Rappelling aka abseiling is an activity used to descend a mountain or a fall in a safe way.When done on waterfall its known as waterfall rappelling, is a difficult than normal rappelling as the rock patches are slippery and falling water acts as addition obstruction. This Bekare
waterfall rappelling will be done under technical supervision of experienced guides
Itinerary:
Train to catch: Karjat Slow Train
05:20 am CST
05:30 am Byculla
05:40 am Dadar
05:50 am Kurla
05:56 am Ghatkopar
06:17 am Thane
06:39 am Dombivali
06:48 am Kalyan
07.30 am Bhivpuri
On arrival at Bhivpuri railway station then further proceed towards Bekare village by local transport.
08:30 am - After having breakfast we will start the hour-long trek to the waterfall patch.
09:30 am - Reach the main waterfall patch, Briefing session (Dos and Don'ts).
10:00 am - 04:00 pm (Rappelling Activity).
04:30 pm - 05:30 pm - Reach back to Bhivpuri station.
Cost for only Rappelling is 1000/-
Cost: 1350/- Per Person
Includes:
Breakfast in the morning.
Safety and First Aid.
Certified Professional expertise.
Equipment Charges.
1-time Rappelling charges.
In Case you want to do Second time Extra 750/- Need to pay and also after all the participant is done.
Excludes:
Lunch
Travel till Bhivpuri station from your station/CST
Personal expenses.
Insurance of any kind.
Medical hospitalization, evacuation, and related expenses.
Any item not covered under "inclusions".
Things to carry :
- Extra pair of clothes.
- Rains showers are expected, so pack your bags accordingly
- Compulsory items: Scarf for Ladies Must.
- A proper two-sided haversack to put all the things, So that one has hands free
- ID proof, approx 3 ltr water, some snacks, Should wear good trekking shoes, full sleeve shirt/T-shirt & Full Pant, if you have any medical issue please carry your own medicine as we carry only First aid, carry some extra clothes.
Non-compulsory items but helpful:
Cap, Sunglasses, Woolen Jacket, Camera, mosquito's repellent, Electoral / Energy powder, 2 Lemon, & 2 plastic bags for weight distribution.
(It's totally self-responsibility to take care of things.)
Limited seats, entry on first come first served basis.
Important Points to keep in mind:
1 The leader's decision will be final and binding on all members. No Arguments will be entertained.
2 Participants or Members are responsible for his/her own safety and baggage.
3 Please do not wear any jewelry.
4 Please do not litter, we believe in the saying, wherever you go, leave only your footprints and take back only memories.
5 Alcohol is strictly prohibited on any events. Anyone found in possession of the same or consuming it will be expelled from the event. NO REFUND will be provided.
Please read our "Terms & Conditions" before joining for any events.
Cost of the event 1350/-
Rules :
- Camp leader's decision will be final and binding.
- Adventure Geek reserves all the right to change/deviate/cancel the plans without prior notice.
- Please do not carry or wear any valuables, ornaments, jewelry, etc. If carried, then we Do Not take any liability for the same.
- The campsite has a strict NO Smoking/Drug/Alcohol Policy.
- All timings mentioned above are tentative.
Cancellation and Refund applicable on the whole tour cost :
• If cancellation is done prior to 6 days of outing 75% will be refunded.
• If done prior to 3 days of outing 50% will be refunded
• After that, no refund will be provided.
Jai Hind,
Adventure Geek