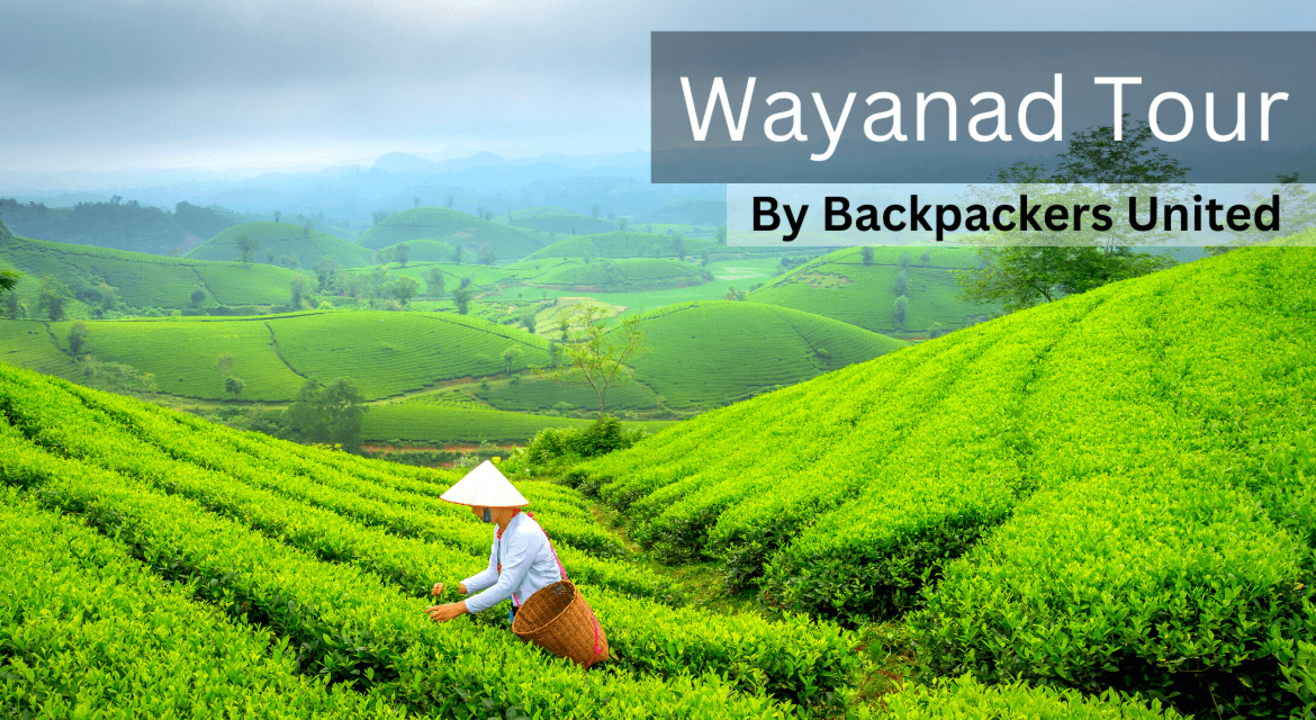 Wayanad Backpacking Trip | Trek | Tour
October 13 | 10PM - December 31 | 10PM
Karachi Bakery - Indiranagar, Bengaluru
Event Guide
Getaways
Enjoy the outdoors
Invite your friends
and enjoy a shared experience
Wayanad Backpacking Trip | Trek | Tour
October 13 | 10PM - December 31 | 10PM
Karachi Bakery - Indiranagar, Bengaluru
Event Guide
Getaways
Enjoy the outdoors
Invite your friends
and enjoy a shared experience
Event Guide
Getaways
Enjoy the outdoors
Invite your friends
and enjoy a shared experience
Day 1 - Departure from Bangalore
Transportation From Bangalore to Wayanad
AC Transfers In Traveller
Your Wayanad tour package starts from Bangalore, our representative will pick you up in the late evening from Indira Nagar: 9:00 PM/ Domlur: 9:15 PM/ Mysore Road 9:30 PM
Overnight Journey through Tempo Traveller (according to the group size)
Day 2 - Wayanad Sightseeing | Explore The Unexplored Hill station Of Kerala
Banasura Dam | Banasura Mala Waterfalls | Karlad Adventure Camp | Adventure Activities
AC Transfers within Wayanad
Hotel
Breakfast, Dinner
(Breakfast and Buffet Dinner in Hotel)
Reach Wayanad in the morning and take a breath of fresh air amidst views of picturesque valleys.
Head towards your hotel and proceed with the check-in formalities.
Have a delicious breakfast early in the morning and take a rest for a while.
After taking a rest for a while, depart to witness the magnificent beauty of Wayanad.
Head towards, Banasura dam the largest earth dam in India, constructed in the Banasura lake in Kalpetta, one can indulge in speed boating, and horse riding at your own cost.
One can also visit Karalad Lake and Banasura Mala Waterfalls which are nearby.
After a soothing day, have your lunch (at additional cost) at around 2:00 PM and relax in the serene beauty of nature.
After refreshments, Visit Karlad Adventure Camp for water activities, verdant green landscapes, misty mountains, romantic waterfalls, scores of folk art forms and so much more.
One can also indulge in Ziplining, Kayaking, climbing on rock panels, paintball, archery, and land zorbing here at your own cost.
After an adventurous day, proceed towards your hotel and then enjoy your delicious dinner.
Overnight stay at Wayanad.
Day 3 - Departure & Sightseeing | Take a path to the serene and secluded Kanthanpara waterfalls
Kanthanpara waterfalls | Wayanad Tea Museum | Edakkal Cave
AC Transfers within Wayanad
Breakfast
(Only Breakfast is included. Lunch and dinner will be self sponsored)
Wake up with a magnificent view and a delicious breakfast from the hotel and proceed with the sightseeing tour of Wayanad.
Head towards Kanthanpara waterfalls, a beautiful yet secluded waterfall that sits gracefully near Meppadi. It is the only waterfall open to the public in the vicinity of Kalpetta.
Next, head towards Wayanad Tea Museum and get to know about antique exhibits that provide information on the history of tea production in Wayanad, machines used for processing tea leaves in the past, and old photos of tea gardens and factories.
One can also taste the flavor of different kinds of tea at the tea bar here.
Later, visit Edakkal Cave the most famous cave in Wayanad.
After the sightseeing tour, have your lunch by 2:00 PM (At an additional cost) in the peace of nature while enjoying the views.
Depart for Bangalore around 4:00 PM with a bag full of memories.
Note:- You'll be reaching back to Bangalore around 12:00 AM Midnight

For any Queries please Contact us on +91 6361170690
Website : https://backpackersunited.in/
Follow us on Instagram for updates on Upcoming Trips/Treks : @backpackers_united_
1. Tickets once booked cannot be exchanged or refunded
2. An Internet handling fee per ticket may be levied. Please check the total amount before payment
3. We recommend that you arrive at-least 30 minutes prior at the venue for a seamless entry
4. It is mandatory to wear masks at all times and follow social distancing norms
5. Please do not purchase tickets if you feel sick
6. Unlawful resale (or attempted unlawful resale) of a ticket would lead to seizure or cancellation of that ticket without refund or other compensation
7. Rights of admission reserved
8. These terms and conditions are subject to change from time to time at the discretion of the organizer.
9. For any Queries please Contact us on +91 6361170690
10. Follow us on instagram @backpackers_united_ for updates on Upcoming Trips / Treks.
11. Visit our website for more info : https://backpackersunited.in/
Karachi Bakery - Indiranagar
1st Main, 665, 100 Feet Rd, First Stage, Defence Colony, Indiranagar, Bengaluru, Karnataka 560038, India
GET DIRECTIONS
Wayanad Backpacking Trip | Trek | Tour
October 13 | 10PM - December 31 | 10PM
Karachi Bakery - Indiranagar, Bengaluru
Event Guide
Getaways
Enjoy the outdoors
Invite your friends
and enjoy a shared experience