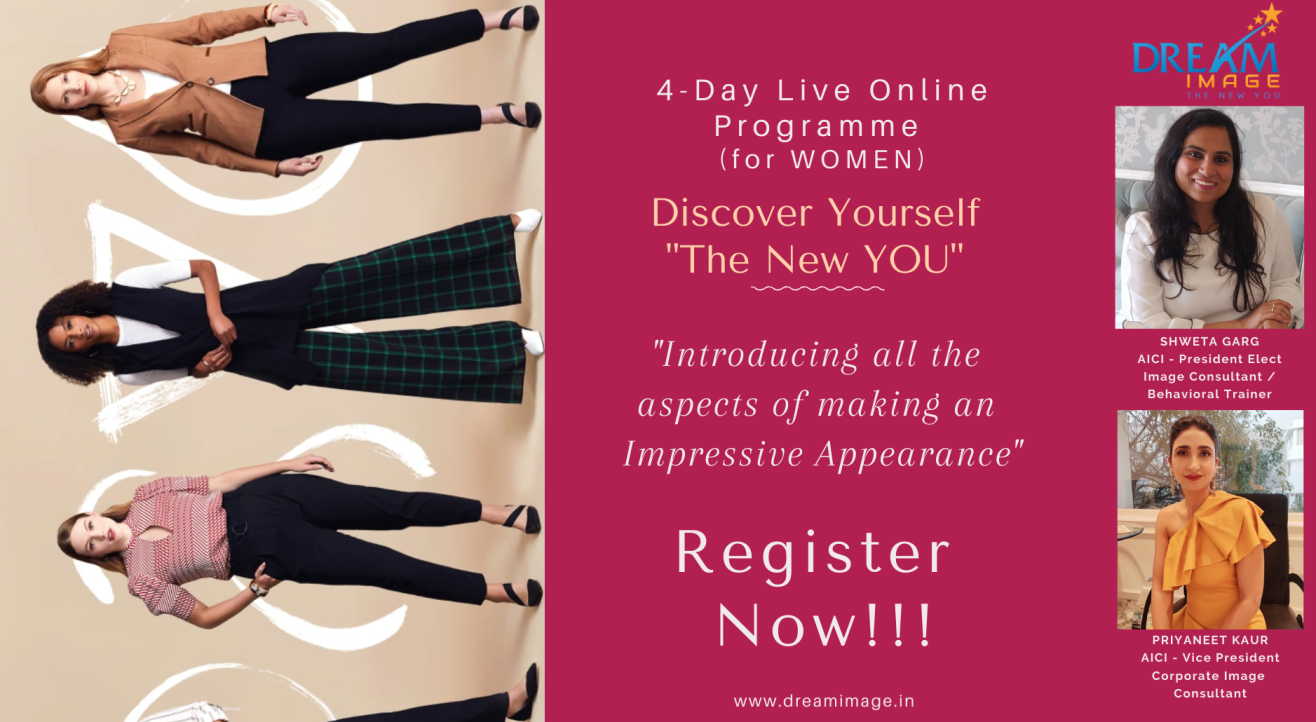 4 Day Live Online Programme- Discover Yourself "The New YOU"
May 30 - June 2 | 12PM - 1:30PM
Invite your friends
and enjoy a shared experience
Invite your friends
and enjoy a shared experience
About the Event
4 Day Live Online Programme- Discover Yourself "The New YOU"
Your appearance affects the way you feel, think, speak and how others react to your presence and action. Your image is your perception in the eyes of others.
It is both a task of creativity, perseverance and agility. Innumerable skills need to be honed with a positive attitude to balance out the odds and evens in life.
So decide now, that -- What would you like your IMAGE to convey?
Keeping in mind the power of appearance and presentation, we have designed "Discover Yourself - The New YOU" workshop which will introduce all the aspects of making an impressive appearance.
The participants will learn -
Be Your Own Stylist - Understand the Power of Lines & Your Figure Type
Know Your Personal Colors
Body Language & Postures
Dining Etiquette
The programme will help you-
Know that your behaviour and etiquette reflect the respect you have - for your own self and towards others.
Understand the nuances and importance of appearance and etiquette.
Increase your positive presence and your overall aura.
Make a significant difference in your life and others around you.
Workshop Details:
Mode of Training – Virtual Training Session / E-Learning on ZOOM
Dates - 30th May to 2nd June 2020 (Each module will be covered in 90 min)
Time - 12:00 pm to 1:30 pm
Fees - Rs.. 3000/-
About Trainers
SHWETA GARG -
Shweta Garg, founder of Dream Image, is AICI Certified Image Consultant and Behavioral Change Specialist who further progressed to be designated as the President-Elect of AICI India Delhi Chapter. She is also ABNLP USA & ANLP UK certified International NLP Practitioner.
With the experience of close to a decade in a corporate sector and her expertise in flawlessly customizing your transition to a better self has helped her carve a niche for herself in the flourishing global Image Management and Behavioural Training arena.
She is associated with a couple of government organizations for their staff trainings and employee development programs. She has also convened training in educational institutions, networking forums and have inspired and facilitated many individuals in their transformation journey.
Her belief as a trainer is the gratifying experience one gains by guiding individuals, groups and organizations to explore and reach their full potential.
PRIYANEET KAUR -
Ms. Priyaneet Kaur is currently Deputy Director in the Apparel Made-ups & Home Furnishing Sector Skill Council (AMHSSC), New Delhi under the Ministry of Skill Development. She holds the charge of Vice-President Membership of AICI (India Chapter), the biggest International Association of Image Consultants (AICI) in the World.
A Post Graduate in Apparel Merchandising Management, she has more than a decade of experience in the Apparel, Hospitality and Media & Entertainment Industry. As an internationally certified Corporate Image Consultant, she has been successfully helping people transform their Image, making it consistent/ congruent with their personal, social and professional roles & goals.
A passionate long-distance runner having won several accolades and a disciplined fitness enthusiast, she also helps her clients with valuable fitness tips.
For any query, you can reach us at-
Shweta Garg +91 99876 87129
Priyaneet Kaur +91 98101 37820
Email - contactus@dreamimage.in