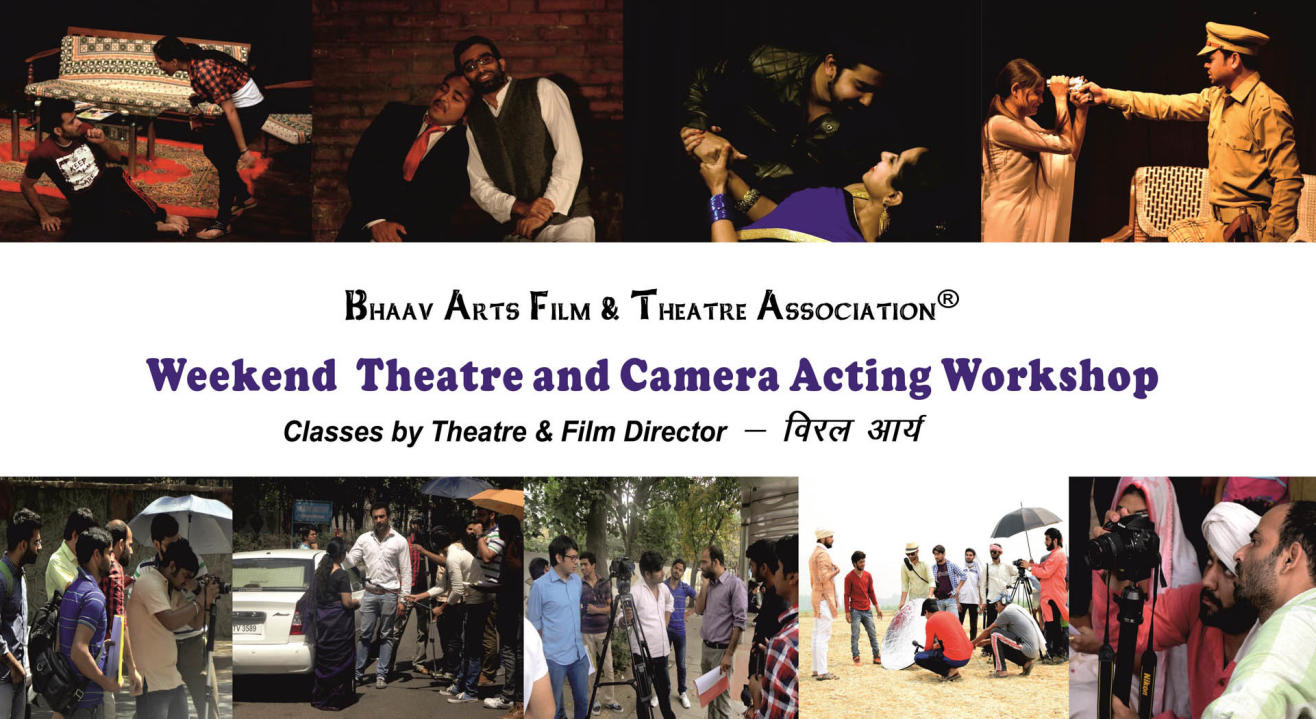 Weekend Theatre and Camera Acting Workshop
November 1 | 3PM - November 29 | 6PM
Step out and enjoy this event
Invite your friends
and enjoy a shared experience
Invite your friends
and enjoy a shared experience
About the Event
Theatre not only helps you to learn acting, but it also helps you to learn teamwork, it makes you disciplined, improves your body language and teaches you how to face audience. On the other hand, Camera not only helps you in being famous, but it also helps you to learn from your mistakes, it makes you hardworking, improves your patience and teaches you how to give your best in one shot. This production oriented WEEKEND 'Theatre and Camera' Acting Workshop is ideal for those who wants to learn basics of acting to make their career in acting field or want to satisfy their passion of soul.
Followings are the main basics of this Camera Acting Workshop:
(1) Process of Learning: firstly, you should know that how you can learn.
(2) Introduction to Acting: what is Acting and how you can Act.
(3) Spontaneous V/s Method Acting: find & develop your style to Act.
(4) Acting Techniques: learn basics of Acting with ways to perform.
(5) Characterisation: understanding of character with its internal and external traits.
(6) Face Expressions: any act without expression is not an Act.
(7) Voice Modulation: how you can deliver dialogues.
(8) Improvisation: learn how you can improve your character.
(9) Knowledge of Shots: there are various Camera Shots.
(10) Shots Continuity: this is main aspect in Camera Acting, Actor must carry forward shot continuity from one shot/take to another.
(11) Camera Audition: Practical knowledge of how to give camera audition.
(12) Practical Theatre Play: Short Film after successful completion of workshop.
After successful completion of Workshop candidate will also get followings:
(1) Certificate of Participation in Workshop
(2) Practical AUDITION to learn & perform.
(3) Practical THEATRE PLAY to learn & perform.
(4) Opportunity of Short Film* to learn in practical
Age Group: 18 Years to 50 Years
Class Time: 3:00pm on every Saturday and Sunday
Class Duration: 2hr 30mins per class
Workshop Duration: Three Months (21 Classes), weekends only
Workshop Fee: Rs. 2000/- per month per head.
Classes by theatre & film Director - विरल आर्य
Hurry Limited Seats, Register Now
We don't believe in big words, we believe in you. If you can learn, we can teach.​
BHAAV ARTS FILM & THEATRE ASSOCIATION
Bhaav Arts Studio
in Basement of Patnanjali Store, Gali No.-2, Guru Angad Nagar West, Opposite Metroplex East Mall, Nirman vihar, Laxmi Nagar, Delhi, 110092
GET DIRECTIONS