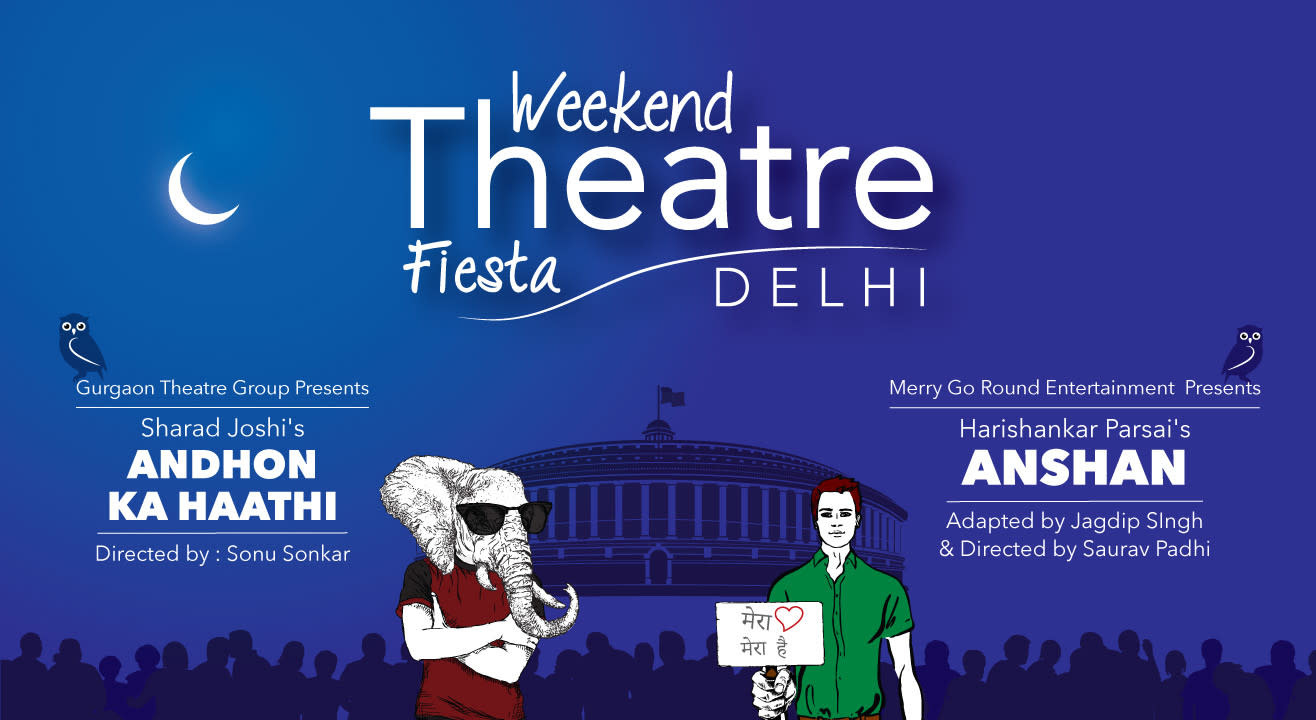 Theatre
Weekend Theatre Fiesta (Delhi)
About
An initiative to present some Weekend Extravaganza of good & entertaining plays to enable you to experience the emotions of some finest actors of the millennium city and watch the characters of yesterday, today and tomorrow come to life on stage.
Initiated in November 2016 the Theatre Fiesta has already entertained close to 500 people. After successful shows In April and May Weekend Theatre Fiesta is back with 2 new plays.
This July enjoy with 2 Satires the same day (in the same ticket) by 2 Master Storytellers in one evening, presented by 2 leading theatre groups of Gurgaon, Gurgaon Theatre Group & Merry Go Round Entertainment.
About the Plays –
Andhon ke Haathi by Sharad Joshi
Directed by Sonu Sonkar
The play revolves around five blinds and an elephant. Sutradhar, the presenter of the play brings an elephant before five blinds and requests them to identify, recognize and gave their own interpretations of it. He also tells them to find out the possible threats from it. In the process, the blinds catch hold of different parts of the elephant's body like trunk, ear, leg, tale and the stomach.
Here starts a fight between five blinds over their difference of opinion about the elephant. The conflict symbolizes the fight between different political ideologies and religious beliefs. The blinds represent the establishment and its handling of the National issue. In a highly intellectual manner the whole theatrical events draws the true picture of our country. The play shows how the system never wants to be questioned.
Anshan by Harishankar Parsai
Adapted by Jagdip Singh
Directed by Saurav Padhi
Anshan or hunger strike has deep roots in the Indian society and Indian psyche. During Indian independence struggle Gandhi Ji had engaged in several famous hunger strikes. The legacy continued post independence and we have witnessed many famous and not so famous strikes.
But, what if one goes on a hunger strike to get married to an already married lady? Sounds crazy – isn't it. Yes, Bannu is keeping fast unto death to get his love interest, married Savitri. Ironically Savitri hates Bannu, but Bannu is determined in his mission. In fact for the strike he garners supports from various Godmen, Swamis, press and social & political leaders. His hunger strike becomes national issue. This is a social and political satire that makes mockery of hunger strike and the system.
Venue
LTG Auditorium, Delhi
1, Copernicus Marg, Mandi House, Opp. Doordarshan Bhavan, Near Connaught Place, New Delhi, Delhi 110001