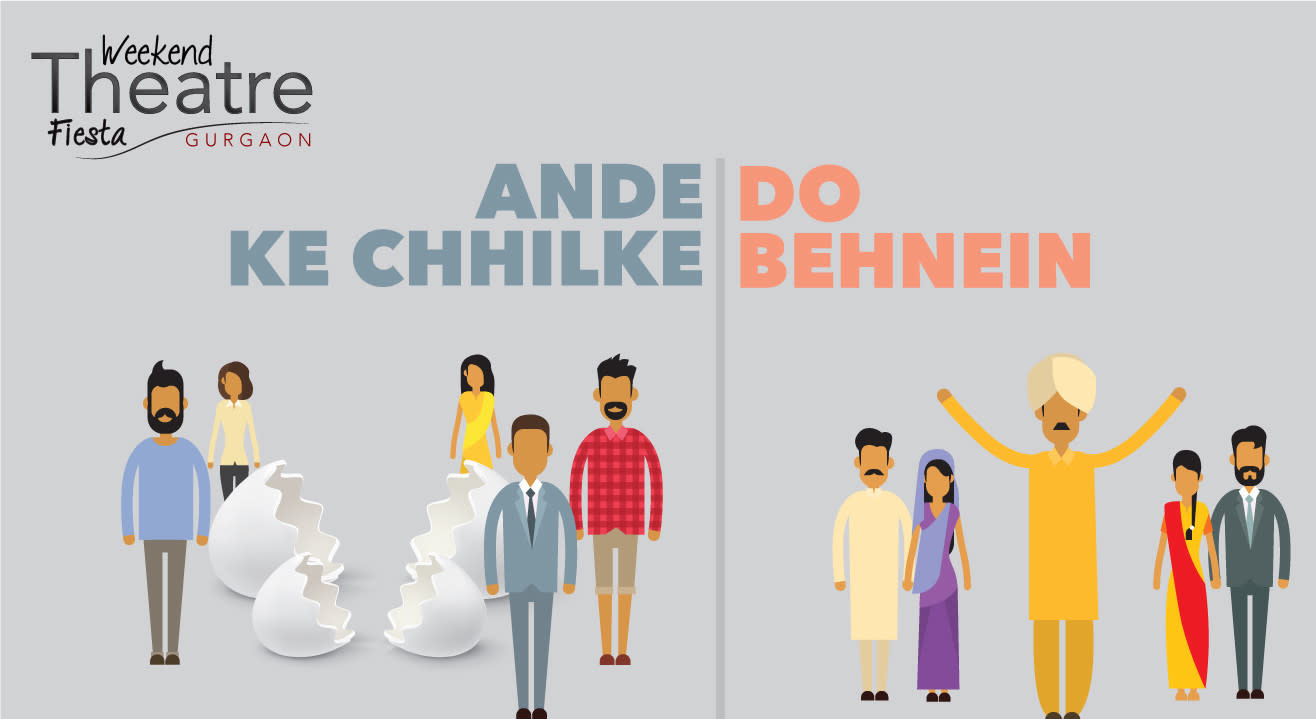 Weekend Theatre Fiesta (Gurgaon)
Kalasthali Amphitheatre, Gurugram
Step out and enjoy this event
Invite your friends
and enjoy a shared experience
Weekend Theatre Fiesta (Gurgaon)
Kalasthali Amphitheatre, Gurugram
Step out and enjoy this event
Invite your friends
and enjoy a shared experience
Invite your friends
and enjoy a shared experience
Weekend Theatre Fiesta is an initiative to bring to you two days of good plays that lets you experience the emotions of some finest actors of the millennium city and watch the characters of yesterday, today and tomorrow come to life on stage.Both days will see two satires - Ande Ke Chhilke and Do Behnein by two master storytellers, presented by two leading theatre groups of Gurgaon - Gurgaon Theatre Group & Merry Go Round Entertainment.
Ande ke Chhilke by Mohan Rakesh (Hindi) Directed by Ashutosh ShelatProduction - Gurgaon Theatre Group
An amusing adaptation of Mohan Rakesh's 'Ande ke Chhilke' set in Eastman Color times. A laugh riot, the play takes you to the old world era when eating eggs were viewed as a socially unacceptable act. Revolving around a joint family headed by a pedantic matriarch Jamuna and her three conforming sons, the story takes a turn when the young, charming daughter-in-law Veena teasingly reveals many hypocrisies hidden behind the masks of the convention.
Do Behnein by MunshiPremchand(Hindi Satire) Directed by Saurav Padhi Production - Merry Go Round Entertainment
A witty characterization of two sisters pursuing their separate lives. See the two clash in the inimitable, humorous, sarcastic style and language of Premchand. It's unique adaptation to fit into today's world maintaining the era and style of Premchand with a relevant & pertaining question 'Where is Happiness?'
Kalasthali Amphitheatre
Kalasthali Amphitheatre, Rezang La Marg, Pocket G, Sector 1, Palam Vihar, Gurugram, Haryana 122017
GET DIRECTIONS
Weekend Theatre Fiesta (Gurgaon)
Kalasthali Amphitheatre, Gurugram
Step out and enjoy this event
Invite your friends
and enjoy a shared experience