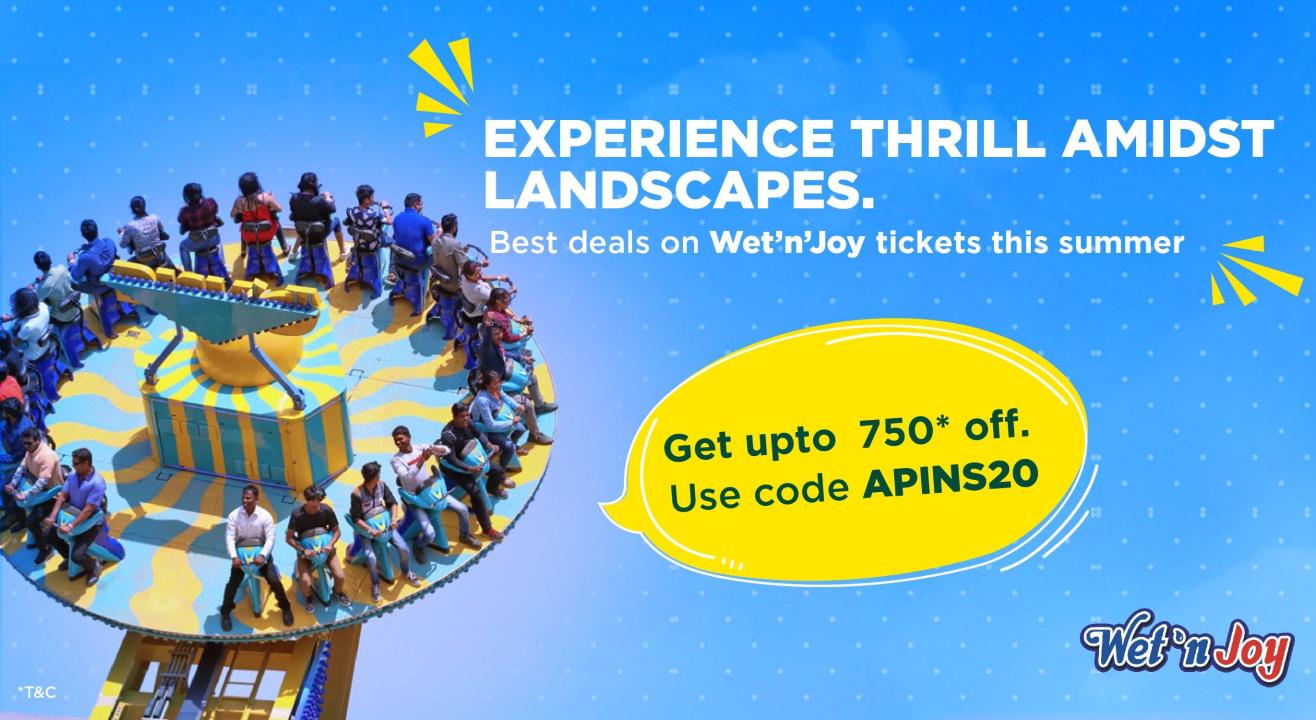 Events
There's lots to do this summer at Wet N Joy Park!
With a royal playground full of rides for kids, thrilling roller coaster rides, and a devotional robotics show, Wet N Joy Park has something for everyone.

Lonavala, the city of caves, hosts India's largest water park – Wet N Joy. Forget the sun's glaring presence for a while on thrilling water rides like Sky Fall, Extreme River, Nightmare, Cyclone among others. If you're in for adrenaline pumping action, get your dose across Rush Hour, Surf Up, Air Race and much more at Magic Mountain Amusement Park. Spiritual folks and elder family members don't need to miss out on the fun! Experience a holy journey at Sai Teerth, India's first immersive theme park dedicated to – Saibaba. Visit the famous pilgrimage sites like Badrinath, Dwarka, Siddhivinayak, Jagannath Puri in just 12 minutes with the 'Temples of India' attractions. After your darshan and pilgrimage, head to Wet N Joy's Shirdi arm which has Crusader Ride, Tornado Ride, Funnel Ride & River Ride to beat the heat.
Offers to bring you more joy!

1. Buy 3 tickets & get 20% off upto INR 750. Use the code 'APINS20'.
2. Get an additional INR 50 movie voucher for transactions made on the Insider.in app.
Things about Wet N Joy that caught our eye (other than its simple lil' name)

Their 60,000 sq. ft. wave pool, which is supposedly India's largest! It has 8 types of waves, set to music.

A pretty view of the mountains and the clouds (all that water had to come from somewhere).

Three multicuisine restaurants to take care of your F&B needs. Bhukkads, rejoice!

When can I visit Wet N Joy?

The park is open from 10 AM to 6 PM, for 365 days of the year! (and for the smarty pants, if it's a leap year, yes, that one extra day too!)

Getting There

Wet N Joy, Lonavala: Wet N Joy Park is located on the Old Mumbai-Pune Highway NH4 (At Mundhaware, Post- Takve Pune – 41040). It's quite easy to spot. You can book an Ola Cabs or Meru Cabs from Mumbai/Pune to the park or Akshata Tours (7507724006 / 7378454042 / 9403769662) if you're going from Lonavala.

Wet N Joy, Shirdi: Wet N Joy Park is located on the Nagar-Manmad Highway, about 5km to 6 km away from Shirdi in Nighoj Village. If you're going from Mumbai or Pune by bus, the park is just a 15 minute walk away from the Shirdi stop. For those who prefer the train, use the Sainager Shirdi stop and a rickshaw from there (or take an intense 30 minute walk).

Things to Keep In Mind (for both Lonavala and Shirdi):

1. Showering and swimwear - It's compulsory to take a shower before entering the rides on the park, and get on the rides and attractions in your swimwear. You can bring the swimwear from home or purchase them at Wet N Joy. There's also the option of renting swimwear at Rs. 200 along with a refundable cash deposit of Rs. 100.

2. There are lockers where you can keep your things! There's a baggage counter facility at the gate that can be used free of charge, and lockers in the changing rooms that require extra payment to be used.

3. There are clean changing rooms allocated for ladies and gents.


Facilities

1. Wet N Joy has a first aid station staffed with emergency medical technicians, as well as tieups with nearby hospitals.

2. There's a pickup and drop facility Wet N Joy has with Meru Cabs that you can avail by prebooking on their website.

Rides and Attractions

Lonavala:


Rides for the entire family -

1. Thunder Waves - This attraction is the first thing that's recommended by folks that come back from Wet N Joy. There's different kinds of waves to enjoy along with music at this super expansive pool. The diamond waves are a must-try!

2. Fungama - A zone where toddlers can have fun, with giant water toys and more.

3. Royal Castle is an aqua play station for kids of different age groups, with jet water guns and kid-sized slides.

4. Rain Dance - Splash around in the water to an upbeat music playlist. There's a ladies-only area too!

Rides to give you a sense of rush -

1. Extreme Volcano - Get tossed around on your floaty/tube as you're carried by waves gushing out from this ride.

2. Tornado - Slide through a series of tunnels and loop de loops and experience what it might be like to be inside a tornado!

3. Whizzard/Mat Racer - This ride lets you take it easy but still fulfils your need for speed - lie on a mat facing the end of a 58 feet slide and whizz down! With several slides next to each other, you can race your friends at the same time.

4. Skyfall - Plummet down a 68 feet slide feeling nothing but the pull of water and gravity for company!

5. Master Blaster - This is what you'd feel like if you were a legendary cricketing shot. Shoot through a topsy turvy ride of about 700 feet with open and covered tunnels.

6. Boomerango - Slide up and down a large pan and then go swooshing back to the ground!

Shirdi:

Wet N Joy also has Rain Dance, Tornado, a kids play station and a multi-racer ride that looks like Whizzard, but isn't as extreme. Other than, you can look forward to


Rides for the family:

1. Lazy River - Take a break from the hustle of the amusement park and go on a leisurely ride down this mile-long attraction.

2. Family Ride - A huge wave ride for the entire family
3. Family River - Like Lazy River, but with 3/4 seaters that you use to go down on a slide!


Rides for a sense of rush:

1. Anaconda - You'll almost hiss in your pants. Going down this four story slide feels like you're flying!
2. Daredevil Drop - This narrow, nearly vertical 50 feet slide is one hell of a ride.

3. Swing Chair - The ride we all looked forward to at fairs - with more twist.

4. Funnel - Get taken through an exciting series of twists and turns!

Subscribe to receive our newsletter!
Find the best experiences happening out there in your city or enjoy handpicked content while sitting comfortably at home. Paytm Insider is your go-to place to figure out what to do today!