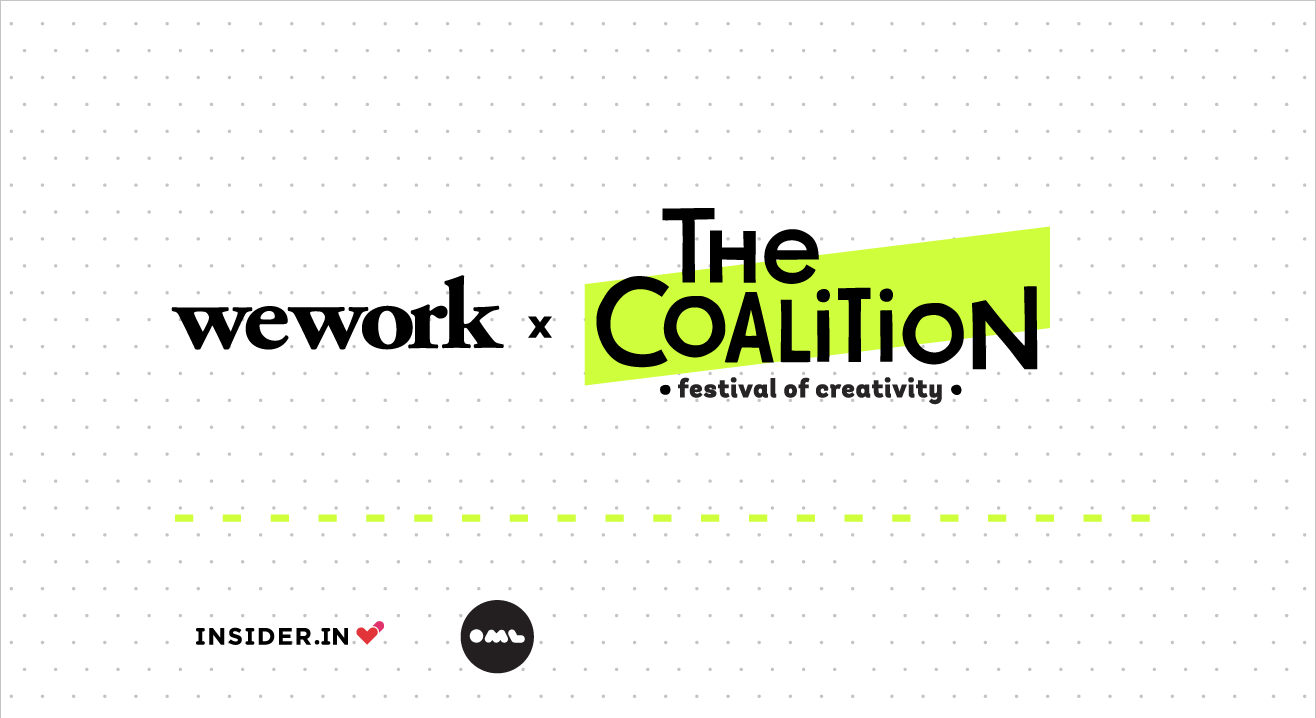 Conference
WeWork x The Coalition, Bengaluru
About
Please click here for the Full Schedule of The Coalition: Full Schedule
The Coalition's fifth edition, a debut in Bengaluru, is presented in partnership with global co-working organisation WeWork. What started as a bootcamp for creative entrepreneurs has grown into a festival of creativity that speaks to individuals across the spectrum of the arts. From students to start-ups and the iconoclasts of the arts world, TC engages the cultural community through a unique mix of panel discussions, workshops, pitch sessions, networking bids, and after parties in each successive edition. TC is unique in its intention to bring together people from multiple creative sectors and encourage cross-pollination - in conversation, ideas, and eventually creative work.
WeWork is a platform for creators. We provide beautifully designed workspaces, a global community, and opportunities in your 'hood or across the planet, enabling you to do your best work. Our mission is to create the world where people work to make a life, not just a living.
With over 150,000 members spread across over 50 cities and 18 countries around the world, WeWork is the largest network of creators and companies that grow together. WeWork is so much more than four walls—providing community, amenities, events, and technology to evolve space into experience.
Opening its doors in India for the first time, WeWork launched in Bangalore on July 1st, and in Mumbai on September 1st, with many more locations to come. We're excited to evolve and grow our community in India, bringing together an incredibly diverse and dynamic group of innovators.
To learn more about WeWork, check us out here and join the WeWork energy at TC5 in Bangalore.
Content
Design
F and B
Music
Makers
Performing Arts
Allan Rodrigues- CEO, Maker's Asylum
Deepali Gupta- Critic/Author of Times Nightlife Guide
Dipti Rao- Arts Consultant
Insia Lacewalla- Hospitality Consultant
Mohor Ray- Co-founder of Codesign
Neysa Mendes- Arts Consultant
Sanket Avlani- Curator Taxi Fabric and Design Fabric
Vaibhav Chhabra- Founder of Maker's Asylum
Venue
WeWork Galaxy, Bengaluru
43, Residency Rd, Srinivas Nagar, Shanthala Nagar, Ashok Nagar, Bengaluru, Karnataka 560025