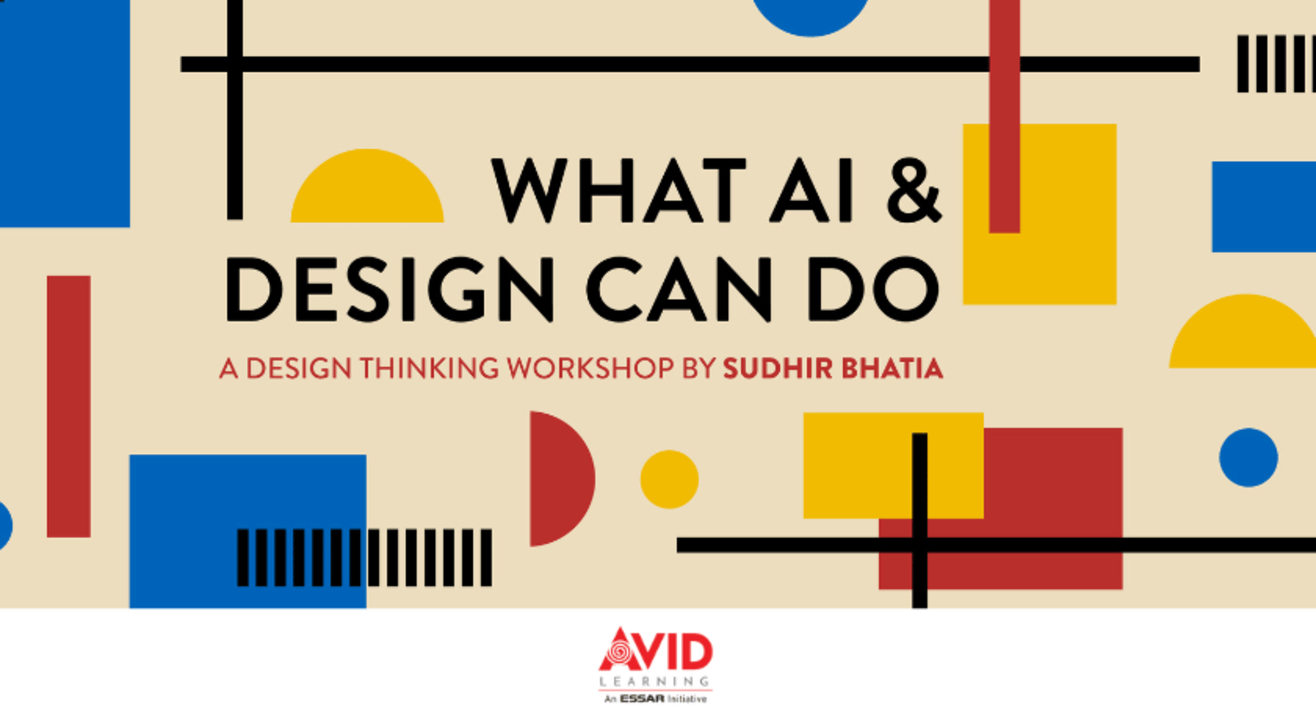 What AI & Design Can Do: A Design Thinking Workshop by Sudhir Bhatia
Event Guide
For Age(s)
Family Friendly
Masterclass
Learn from an expert
Invite your friends
and enjoy a shared experience
What AI & Design Can Do: A Design Thinking Workshop by Sudhir Bhatia
Event Guide
For Age(s)
Family Friendly
Masterclass
Learn from an expert
Invite your friends
and enjoy a shared experience
Event Guide
For Age(s)
Family Friendly
Masterclass
Learn from an expert
Invite your friends
and enjoy a shared experience
With the rapid evolution of Artificial Intelligence (AI) tools, human-centred design becomes the anchor for harnessing its potential effectively. Avid Learning presents What AI & Design Can Do – a day-long design thinking workshop by Sudhir Bhatia (Founder & Creative Director BRND Studio).
In this immersive workshop, participants will dive into a five-step design thinking and creative problem-solving process. They'll discover how to prioritise people at the heart of their solutions, ensuring AI addresses real-world challenges.
Participants will engage in hands-on activities, defining problems and creating prototypes for AI-driven solutions. This approach will provide them with a better understanding of AI's capabilities and a framework to help them solve professional and personal challenges.
Highlights:
1. Master the 5 key phases of the design thinking process.
2. Learn AI's current potential in content creation and problem-solving.
3. Hands-on prototyping to apply your newfound knowledge in real-world scenarios.
4. Practical and creative problem-solving in both professional and personal spheres.
About Sudhir Bhatia:
Sudhir is the Founder and Creative Director of BRND Studio, a design consultancy that specialises in creating digital products and experiences that drive customer satisfaction and business growth.
He has been honing the skill of design thinking for 30 years, working on product and system challenges for Fortune 500 companies like Walmart, Amazon and Coca Cola, among others. He worked at Symbol Technologies (bought by Motorola) for 12 years, eventually serving as Director of Design.
Sudhir teaches Interaction Design at the IDC of IITBombay. He regularly conducts workshops and teaches at top-tier design schools in India such as NID and international institutes like Pratt.
Sudhir has served as a juror at CES and IDEA, USA. He holds 21 patents and has won multiple design awards. In his free time, he enjoys football and high-altitude hiking
Students can avail Rs. 500 off using code DESIGN500
Essar House
11, Keshavrao Khadye Marg, Dr Babasaheb Ambedkar Colony, Mahalakshmi, Mumbai, Maharashtra 400034, India
GET DIRECTIONS
What AI & Design Can Do: A Design Thinking Workshop by Sudhir Bhatia
Event Guide
For Age(s)
Family Friendly
Masterclass
Learn from an expert
Invite your friends
and enjoy a shared experience