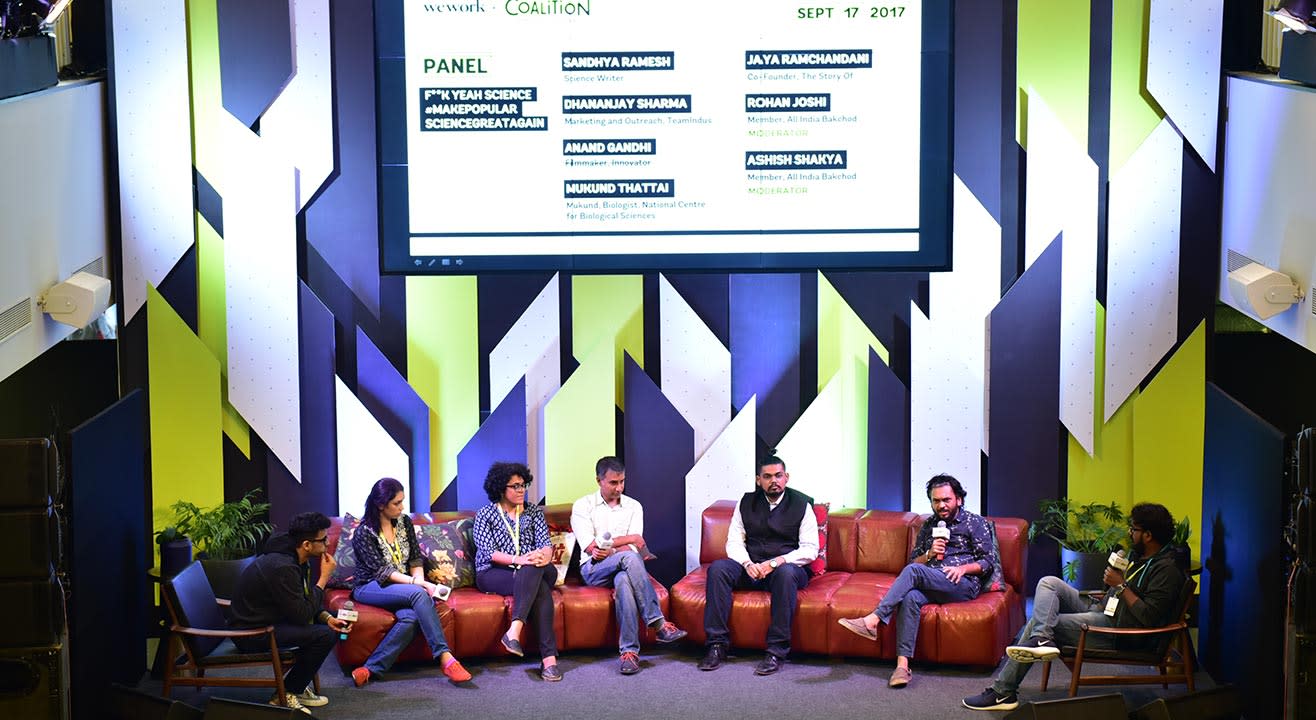 Creativity
The Coalition, Bangalore: 3 days at the Festival of Creativity
The debut edition of the Festival of Creativity at Bengaluru from Sept 15 - 17, 2017 saw some the most creative minds bring their points of their view to WeWork x The Coalition! Read on to find out what went down.
The festival started off with a keynote by WeWork co-founder and Chief Culture Officer, Miguel McKelvey where he spoke about the power of community. "Even when you're at the top, you need to be grounded," he said of remembering where, and why you started. Miguel's calm demeanor only seconded that. "The real power isn't in removing barriers, but in connecting people."
Music transcends language
The first panel, "Region Unlocked: Diverse Voices Creating Local Content", was moderated by Vijay Nair, CEO, Only Much Louder and had Abhinav Budhiraja, Founder, SoPunjabi, Paula McGlynn, Co-founder and Producer, Bhartiya Digital Party, RJ Pradeepa, Creative Manager - South, RadioCity 91.1 FM, and Vasu Dixit, Filmmaker, Musician, Swarathma.

Abhinav addressed the myth about consumption of video content in villages, "A guy in a rural village has a smartphone, internet and is watching Breaking Bad". The panel agreed upon there being a need for more regional content and how people are just more comfortable and more themselves in their mother tongue. The session ended with Vasu Dixit giving an example of just that. He handed out lyrics to his Kannada song 'Ragi Tandira' to the audience and everyone sang along with him - a song they didn't understand but fell in love with by the last verse.
Stay Hungry. Stay Foolish.
The evolution of food & food content.
It was all about F&B on the fifth floor at We Work on Day 1 of The Coalition. Chef Saransh Goila told us the story of his now famous butter chicken, his new show #RunToEat (because running to stay fit is so last season) and his mantra for digital content "Be new. Be you." Sneh Jain, from The Baker's Dozen showed us how to be artisanal in an FMCG world. The Flying Squirrel's Ravi D'abreo revealed his secret to the perfect cup of coffee, "We take our products seriously, not ourselves."
CTRL+ALT+EAT: Farm to table in the 21st century
From aquaponic farming to 5-day vegetarian diets, CTRL + ALT + EAT took us on a journey from farm to table and emerging trends in food. Moderated by hospitality consultant, Insia Lacewalla, the panel included Sneh Shekhawat from The Big O Farms, Abhishek Honawar of Honawar Hospitality, Pallavi Mithika Menon, Sr. Sous Chef, Fava at UB City and Aditi Keni, Chef de Cuisine, The Space, Goa.
Nightlife isn't just about going out and getting drunk, you've gotta fight for your right to party. And that's exactly what the panelists on Raising the Bar do. Moderated by Deepali Gupta from the Times Nightlife Guide, Vaibhav Singh, Perch Wine & Coffee Bar(s), Sibi Venkataraju, Founder and MD, Toit Brewpub, Riyaaz Amlani, CEO and MD, Impresario, and Narayan Manepally, CEO, Beerworks Restaurants and Microbrewery.
Day 2
The love that started with Hate Mail
Mr. Bingo, an illustrator, rapper and the creator of 'Hate Mail', is lovable, inspiring and beaming with unimaginable, twisted humor. Day 2's keynote speaker and a crowd-favourite, he took everyone through the journey of his artistic life in an equally colourful, sound-effect laden presentation. Along the way he touched upon his secret sauce to being an artistic success - share what people want to engage with and, if you commit to doing your own work, it's much more rewarding. (Hello, Mr. Martin Olley!)

Make.Break.Create.
Bringing the Maker's movement to India
A movement fuelled by independent inventors, designers and tinkerers, and led by Vaibhav Chhabra, Founder, Maker's Asylum, Vikraman Venu, CEO, IKP-Eden, Craig D'Mello, Chief Creative Officer / Co-Founder Think Happy Everyday, this panel was all about creating for the sake of creating.

Collaboration or competition?
The answer was unanimous with Durga Gawde , Sculptor, Durga Gawde Studio, Somnath Meher, Co-Founder and CEO, Blink and Madhuvathi Mohan, Illustrator, Something Sketchy, all choosing collaboration over competition. Moderated by Allan Rodrigues, CEO, Maker's Asylum, the panel spoke democratizing the design process – sharing ideas, working together, building communities.
Creating unprecedented social impact by disrupting the education process, Dhairya Pujara, Founder and CEO, Ycenter, Abhijit Sinha, Founder, Project DEFY, Vipul Arora, FabLab Designer, told us how they do it, with J. VIGNESH, Senior Correspondent, The Economic Times moderating.
Design has the power to change the world
Shiva Nallaperumal, Graphic Designer and Type Designer, Padmini Ray Murray, Faculty, Srishti Institute of Art, Design and Technology, Hanif Kureshi, Artistic Director and Co-Founder, St+art India Foundation; and Madhuvanthi Senthilkumar, Design Director, Taxi Fabric, Pranav Mishra, Co-Founder, Huemn, and Abhishek Ghate, Head of Design, Sequoia Capital, India, in panels moderated by Sanket Avlani, Curator, Taxi Fabric & Design Fabric and Mohor Ray, Co-founder, Codesign, truly conveyed what design really meant. That it's luxury, it's cultural inheritance and at its core, it's meant to solve problems around you. And the thought that the audience chimed in agreement was when Shiva said, "There's beauty in diversity in India".
Investment 101: how to get financed?
Samir Bangara, Co-Founder and MD, Qyuki, took young entrepreneurs through the pitching process and wooing financiers. He advised against the idea of equal rights for all founders, " It's not a family, it's a benign autocracy. There needs to be a leader."

Roshan Abbas, TV Anchor & Entrepreneur, Satyanshu Singh, Filmmaker, Pranav Mishra, Huemn, Hanif Kureshi, St+art India Foundation; what do they have in common? They all came from small towns and made it big in the city. They redefined success, stressed on the importance of alwaysbeing prepared (because who knows when you'll bump into Rajkumar Hirani in an elevator)and waking up every morning ready to keep trying. Moderated by Vijay Nair, CEO, OML, and Ashish Shakya, Member, All India Balchod, these stories of dreams coming true brought Day 2 to a close.

Day 3
The business of creativity
Jyoti Thyagarajan, Math & Physics teacher extraordinaire, kicked off Day 3 with some fun & games – the audience got to try exercises for children from her school, Meghshala while content creators got the full lowdown on copyrights and licensing from Neeta Ragoowansi, lawyer and Co-Founder at NPREX.

Type is more impactful than it gets credit for
Shiva Nallaperumal is the first type designer on Forbes India's 30 Under 30 and his short, 20-minute talk titled 'Letters and Identity: The Impact of Typography' only proved why. He introduced the audience to typography in what seemed like a shocking masterclass and demonstrated Calcuta, a unique typeface he took over three years to make.
By the end of the session, all that was left of Shiva to do was lift the jaws of the audience members that were fallen on the floor.
Exploring the Creative Process
Of time travel and conversations with future selves - there was no dearth of witty quips on this panel with Kenny Sebastian, Comedian and Writer 'Don't Be That Guy', Rohan Joshi, Member, All India Bakchod (AIB), Archana Prasad, Founder and Curator, Jaaga DNA, and Vijay Nair. From dealing with writer's block (the best cure for writer's block is an empty bank account!), to creative collaborations (Life is too short to work with people you don't like), everyone's creative process is different.

Passion can't be converted to numbers
'You have to be cognizant of the fact that you've decided to make music your life', said Jishnu when speaking of facing setbacks as a new artist. Jishnu Dasgupta, Bass guitarist, Swarathma, Nikhil Barua, Founder, The Humming Tree, Priya Dewan, Founder, Gig Life Asia and Director Asia, The Orchard, Spek, Senior Vice President, Creative and A&R, Reservoir, Brennan Loh, Director of International Markets, Shopify, Jake Beaumont-Nesbitt, Artist Manager, International Music Managers Forum (IMMF) and Vijay Nair, and Meeta Bharvani, Director Marketing, Levi's Brand, Sahith Sethuraman, Brand Manager - Bacardi TM India & South East Asia and Arjun S Ravi, Music Journalist, Editor and Co-Founder NH7.in shared their experiences and thoughts on powering the music economy, and how brands relate to the creative arts.

When a curious artist posed a question on how they could approach brands, the panel agreed that offering a 'bigger logo' placement was a big turn off. Artists needed to understand the ethos of the brand before they could pitch for sponsorship.
The conversation around music was pushed some more when Bruce Lee Mani of TAAQademy shared his thoughts on how the making of the next generation of musicians, and Naveen Deshpande, Founder, Mixtape explained how music was more than just artists.
From community to festival, Yotam Agam,Owner, EarthSync, Co-Founder, Covelong Point, took us on a journey to Covelong Point, a yearly surf, yoga and music festival that happens in Chennai.
On being authentically you
In a weekend packed with actionable learning around creative entrepreneurship, Lakshmi Pratury, Founder, INKtalks came in as a breath of fresh air with her talk on imperfections. Giving away modern-day examples weaved like an old fable, she left the crowd inspired.

Think community. Think loyalty.
Founder & CEO, Insider.in & NH7.in, Shreyas Shrinivasan, came on to deliver a no-nonsense guide on how to make people come to your event - one you have in an arena or in your house.

Science is a glass of single malt
The concluding panel on science was a fitting end to the festival of creativity. Comprised of Sandhya Ramesh, Editor, Has Geek, Dhananjay Sharma, Marketing and Outreach, TeamIndus, Anand Gandhi, Filmmaker, Innovator, Mukund Thattai, Biologist, National Centre for Biological Sciences, Jaya Ramchandani, Co-founder, The Story Of and moderated by Members of All India Bakchod (AIB) Rohan Joshi Ashish Shakya, the panel expressed the need for people to understand that science is a process. That it's as much about the observations and explorations as it is about the conclusion. Like Dhananjay rightly said, 'Science and the study of science is a glass of single malt, it needs to be enjoyed slowly.' The very animated Anand Gandhi shared funny scientific stories about beetles, the session made each person in the crowd a bigger fan of science than they had ever been.

The crackling three days of creative madness ended on a high. When's TC6 you ask? Stay tuned!
Subscribe to receive our newsletter!
Find the best experiences happening out there in your city or enjoy handpicked content while sitting comfortably at home. Insider is your go-to place to figure out what to do today!