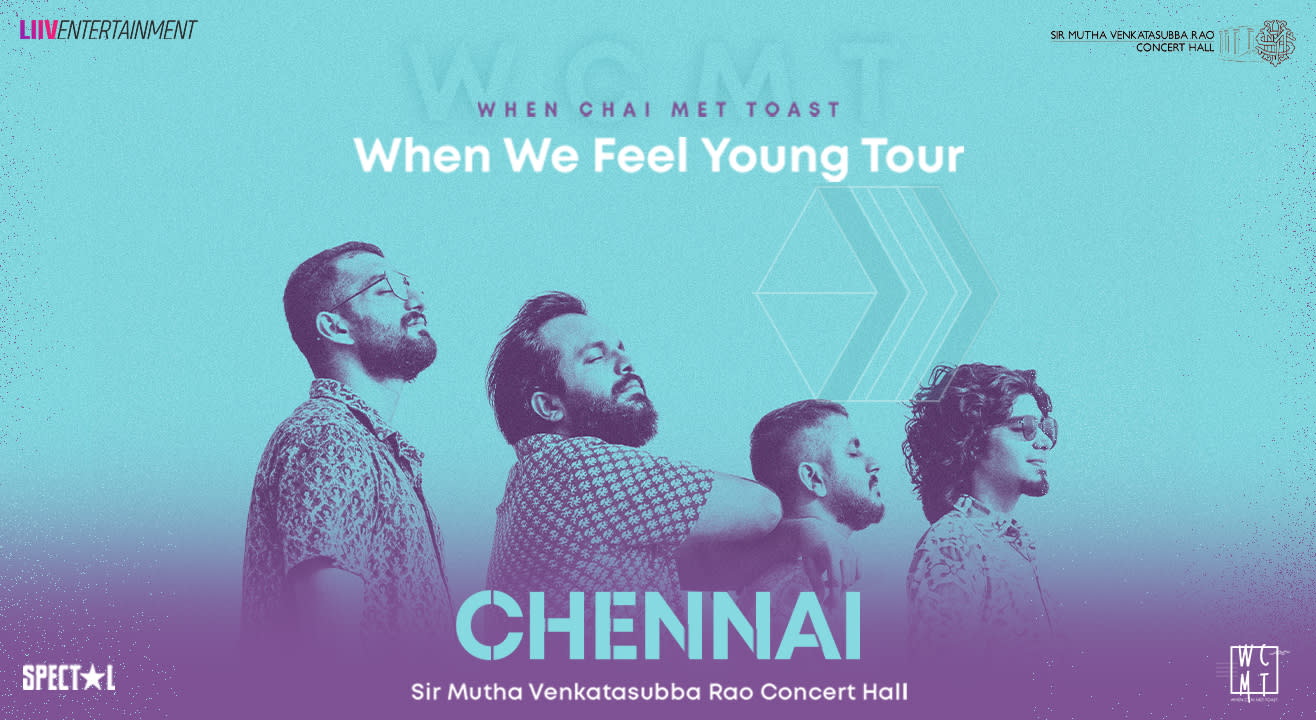 When Chai Met Toast, When We Feel Young Tour | Chennai
April 10 | Gates Open: 6PM | Performance Starts: 7PM onwards
Sir Mutha Venkatasubba Rao Concert Hall, Chennai
Invite your friends
and enjoy a shared experience
When Chai Met Toast, When We Feel Young Tour | Chennai
April 10 | Gates Open: 6PM | Performance Starts: 7PM onwards
Sir Mutha Venkatasubba Rao Concert Hall, Chennai
Invite your friends
and enjoy a shared experience
Covid 19 Safety Measures
This event adheres to the following

Health & safety measures
Temperature Checks
Face Masks Required
Hand Hygiene Stations
Limited Capacity
Sanitisation before the show
Organisers wear masks
Proof of Vaccination Required
Invite your friends
and enjoy a shared experience
Covid 19 Safety Measures
This event adheres to the following

Health & safety measures
Temperature Checks
Face Masks Required
Hand Hygiene Stations
Limited Capacity
Sanitisation before the show
Organisers wear masks
Proof of Vaccination Required
When We Feel Young Tour
When Chai Met Toast is back with their new (and first!) album, and with it comes their multi-city tour to bring it straight to a stage near you. Welcome, one and all, to the When We Feel Young Tour - a series of bright and happy events that aim to dispel two full years of gloom.
Your favourite band is about to make its way across 7 cities, where they'll play 7 joyful shows, where you can hum, sway, sing along and celebrate the band's first ever album. Book your ticket, smile, and come celebrate it with us.
Please note, this is a seated show. Seating will be on a first come first served basis. Please ensure to occupy your seats on time.
About When Chai Met Toast
When Chai Met Toast is a four-piece, neo-folk band from Cochin, Kerala formed in 2016. The quartet officially came into being with their debut EP 'Joy of Little Things', drawing upon multi-lingual lyrics and infectious sing-along choruses. Over the next year, they crafted what became the 2018 breakout 'Khoj (Passing By)' from their sophomore offering 'Believe', achieving both critical and public acclaim. They have continued to experiment with their sound, and their eclectic but accessible brand of pop music has made them festival favorites in the country. Their YouTube channel is also going strong with over 27.7 million collective views and 291K subscribers.
Following the two EPs, the band has recently released their first full-length album, 'When We Feel Young'. The album deals with thoughts about happiness, reminiscence, fate, love and belief. 'Maybe I Can Fly' was the first single to be released, followed by 'When We Feel Young', 'Kahaani', 'Ocean Tide', 'Break Free', 'Constellation' and 'Remember'.
When Chai Met Toast - When We Feel Young
Sir Mutha Venkatasubba Rao Concert Hall
7, Shenstone Park, # 13, 1, Harrington Rd, Chetpet, Chennai, Tamil Nadu 600031, India
GET DIRECTIONS
When Chai Met Toast, When We Feel Young Tour | Chennai
April 10 | Gates Open: 6PM | Performance Starts: 7PM onwards
Sir Mutha Venkatasubba Rao Concert Hall, Chennai
Invite your friends
and enjoy a shared experience