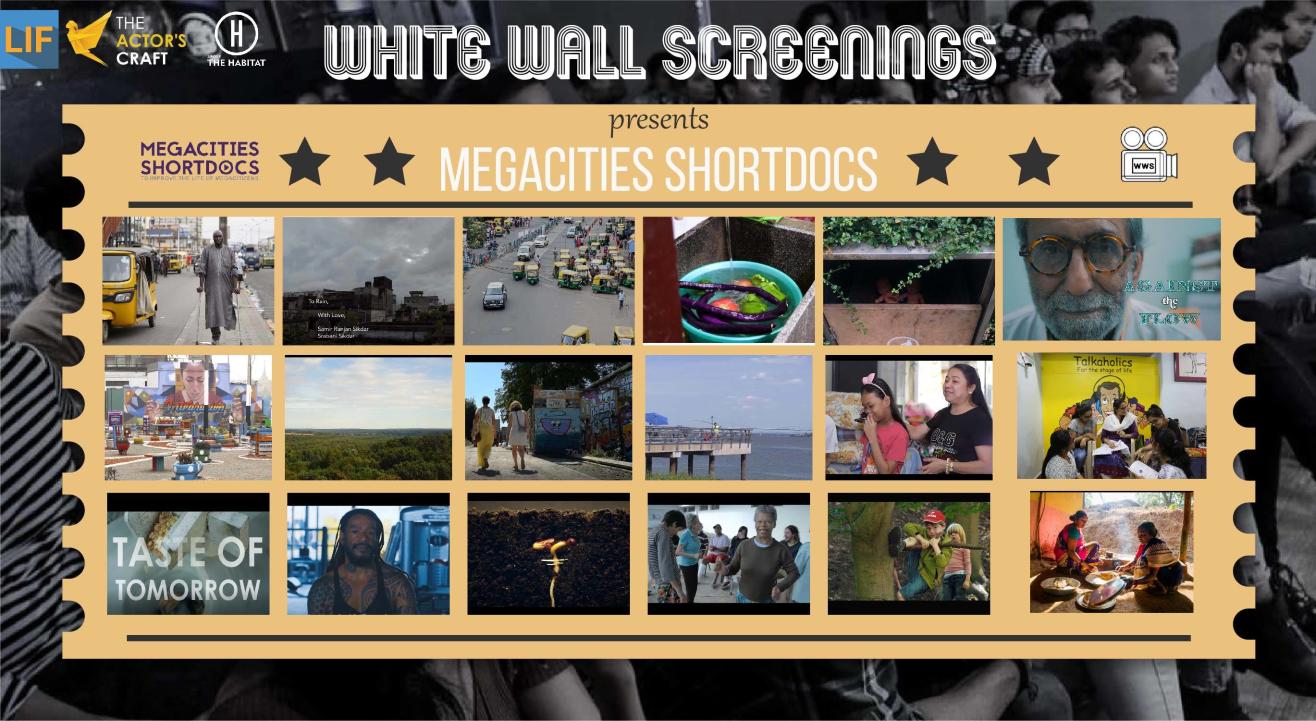 Screening
White Wall Screenings: Megacities Shortdocs
About
Done with watching the same run of the mill stuff at cinemas and TV? We have something for you! Handpicked, engaging content. Welcome to White Wall Screenings- An adda for short film and cinema connoisseurs. And the place to be for filmmakers! Watch high quality short films and discover what went behind them from the crew itself.
White Wall Screenings presents Megacities Shortdocs.
Documentaries from the world to improve the life of MegaCitizens. I international shortdoc contest and festival about challenges & solutions in Megacities.Usually starting January 1st & ending August end for the call for entries of the 4 mn long max video.
The Megacities of the world present many opportunities, but also concentrate all the challenges,
We need your help to highlight, through short documentaries, inspiring local solutions that have been initiated by a person or community near you and that have addressed all these challenges. With your story, you can potentially change the life of a friend, neighbour, family in another MegaCity.
As the entries for Megacities ShortDocs for 6th edition open on 31st January we bring to you the 15 best films from 2019 and three additional award winning Indian films from over the years
The MEGACITIES SHORTDOCS international contest will culminate during the Local Festivals around the world and close every year at the Grand Festival in Paris.
Film Lineup:
Delhi - Taste of Tomorrow by
Amit Malik
Kolkata - Living with the rains by
Das Sreecheta
Shanghaï - Everlasting longtang by
Shijie Pan
Kolkata - Green Auto by
Bhakta Falguni
Paris - Espero Farm by
Alix Makhloufi
Paris - La ferme du Rail by
Gabriel Rousseau
Rhine Ruhr - Forest school by
Olivier Roux
Bangkok - Baby, I love you by
Sivaroj Kongsakul
Lima - Conociendo ocupa tu calle by
Rodrigo Chávez
Kinshasa - Save tomorrow by
Yhan Namwisi
Rio de Janeiro - Voices of the streets by
Márcio Coutinho
New York - Neighbors on the edge by
Jake Lane
Lagos - Changing Lanes,
Nigerian Slum / Informal Settlement Federation, represented
Abubakar UMARU
Manila - The house of care by
Analisa Puod
Sao Paulo - Under the bridge by
Felipe Moraes
Special focus will be on the following films:
1) Film on Aarey Forest by Sanjiv Valsan -
A screening of Sanjiv Valsan's short documentary on the indigenous tribals of Mumbai city's Aarey - one of the world's last biodiverse forests inside a megacity; their movement to get basic human rights and save their unique animist culture, wildlife and ancestral forest.
2) Joining the dots by Ravi Iyer - A film on social change through a volunteer teaching program.
3) Against the Flow by Anand Holla
Aabid Surti can't stand the sight or sound of leaking taps. For the past 11 years, the 84-year-old author-artist-cartoonist has been visiting homes in his Mumbai suburb, fixing faulty taps for free. Through his initiative, Drop Dead Foundation, he has saved more than 10 million litres of water.
Screenings of these three films will be followed by a Q&A session with the crew.
Venue
Above The Habitat
4th Floor, OYO Townhouse (Hotel Unicontinental), Road Number 3, Khar West, Mumbai, Maharashtra 400052