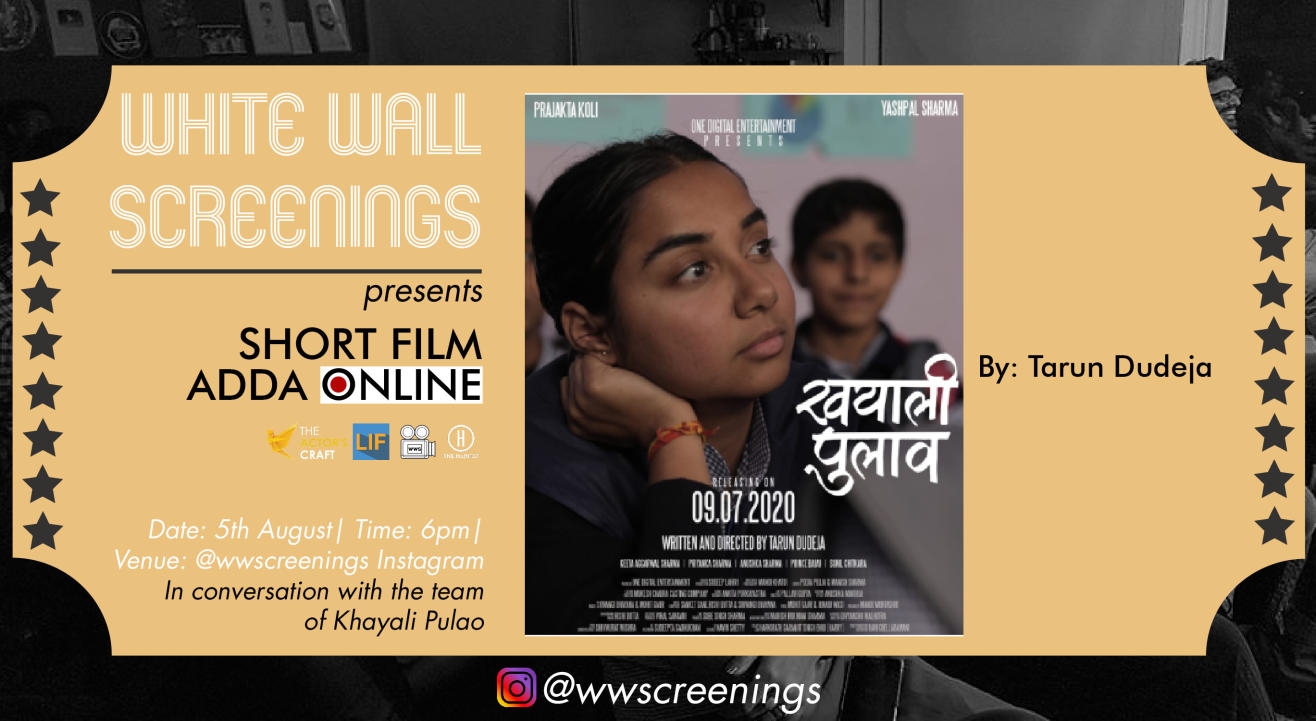 White Wall Screenings presents ONLINE Short Film Adda
Invite your friends
and enjoy a shared experience
Invite your friends
and enjoy a shared experience
About the Event
Done with binge-watching shows and movies during quarantine? We have something for you! Handpicked, engaging content. Welcome to White Wall Screenings- An adda for short film and cinema connoisseurs and the place to be for filmmakers! Watch high quality short films and discover what went behind them from the crew itself.
This time we have an ONLINE short film adda where you can watch three amazing short films and then indulge in a LIVE Q&A session with the filmmakers on our Instagram page - White Wall Screenings
This week's short film is Khayali Pulao by Tarun Dudeja:
Aasha Dhanda is a 17-year-old girl studying in a government school in a small village in Haryana, the state that has produced innumerable sportspersons over the years. Aasha is a brilliant student, something her conservative Haryanvi family takes pride in. But soon she betrays a love of studies, and begins to nurture a dream to make it to the school handball team. Having been a studious child all her life, she is not equipped with the skills to be a good sportsperson. She is far from athletic, her reflexes are slow and her stamina is poor. And yet she keeps trying her
best to qualify for a spot on the team.
Everyone around her is surprised at her sudden interest in sportsThey keep asking her the reason for her new found love of sports but Aasha doesn't reveal the real reason. Seeing her going all out of her comfort zone, they keep discouraging her.
Not paying heed to the opinions of those around her, Aasha keepstrying to prove herself worthy of the team, and keeps failing. Itis clear she is not cut out for the role of a sportsperson. Butdestiny has its own ways. A player gets injured and Aasha is givena chance to be the extra player on the team. She is expected tocarry water for the players on the field. Aasha is ecstatic. It isnow that the real reason behind her obsession with the sport isrevealed.
She wears the shorts – and stands in front of a mirror, beaming with joy and excitement. This is the first time she is wearing shorts in public, something her conservative family background doesn't permit her to. This is the only way she can do it, without feeling guilty, ashamed, and awkward.
The act of being a sportsperson is her excuse to live as a free woman, and wear shorts baring her legs in a society that expects her to cover up. The young girl knows her dream is too scandalous for the place she has been born into and her innocent heart has devised a way to make it come true. The film is a beautiful reminder of how dreams, especially in small towns, are often realised through sports. It's also a reminder of how precious the freedom to live your life the way you want to is, how even the seemingly simple act of being able to wear shorts becomes a complicated mission for a young girl.