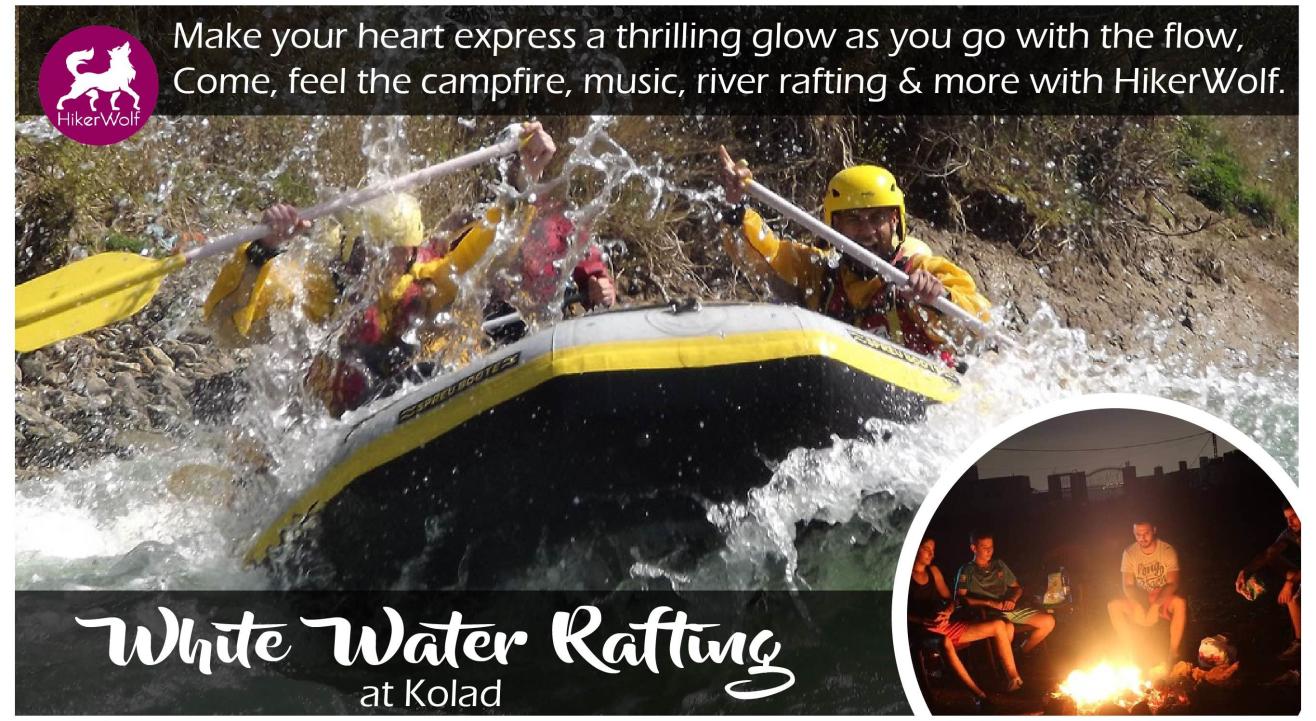 Adventure
White Water Rafting - Kolad
About
Quite beautiful with many waterfalls, lush greenery, and the fascinating Sahyadris, Kolad is a major tourist destination in Maharashtra, especially due to its approach towards water-based adventure activities and similar activities.

Kolad is a peaceful yet vibrant location that offers adventure sports like rafting, rappelling, kayaking, rock climbing and many more but of course, Kolad River rafting has gained prominence in the tourism sector in the recent year. This tiny village in the Raigad District presents the picturesque nature before the visitors with the utmost happiness and excitement.

The Kundalika River is the major factor behind people's choice to do white water rafting in Kolad. It is one of the fastest flowing rivers in the south that makes it ideal for the adventure-filled rafting along with other adventure sports and activities. Mind-blowing forts, dams and waterfalls have their own influence on the mind of people coming here as they are competing to grab attention from the visitors.
Batch 1 - 22nd - 23rd September
Batch 2 - 20th - 21st October
The group will be meeting at Dhagadwadi Post in Kolad
Note: Team HikerWolf will provide assistance in transportation needed to reach the destination to those who need it.

Day 1
Check in to farmhouse around 4 PM and have evening tea/coffee with snacks and proceed to activity point. Get ready for adventure activities viz. archery, rifle shooting, dart, etc. The outdoor games like football and cricket will be available too. After having fun activities, it is time to enjoy the campfire with amazing music followed by dinner. You can choose to spend your night in a tent, room or cottage.

Day 2
Wakeup call at 6:30 AM and assemble for breakfast. At 8:00 AM, leave for rafting session (30 minutes' drive from the campsite). Report at rafting start point. HikerWolf will distribute rafting gear to you (helmet + life jacket + pedals), which is followed by a pre-rafting session which includes instructions, training and practice session of rafting. Then, start the rafting session where you negotiate 10 rapids at a stretch of 12 kms.
Once your rafting gets over, head towards your stay. Freshen up and change over to dry clothes and have lunch. At 3:00 PM check out and leave with lots of beautiful memories with HikerWolf.

Towel
Travel hygiene kit
Personal medications, if any
Identity proof
An extra bag to keep your wet clothes

Accommodation for 1 night (you can choose from a tent, room or cottage)
Evening tea
Dinner
Breakfast
Lunch
Archery
Riffle shoot
Dart
Outdoor games (football, cricket etc.).
River rafting charges
Cost of travel from farmhouse to rafting point & back
Insurance
Any personal expenses
Anything not mentioned under inclusions