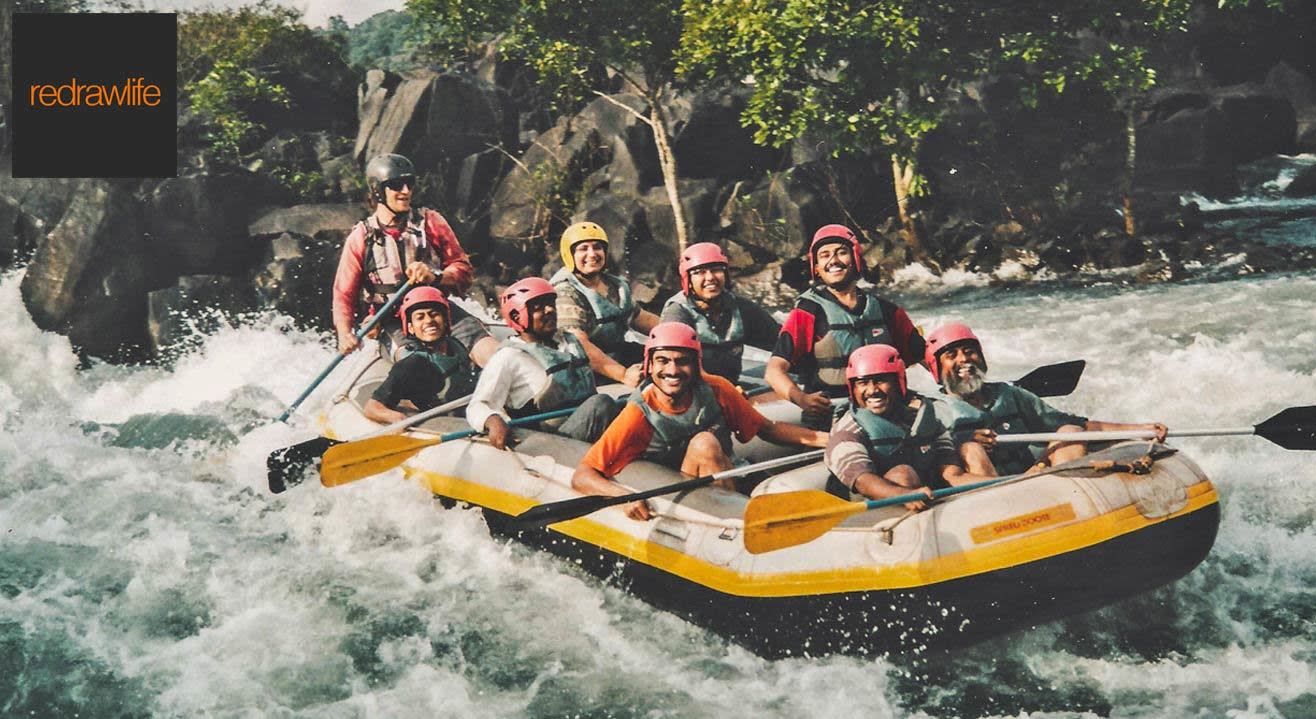 Adventure
White Water Rafting On Tejaswini River
About
"This is a rocky one and so I need everyone to keep paddling through the rapids. Speed is essential for us to steer and to avoid the rocks if something goes wrong, then I will give you the command, so just be ready for anything!" yells the Instructor in an attempt to be heard above the roaring river! Mr Shyju, our expert instructor is preparing us for what we might expect in the upcoming rapid!
If you are in the quest for extreme adventure, to lose yourselves amid the hysterical waves of a gorgeous river in the lashing shower of monsoon rain in Kerala, then there is a river that will satiate all your dreams and desires-river Tejaswini in Kannur district.
About Rafting at Tejaswini
The river, which is also known by the name Kariamkode, originates from the Brahmagiri hills of Coorg forest and flows through the districts of Kannur. It is 64 km long of which about 20 km is ideal for rafting.Tejaswini River has many surprises that would give a memorable rafting experience for all. The thick foliage that strides into the river, the rocky banks, branches of huge trees that lean over the river, the magnetic swirl all make the rafting a mesmerising experience.The rafting starts from Kolladi near Cherupuzha where you can let your inflated boats to the wild waves of Tejaswini. Awaiting you is a series of thrilling experience that will unravel the many faces of Tejaswini.Keep your heads down in order to escape from the drooping branches.
The one and only one White Water Rafting Expedition in Kerala
Its a single Day activity and that too on a Saturday!
Lush greens: Laze around in the lap of nature and bask in its beauty.
Rafting equipments & Safety Jackets are included.
Expert Rafting Instructors
Its happening during the monsoons
Transportation ca be arranged from Kochi to Cherupuzha (Charges Extra)
Rafting equipment
Safety Jackets
Expert Rafting Instructors
Food costs incurred during the journey
All expenses incurred due to unforeseen and unavoidable circumstances.
Any kind of cost which is not mentioned in the "Inclusions" above.
Accommodation if required can be arranged.
Why is it called 'White' Water Rafting?
White Water Rafting got its name since Raft is the inflatable boat that you ride to paddle through the rough waters and rapids; 'White' Water because the frothing rapids of a guzzling river make the water appear – White.

Is White Water Rafting dangerous?
Like any adventure sport, White Water Rafting has an element of risk and there is a certain chance to injury if you have been careless in adhering to the instructions given by the professional river guide. However, this risk can be minimised to negligible level with our expert White Water Rafting operator

Do I need to be a swimmer to enjoy White Water Rafting?
While knowing swimming does help and you can enjoy a few allied activities like Body Surfing, more but it is not necessary to know swimming to enjoy White Water Rafting. As such swimming without the supervision of professional river guides is completely not recommended and can be very dangerous even for expert swimmers. International grade safety gear like Personal Floatation Device (better known as Life Jacket), Helmets, Rescue Bags and supervision of an expert guide is all that you need for safe White Water Rafting fun!
Take a bus from Kannur to Payyanur, and from there take another bus to Cherupuzha. The starting point Kolladi is just about 4 km from here.
Nearest railway station: Payyanur Railway Station, about 35 km.
Ideal Weekend Getaway From
Kochi
Trivandrum
Bangalore
Chennai
Coimbatore
Redrawlife allows passionaries to choose among three standardized cancellation policies (Flexible, Moderate, and Strict) that we will enforce to protect both customer and passionary alike.
Flexible : 90% refund up until 5 days prior to course date
Moderate : 70% refund up until 5 days prior to course date
Strict: 50% refund up until 5 days prior to course date

If you have any queries you can contact our support : Support website or shoot us a mail at: support@redrawlife.com
It's time to live your passion!
Sign up for our newsletter to be informed of all the news and do not miss any events in Redrawlife.