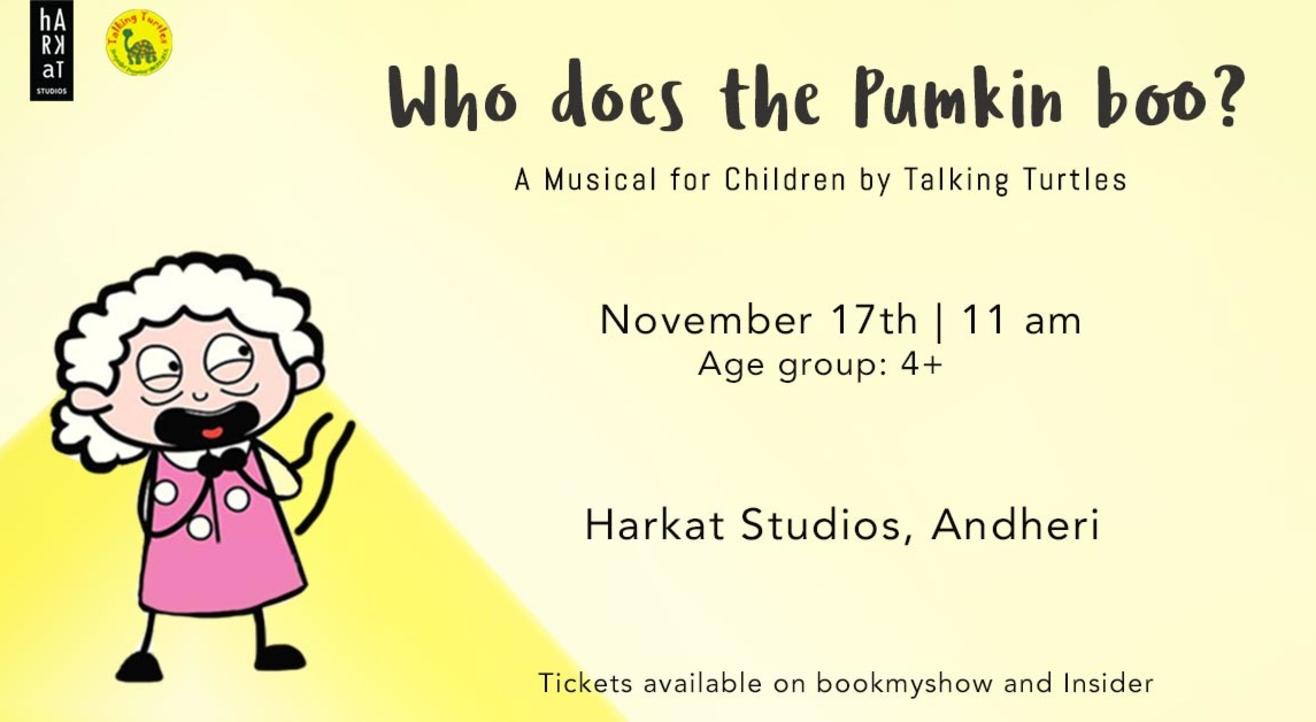 Play
Who does the Pumkin boo?
Harkat Studios, Versova, Mumbai
About
About:
'Who does the Pumpkin boo?', a musical based on the popular children's story book- 'The Little Old Lady who wasn't afraid of anything' by Linda Williams, explores the medium of Object Theatre and Puppetry to bring the story alive.
...Once upon a time, there was a little old lady who was not afraid of anything! But one autumn night, while walking in the woods, the little old lady heard Clomp-Clomp, Shake-Shake, Clap-Clap! The little old lady who was not afraid of anything had the scare of her life!!!...
What do you do when you are scared?!
What do you think she did?!
Come find out!
Engaging and entertaining theatrical adaptation of this classic tale by Talking Turtles is a must watch for children and adults alike!
*****
Performers:
Shreedevi Sunil and Abhishek Vira
Duration: 60 minutes.
Age group: 5+
Date & Time:
17th November, 11 am.
Ticket: 350/-
******
About
Talking Turtles' Storytellers, Mumbai was started by Shreedevi Sunil and Deepa Panchal in 2010. A major part of their work is with children, starting at the early age of 2 and upwards.They encourage children to explore the art of oral storytelling, using voice modulation, music, movement, puppets, storyboards, story cards.
They have also conducted teacher training workshops, wherein we encourage them to use stories in classroom, to counter social issues and deliver lessons.
Their work here involves creating and adding to the story pool, selecting effective storytelling methodology, developing music and movement for a story.
******
Date & Time:
17th November, 11 am.
Location:
Harkat Studios, Bungalow #94, First Floor, Aram Nagar 2 (just behind Mata Mandir), Versova, Andheri West.
KINDLY NOTE OUR NEW LOCATION IS ON THE 1ST FLOOR AND NOT WHEELCHAIR ACCESSIBLE!!! WE'RE WORKING ON FINDING A SOLUTION.
Venue
Harkat Studios, Versova, Mumbai
HARKAT STUDIOS, BUNGALOW 94, FIRST FLOOR, ARAM NAGAR 2, VERSOVA, ANDHERI WEST, 400061-MUMBAI