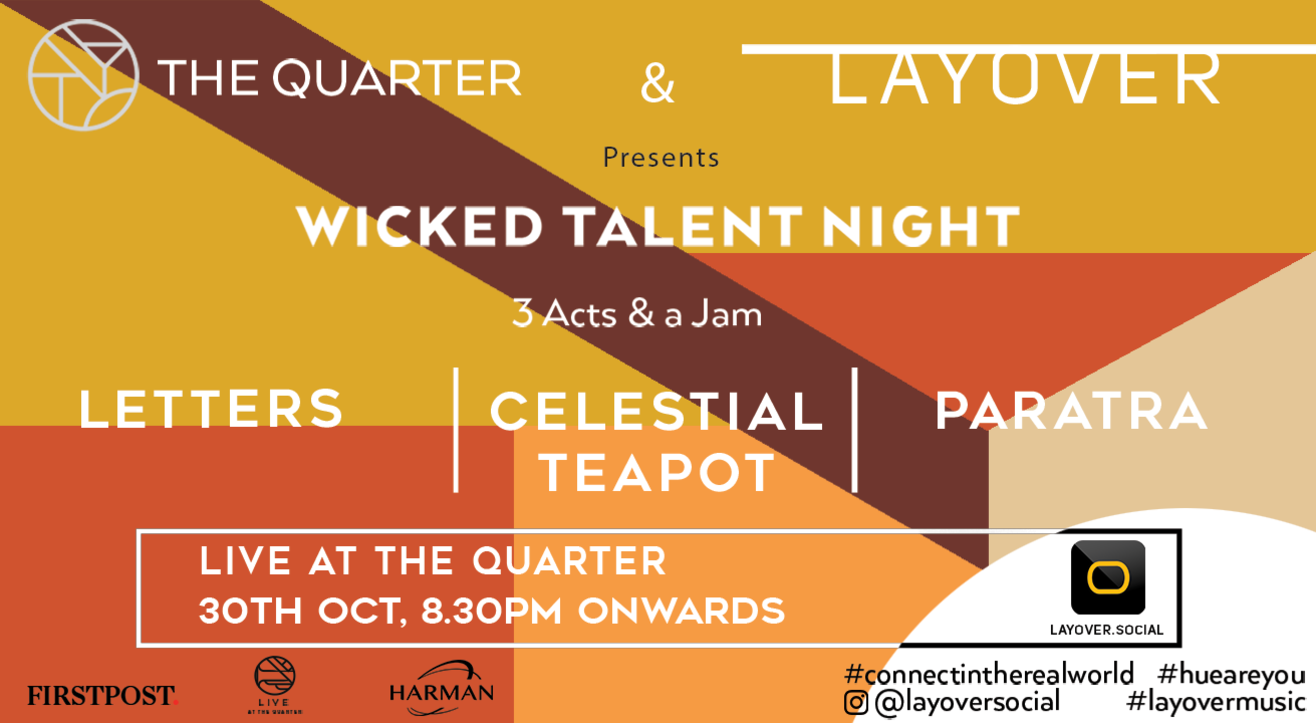 Wicked Talent Night at The Quarter
Tuesday | October 30 | 8PM
Step out and enjoy this event
Invite your friends
and enjoy a shared experience
Wicked Talent Night at The Quarter
Tuesday | October 30 | 8PM
Step out and enjoy this event
Invite your friends
and enjoy a shared experience
Invite your friends
and enjoy a shared experience
In our ongoing effort to promote and extend a platform to newer artists, 'Wicked Talent Night' is ready to introduce to the world, the next wave of music superstars! The Quarter has associated with Layover Social to identify and encourage upcoming musicians who are young, talented, capable and are on their way to make an incredible impact in the music industry.
For this edition of the Wicked Talent Night we have Letters, Celestial Teapot and Paratra. Join us as we give back to the music community and make our family grow!
Be prepared for a night of great music and fun and come out to support these unique artists, at unbelievable prices.
Letters is a five piece Instrumental Progressive Metal band that originated in the studio from the mind of guitarist and Producer/Engineer Tejas Narayan. The bands sound is influenced by bands like Periphery, Tesseract, Textures, Haunted Shores and also by traces of electronic music. Letters has recently two singles so far, Microchip Cookie and Toad. They plan to release an album early 2019.

Initially, the project began with Tejas Narayan who had been writing material since 2011. He was then joined by fellow guitarists Asxem Dlean and Shannon George who began collaborating on a few of the tracks like 'Gentlemen' and 'Imagine Salt' and adding their ideas to the music. The line-up was completed with Bassist Adil Kurwa (The Koniac Net/Last Remaining Light) and drummer Aritra Basu (Yonsample).

Band Members
Tejas Narayan - Guitars
Asxem Dlean - Guitars
Shannon George - Guitars
Adil Kurwa - Bass
Aritra Basu - Drums
Microchip Cookie Guitar Playthrough
Celestial Teapot is a five-piece instrumental rock act from Pune, India. We released our debut album in December 2015 called 'One Big Sky' wherein we had the pleasure of collaborating with Marjana Semkina, vocalist of Russian Prog/Chamber duo 'Iamthemorning' on one of our songs called 'Nacreous'. One Big Sky has received acclaim not only from the locals but a great deal from the overseas audience as well.

CT has been fortunate to have earned a spot and to have shared the stage with some stellar Indian and International acts such as Megadeth, The Wailers, Indus Creed, Skrat etc. at the 6th edition of Harley Rock Riders at Richardson Cruddas in Mumbai. To promote the album, we had an opportunity to tour with Delhi-based Post-Rock band Ioish, in Feb 2016. The tour comprised of five cities, namely: Pune, Bangalore, Delhi, Mumbai & Nashik and received tremendous support from crowds all over. CT also had a chance to play with Prog giants Coshish and Rainburn, supporting them at the Pune leg of 'Progworks on Wheels'.

Band Members
Kartikeya Dixit - Guitars
Robin Rajan - Guitars
Sourya Mukherjee - Bass
Anubhav Gupta - Keys
Ashwin Naidu - Drums
Celestial Teapot - One Big Sky
Paratra is an Electronic Rock band from Bombay, India and was formed by Guitarist Samron Jude (SystemHouse33 and Ex Sceptre) and Sitarist Akshat Deora. The word 'Paratra' is a Sanskrit term for transcendental journey into the next world and the band embodies this inspiration in their music with an eclectic merging of distinct guitar riffs with melodic sitar ragas. 'Genesis' is Paratra's debut, double-disk album with a rock and electronic version .

It is in collaboration with Siddharth Basrur (Goddess Gagged) on the vocals. Electronic elements have been produced by Vishal Singh (Amogh Symphony). Paratra has performed multiple shows in Mumbai. 2017 was their second year at Asia's biggest music festival 'Sunburn'.

Band Members
Akshat - Sitar
Samron - Guitar
Aritra - Drums
Siddharth Basrur - Vocals
Paratra - Duality Live at Sunburn Festival 2017
The Quarter
Royal Opera House, Mathew Rd, Opera House, Girgaon, Opera House, Girgaon, Mumbai, Maharashtra 400004, India
GET DIRECTIONS
Wicked Talent Night at The Quarter
Tuesday | October 30 | 8PM
Step out and enjoy this event
Invite your friends
and enjoy a shared experience