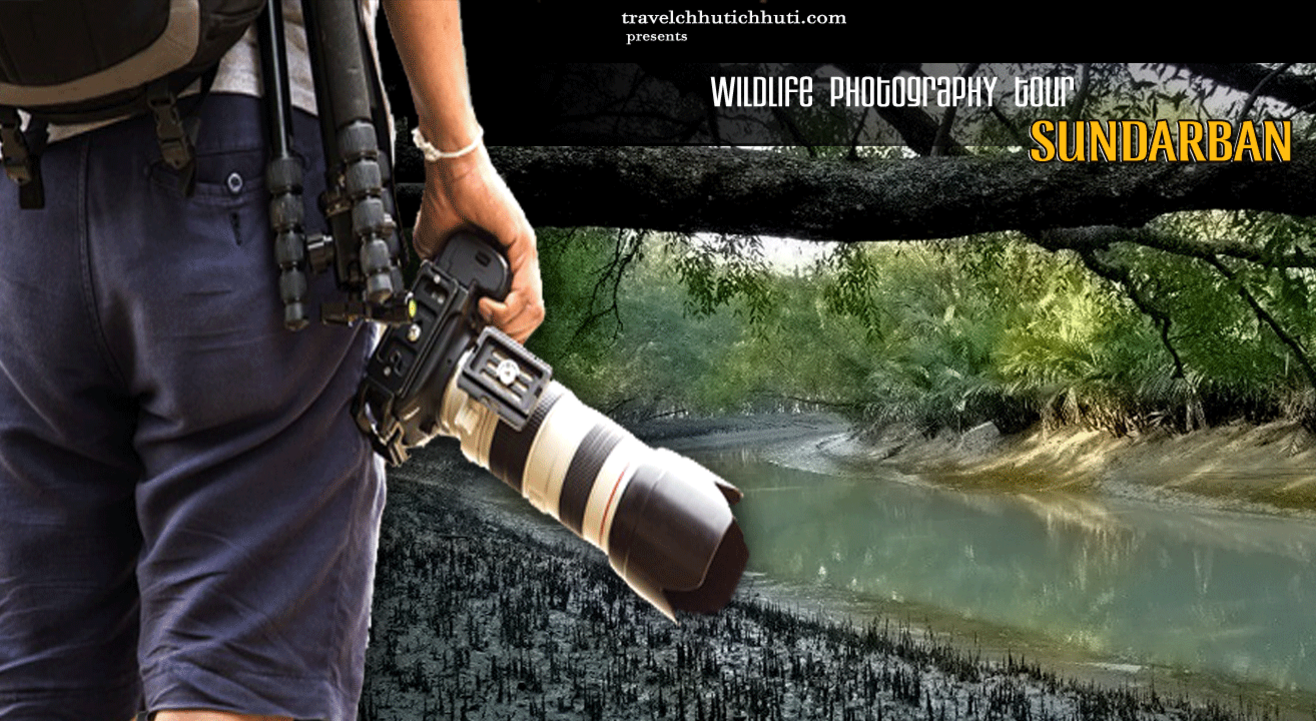 Wild Photography Tour - Sundarban
Invite your friends
and enjoy a shared experience
Invite your friends
and enjoy a shared experience
About the Event
Travel Chuti Chuti presents Wild Photography Tour - Sundarban
Package Includes -
1. Godkhali to Godkhali by Boat.
2. All Permission, Guide Charges, Entry fees.
3. Night stay at Boat.
4. Mineral Waters.
5. All Meals.
Package Excludes ~
1. Kolkata to Kolkata Transfer.
2. For COVID - 19 protection Package - 1500/ per head
For COVID - 19 protection
1. We will provide Face Mask & face Shield, Hand wash & Sanitizer.
2. Thermal Screening test Test for everyone before the tour.
3. Daily Boat Sanitize.
First Night : Our Wildlife Tours journey will commence from the Godkhali ferry ghat, you Must Before join before 9.30 PM. Our safari boats will be waiting along with the Tour Manager/ Mentor with Government forest guide, we'll take you people from Godkhali to Sundarban so that not a bit of extra minutes are wasted on anything. Dinner & night Stay at Boat.
Day 1 : At the early morning after Sunrise we will enter to the Sunadrban National Park. This Sundarban photography tours india will be very breath-taking when we would notice the pugmarks and the mud marks engraved by the Tigers. We will seek information about the last place where the tigers were seen by making a fast yet concentrated tour in the forest. We will make an inspection as to exactly where we must look-up for our mighty tigers this way the next day we will be perfectly absorbed in our photography sessions. Whole day we will explore Sundrban National Park. Night stay at Boat.
Day 2 : These wildlife Tours day will commence with sunrise and will continue till the sunset. The forest is best witnessed during sunrise and so we'll head towards the cruise which will take half an hour to present us at the forest entry gate. An essential tip: because this is the first day of our official wildlife photography in India so we need to get a vibe of what the situations would be like when we'll be indulged in our Indian tiger photography.
Not just the tiger and the tiger, but also the other animals in these wildlife tours like the other Cats, Chital and the snakes are also full of calibre, so worth clicking them. Clicking in Sundarban will mean taking pictures from one of the best places for wildlife photography in India. It's a place where we get to acquaint ourselves with the almighty Bengal tiger, this is the place where tigers can be best observed and we'll provide you with the opportunity to take photographs from the very front. It's not any tour of wildlife photography in India but it's specially organised to promote our budding and also ambitious photographers so that they can grasp the very foundation of Wildlife Photography Tours India which is present solely in Sundarban.
Day 3 : The last days of our travel and photography, the last day of our great photography tours and we're going to relish clicking pictures of those thrilling animals and birds which we cannot find anywhere else. Such diversity needs to be kept as memories and visited down the memory lane again and again. What is so golden about these two days are, we now know precisely about every steps and movement of the forest animals and even the leaves of the trees. We can now put all our efforts that we have gathered for this travel and wildlife photography tours and finish our storage in our cameras blissfully. Our quest for these photography tours will initiate when the sun wakes up and it will end when the sun goes to sleep. We have learned by now that it takes a good amount of patience to watch the tiger appear in front of our eyes, and when we click their pictures it is really worth it. photographers from all over the world are invited to this tour to inculcate in them the very essence of Sundarban, the amateur who're learning photography skills are especially called for this tour because our guide will teach them all about it and their guidance as to when and what to do is much needed.
There's something exciting in the last day of our wildlife holidays, and that is, the cruise will be starting during sundown and head towards Pakhiralaya/Gadkhali. We'll again be able to indulge into that soothing rural Bengal and pristine nature. From there our destination towards Kolkata. We'll have a happy ending to our Sundarban Wildlife Photography in India tour.