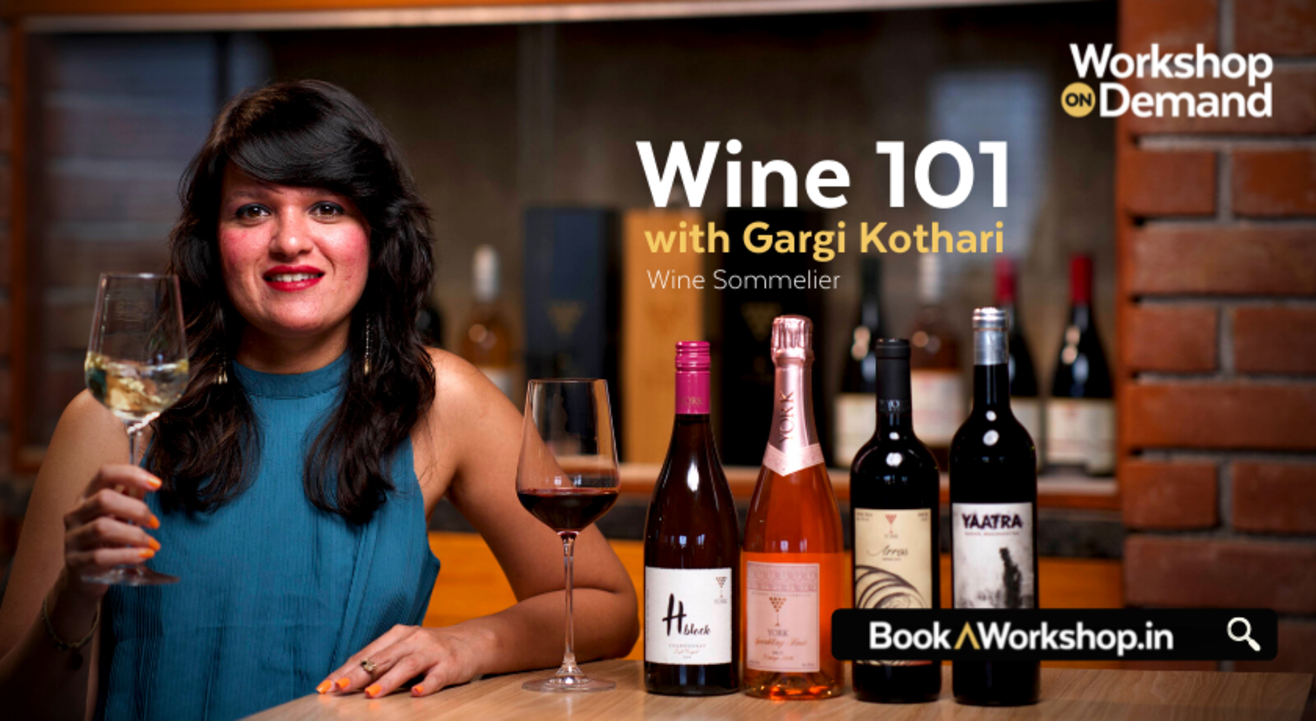 Event Guide
Digital Event
Watch on Insider
Invite your friends
and enjoy a shared experience
Event Guide
Digital Event
Watch on Insider
Invite your friends
and enjoy a shared experience
Event Guide
Digital Event
Watch on Insider
Invite your friends
and enjoy a shared experience
Are you intrigued by wines? Wines are gaining huge popularity in India. Learn the Basics & Beyond of this fascinating topic.
Who is this workshop for?
This Wine 101 course touches upon various aspects of wine; right from how wine is made to how to enjoy it! Learn how to taste wine, how to describe wine, how to pair wine with food, how to hold a wine glass correctly, how to understand wine labels, what temperatures to drink your wine at, how to store wine and so much more!
Explorers
If you are a first-time wine drinker and are exploring various wines, this will help you dive deeper into the subject and understand wines, their pairings, and much more!
Hospitality Personnel
Whether you are just a student starting out or a working professional, this will help you gain deep knowledge of the subject in an easy to understand manner and flaunt your knowledge
Corporate
If you belong to the corporate world, knowing about wine has become a must! It is a great conversation starter and makes you feel confident about yourself
Wine Enthusiast
For the love of wine, you should definitely sign up. Get an added winery tour, understand how wines are made, know the glasses, food pairing, describe a wine, and much more!
About The Expert
Gargi Kothari is the owner and founder of Magic Cellars. "Wine geek" – words describe her perfectly, she is a wine sommelier, a wine influencer, and an experienced curator. She has worked with India's finest importers of boutique wines-Wine Park and completed level 3 certification at WSET-Wine Spirits and Education Trust. She has taught and trained more than 2,000 wine enthusiasts!
What will you learn?
Wine 101: Introduction
Wine Terms and Concepts
The 5 S Of Wine Tasting
Building Your Wine Vocab
Opening And Storing Wine
Serving and Pouring Wine
Wine And Food Pairing
Reading A Wine Label
How To Order A Wine
Wine Etiquette
Common Wine Myths
Meet The Maker with Kailash Gurnani
Event Guide
Digital Event
Watch on Insider
Invite your friends
and enjoy a shared experience