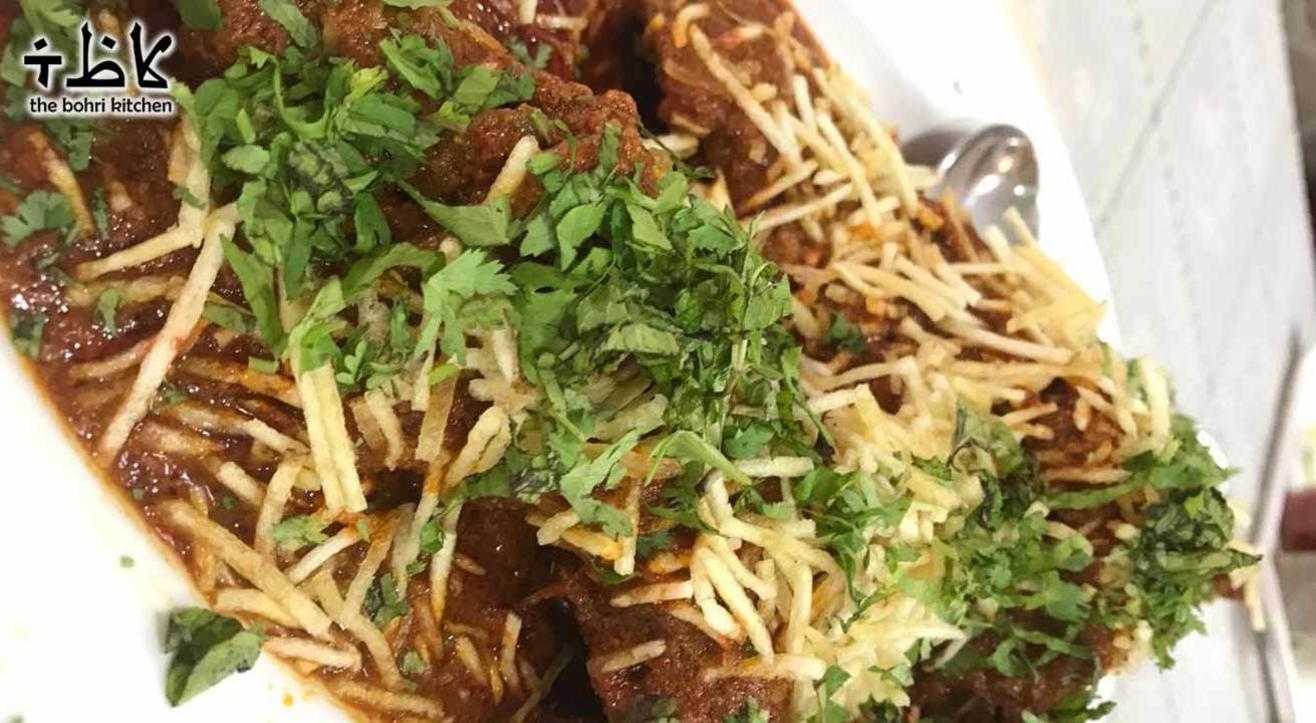 Lunch
Winter is Coming 1.0 with Kheema Lahsun Baida & White Chicken Pulao
November 18 & 19 | 12:30PM
About
Indulge in an authentic Bohri meal at The Bohri Kitchen, a community meal venture started by Nafisa Kapadia and her son. Home-cooked meals in an intimate setting with just your friends and you. Sounds like a plan, doesn't it? And maybe, just maybe, you can get some recipes from Nafisa aunty, as she cooks up a delicious storm in her kitchen.


The mornings seem a little windy and evenings are a lot cooler. Winter is finally coming and unlike what popular fiction says, this is a good time. Not only can you get out of the house in the afternoons without it feeling like a suicide mission, but also gorge upon the yummy winter delicacies made by Mom Chef. In this edition of The Bohri Kitchen, some seasonal favourites will make an entry and you wouldn't want to miss this one!
Kharaas (Savoury Dishes)
Smoked Mutton Kheema Samosas – The TBK Signature - Crunchy Patti Samosas stuffed with smoked minced kheema, coriander & spring onions.
Chicken Cream Tikka– Marinated Boneless Chicken, soaked in a batter of breadcrumbs and egg, deep fried with love and pierced with a stick.
Raan in Red Masala - Marinated over 2 days in exotic bohri masalas, garnished with salli and coriander.

Meethas (Sweet Dish)
Gajar Halwa – The quintessential winter sweet dish.

Jaman (Main Course)
Kheema Lahsun Baida with Bajra Roti & Lamba Pav - a winter favorite amongst bohri households. Eggs, sunny side up, generously garnished with mutton kheema, pepper and bohri goodness.
White Chicken Pulao – Fragrant pulao cooked in special bohri spices with chunks of chicken.

Dessert
Saancha ice cream
Paan

Beverages
TBK Welcome Drink
Rose Sharbat with sabja seeds
Jal-jeera soda

Condiments
Khajur & dryfruit chutney
Pineapple & boondi raita
Green chutney & limbu
Aamba pickle.
Unfortunately since TBK host people at their residence, they are sticklers about who they invite. "It helps a lot if we have mutual friends or if you are the prime minister of a country." - TBK
Bohris normally eat their food on a big plate (called a thaal), seated on the floor. But realizing that non bohris are not always comfortable doing that, they do a scam thaal where guests sit on chairs/the sofa and can use their state-of-the-art shiny cutlery.. but they still serve the food on a thaal placed on a table.
There's no lift so you have to climb 2 flights of beautiful wooden stairs!
The contribution is 50% for children under 12 years of age.
They don't have an AC at the residence, but two air coolers instead.