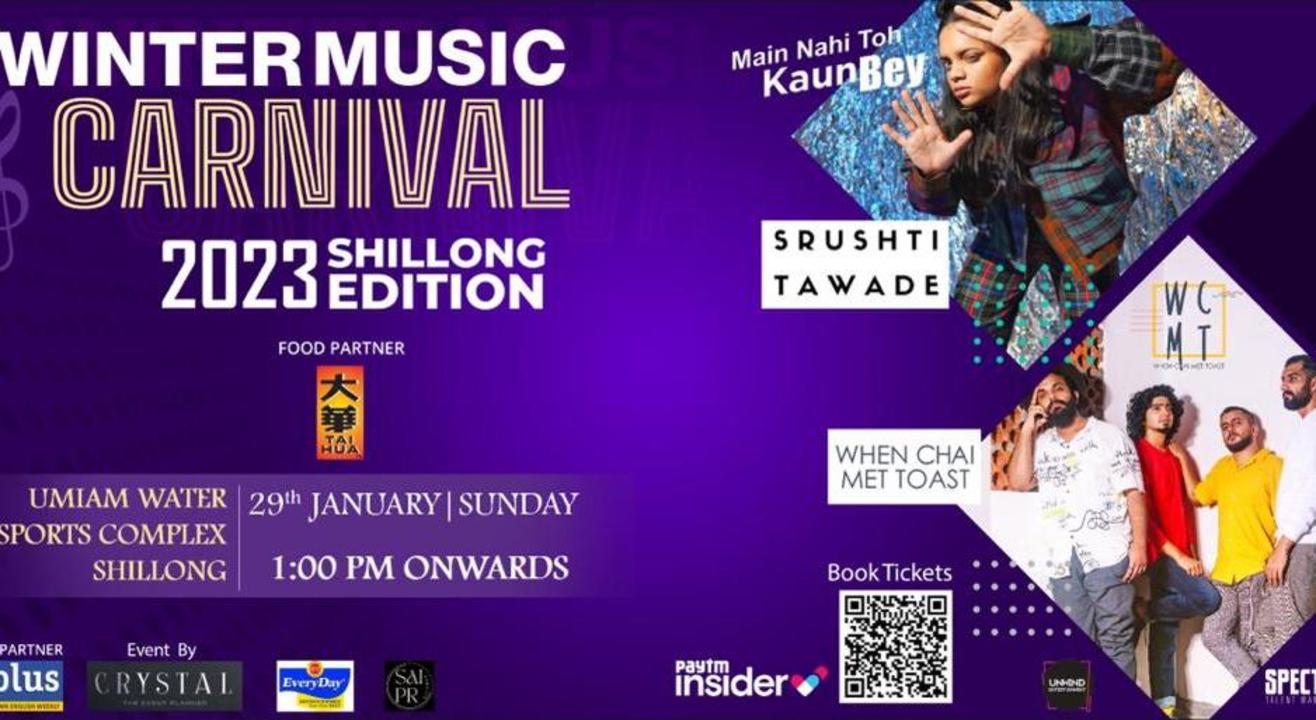 Winter Music Carnival- Shillong Edition 2023
Umiam Water Sports Complex, Shillong
Step out and enjoy this event
Event Guide
For Age(s)
Family Friendly
Invite your friends
and enjoy a shared experience
Winter Music Carnival- Shillong Edition 2023
Umiam Water Sports Complex, Shillong
Step out and enjoy this event
Event Guide
For Age(s)
Family Friendly
Invite your friends
and enjoy a shared experience
Event Guide
For Age(s)
Family Friendly
Covid 19 Safety Measures
This event adheres to the following

Health & safety measures
Limited Capacity
Sanitisation before the show
Organisers wear masks
Proof of Vaccination Required
Invite your friends
and enjoy a shared experience
Covid 19 Safety Measures
This event adheres to the following

Health & safety measures
Limited Capacity
Sanitisation before the show
Organisers wear masks
Proof of Vaccination Required
The festival's theme is primarily Music oriented but Art & Food Lovers will equally
enjoy their time in our festival. We have planned it for everyone to come and celebrate
a high octane fun filled winter evening. Below is the Event Flow day wise.
Event Dates :29th January 2023 (Sunday )
Event Content :
Live Music
DJ Set
Food Stalls
Art & Craft Stall
Local Beverages
Bar Counter ( Above age 21 Yrs)
Each pass admits one person only, in whose name the pass has been reserved ("Entrant"). This pass is non-transferable and ron-refundable.
If your child is below 10 years of age, this pass can be admitted along with the entrant. However, during the time of entry, valid identification of the child is required for admittance.
The event can be rescheduled, cancelled at the sole discretion of CRYSTAL
("Organizers"). The event is subject to force majeure conditions.
Barcode or hologram on the pass should not have been tampered with or otherwise damaged. Unlawful resale (or attempted unlawful resale) of a pass would result in seizure or cancellation of that pass.
Entry is permitted to all age groups. Persons under legal drinking age applicable to the venue will not be served any alcoholic drinks (if any are offered at the Venue). Alcohol will only be served on display of a valid ID and credible age proof.
Entrant grants organizers the right to use, in perpetuity, all or any part of recording of any audio, video or still footage made of the holder's appearance on any channel or magazine for broadcast in any or all media globally and for advertising publicly and promotions relating hereto.
Drugs, cigarettes, lighters, matchbox, arms and ammunition, bottles, cans, tins or any other such material are not permitted inside the venue. As a condition of entry to the venue you agree that the creation, storage or use of any data or any such recordings for any form of public advertisement, display, commercial gain or for any other purpose (except for enjoyment) is not permitted without prior written permission from the Organizers. The Organizers do not take responsibility for the loss or theft of any personal belongings or any injury that the pass holder may incur at the Venue.
Artists at all times remain fully and solely liable and responsible for their actions, expressions and/or views. The Winter Music Carnival will not be responsible for their actions, expressions and/or views, and any claims, damages, outrage arising due to the comments, pictures or videos posted by the Artists on the Channels.
The views expressed by the individual artists and performers ("Artist(s)"), either in course of their performance, or on their social media channels, or any third party channels and platforms, online or offline or otherwise (collectively, "Channels"), are solely their own and neither do they represent those of The Winter Music Carnival nor are they endorsed in any manner by The Winter Music Carnival, its associates and affiliates.
Additionally, The Winter Music Carnival shall not be held liable or responsible for any violation of intellectual property rights that may arise out of any Artist performance.
Organizers reserve the right to perform security checks on invitees/members of the audience at any point. Including the entry point for security reasons. Security procedures, including frisking, remain the right of the management. Your co-operation is solicited.
Strobe lightings at this event may trigger epileptic fits. Those with a history of epilepsy or any health condition that would be of concern must take adequate precautions. This event uses amplified sounds. Wear hearing protection at live concerts to reduce the risk of hearing damages.
Smoking is prohibited in general areas. Designated areas for smoking would be provided.
No drug use – Consumption of narcotics is illegal and those found in possession or consuming narcotics at the event will be handed over to police authorities. Persons suspected of carrying items that may be used in an offensive or dangerous manner or carrying out illegal activities within the site may be searched.
You shall not use or display within the venue any sponsorship, promotional or marketing materials unless authorized by written confirmation from organizers.
Venues rules and regulations, etc. unless in direct conflict with the above shall be applicable in addition to the above.
Wristbands removed from the wrist or tampered with will be rendered invalid and will not be replaced. Lost or missing wristbands will not be replaced. Those without wristbands will be refused admission to the site or may be removed from the festival site.
No plastic should be brought or used within the grounds of the festival.
The Event is open and accessible only for persons that have been double vaccinated against COVID-19. You may be asked to show the documentary proof/certificate of your COVID-19 double vaccination at the venue. You agree to assume all risks, hazards, and dangers arising from or relating in any way to the risk of contracting COVID-19 or any other communicable disease or illness, or a bacteria, virus or other pathogen capable of causing a communicable disease or illness, whether occurring before, during, or after the event, however caused or contracted, and voluntarily waive all claims and potential claims against Echoes of Earth.
COVID SAFETY GUIDELINES
Owing to the recent conditions surrounding the COVID – 19 pandemic, as a pre-condition to gaining access to the venue (events and theatres) you are required to be fully vaccinated and may be required to display your COVID – 19 certificate at the venue as per the various norms /regulations prevailing in the said State. The venue provider and governing authorities reserve the right to exclude any user from the venue if there are sufficient grounds to believe so for failure to abide by the protocols. You agree to exit without protest or refund. Users are required to check the restrictions as applicable in their State
Use of masks is mandatory at all times and the visitors are required to maintain social distancing norms.
The above guidelines are currently mandatory for Delhi/NCR, Maharashtra and Karnataka. These terms and conditions may vary depending on the state where the event is held and are subject to changes
Umiam Water Sports Complex
MV5V+7H3, near Orchid Lake Resort, Umiam, Meghalaya 793122, India
GET DIRECTIONS
Winter Music Carnival- Shillong Edition 2023
Umiam Water Sports Complex, Shillong
Step out and enjoy this event
Event Guide
For Age(s)
Family Friendly
Invite your friends
and enjoy a shared experience