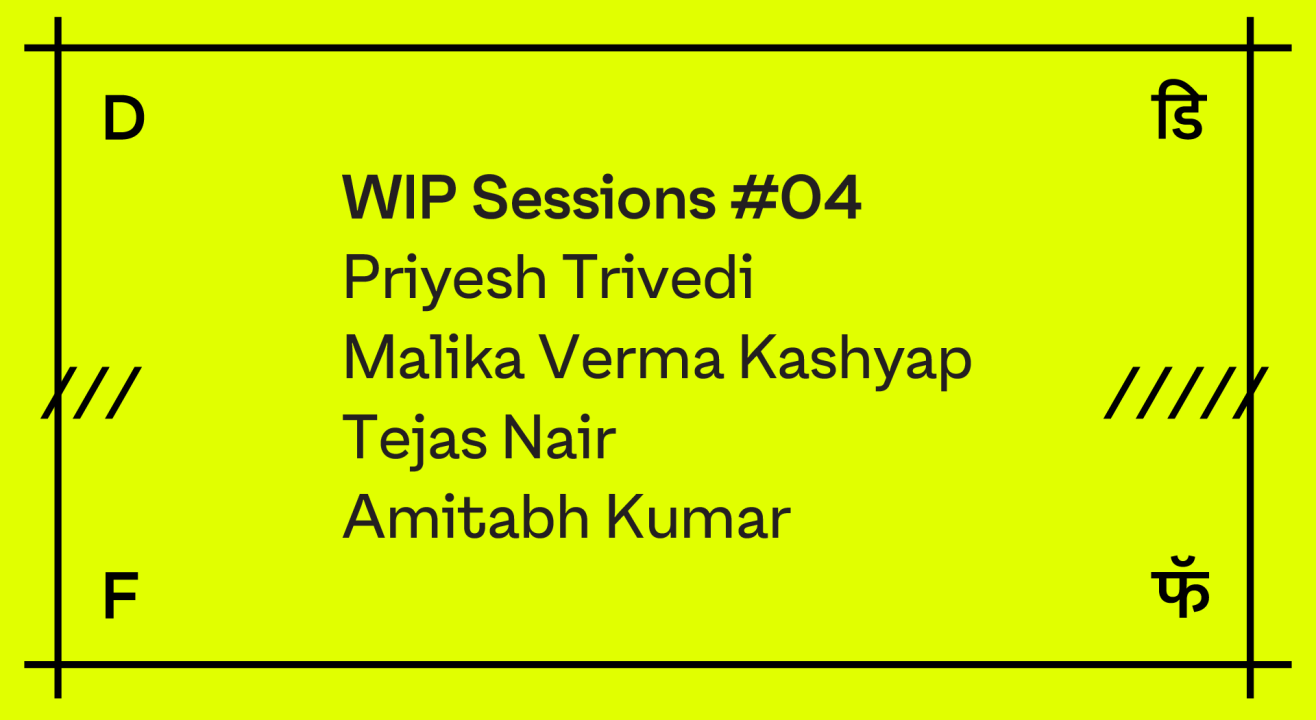 WIP Sessions #04 by Design Fabric
Step out and enjoy this event
Invite your friends
and enjoy a shared experience
WIP Sessions #04 by Design Fabric
Step out and enjoy this event
Invite your friends
and enjoy a shared experience
Invite your friends
and enjoy a shared experience
Design Fabric's 'WIP Sessions' is a monthly event, where Designers and Artists talk about their unfinished, latest and upcoming projects.
For the fourth edition of the WIP Sessions, we have invited Artist Priyesh Trivedi (Adarsh Balak), Musician Tejas Nair (Spryk), Border & Fall Founder Malika Verma Kashyap and Amitabh Kumar from Art in Transit.
Amitabh Kumar, a visual artist is the founding member of the Pao Collective, an Indian comics ensemble and the co-initiator of the Art in Transit project which works extensively across public spaces in Bengaluru, focussing on the emerging Bengaluru Metro Rail Network. He will be tracing the evolution of Art in Transit in his talk.
Malika Verma Kashyap is the founder of 'Border & Fall', a digital publication and strategic agency. Their work includes ongoing talks, residencies and The Sari Series - a cultural film documentation of India's regional sari drapes.
Priyesh Trivedi is a self-taught multidisciplinary visual artist and design professional working with painting, video, installation and new media. He will speak to us about his ongoing project 'आदर्श बालक' (Adarsh Balak), and share some insight on his journey as a visual storyteller.
Spryk is the electronic music & art exploration of Mumbai based Tejas Nair who also runs a boutique sound lab called "Press Play Studio". He is going to talk about his journey from being a classical percussionist to now designing modern music.
Amitabh Kumar / Malika Verma Kashyap / Priyesh Trivedi / Tejas Nair
6:00pm |Gates open
6:30pm | The Sari Series- Film Screening
7:00pm | Malika Verma Kashyap
7:30pm | Amitabh Kumar
8:00pm | Tejas Nair
8:30pm | Priyesh Trivedi
9:00pm | Networking Drinks by White Owl
10:00pm | Session ends
The concept of The Habitat is as simple as being a home for all performers. A home that promotes and supports collaboration between Artists, Performers, Musicians, Stand Up Comedians, Poets, Theatrical Acts, Technicians to create the most conducive environment for growth and learning along with mutually beneficial encounters.
The Habitat
1st Floor, OYO Townhouse (Hotel Unicontinental), Road Number 3, Khar West, Mumbai, Maharashtra 400052
GET DIRECTIONS
WIP Sessions #04 by Design Fabric
Step out and enjoy this event
Invite your friends
and enjoy a shared experience