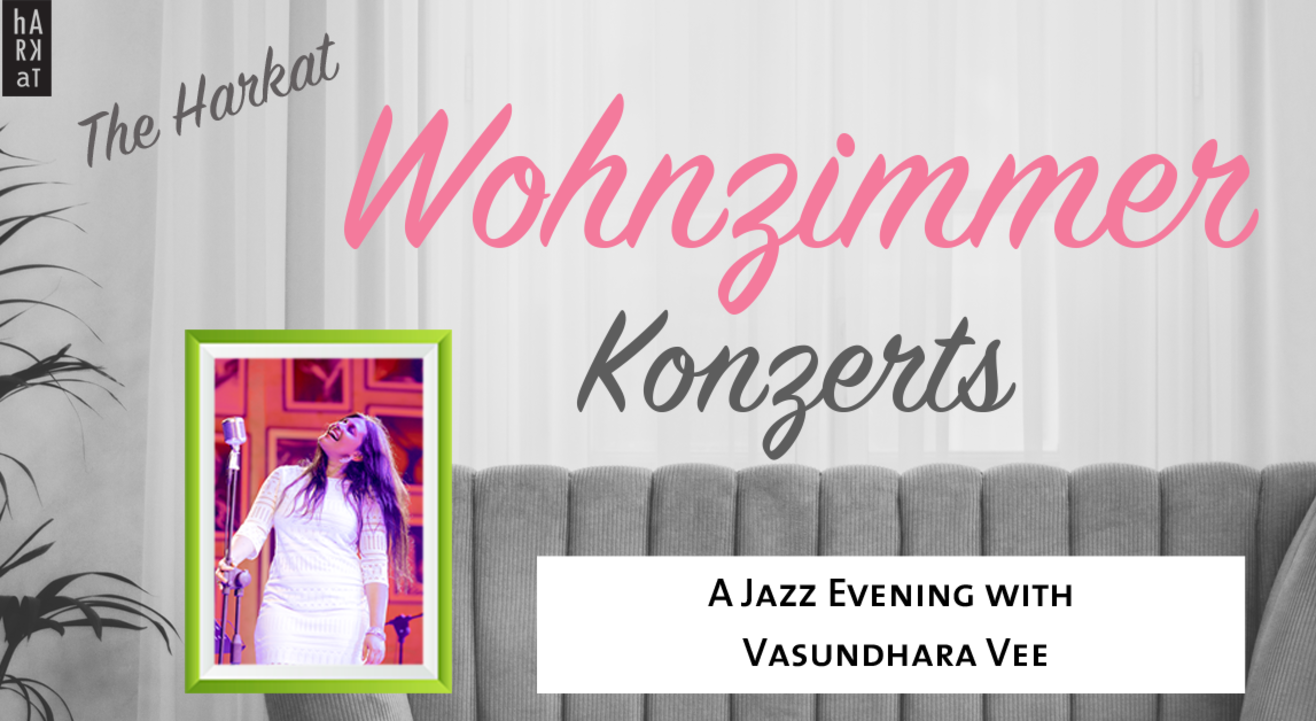 Wohnzimmer Konzert : A Jazz Evening
Harkat Studios, Versova, Mumbai, Mumbai
Step out and enjoy this event
Invite your friends
and enjoy a shared experience
Wohnzimmer Konzert : A Jazz Evening
Harkat Studios, Versova, Mumbai, Mumbai
Step out and enjoy this event
Invite your friends
and enjoy a shared experience
Invite your friends
and enjoy a shared experience
Already the third edition, and this time we are truly eloping into another world.
No better music to let your thoughts drift away than Jazz.
Imagine a silky voice, the soft strumming of a sensual bass and gone you are... lost in a daydream.
This is what Vasundhara and her band's incredibly gorgeous and unusual combination of only Bass & Vocals is all about.
Perfect for monsson, we stay true to our cosy curation perfect with fairy lights and comfy sofas. In a space that feels like your living room - just with much better accoustics.
You are at Harkat Studios Wohnzimmer Konzert.
A concert in our living room. And for a few hours this is your living room.
Intimate, pure and absolutely enchanting - perfect to forget the world outside. No better music to drift into another world than Jazz. Imagine a silky voice, the soft strumming of sensual bass and gone you are, lost in a daydream.
This is what Vasundhara and Saurabh's incredibly majestic and unusual combination of the only bass and vocals is all about.
Vasundhara (Vocals)

Vasundhara Vee is a top Vocal Brand in India for Western Styles of singing. An active propeller of the independent music movement in the country, hers is also a bankable name in bringing together the finest ensembles for Jazz, Soul, RnB, Blues and Funk. She is known to have created new statements in what she calls "The Art of Voice".
Vasundhara was awarded the Best Female Vocalist award at the Jack Daniels Awards in 2014 for her contributions on her debut album 'AMPERSAND' and her single 'If Only', a collaboration with Tarun Balani circulated for months on VH1 and MTVindies.
She founded 'Funkophonie', a project to reinterpret French music with Indian sensibilities.
Just back from various shows across Europe, her silky voice is heading home, catching her breath at the Harkat Wohnzimmer.
Saurabh Suman (Bass)

Saurabh is eminently known to be the groove-keeper for prominent artists such as Dhruv Ghanekar, Shalmali Kholgade, Clinton Cerejo, Ranjit Barot, Louiz Banks and the likes.
He's been playing in Jazz and Jazz-Fusion bands since he can remember and loves to bring rhythm and little twists and nuances to sets mixing Jazz, Funk, Indian Classical or even Ska and Disco.
He spends many months of the year on tour around India and hopping from continent to continent as band leader and musical director for various ensembles.
Now it's time for a quiet evening at Harkat where he will be enticing you with his soulful bass strums.
Harkat Studios, Versova, Mumbai
HARKAT STUDIOS, BUNGALOW 94, FIRST FLOOR, ARAM NAGAR 2, VERSOVA, ANDHERI WEST, 400061-MUMBAI
GET DIRECTIONS
Wohnzimmer Konzert : A Jazz Evening
Harkat Studios, Versova, Mumbai, Mumbai
Step out and enjoy this event
Invite your friends
and enjoy a shared experience