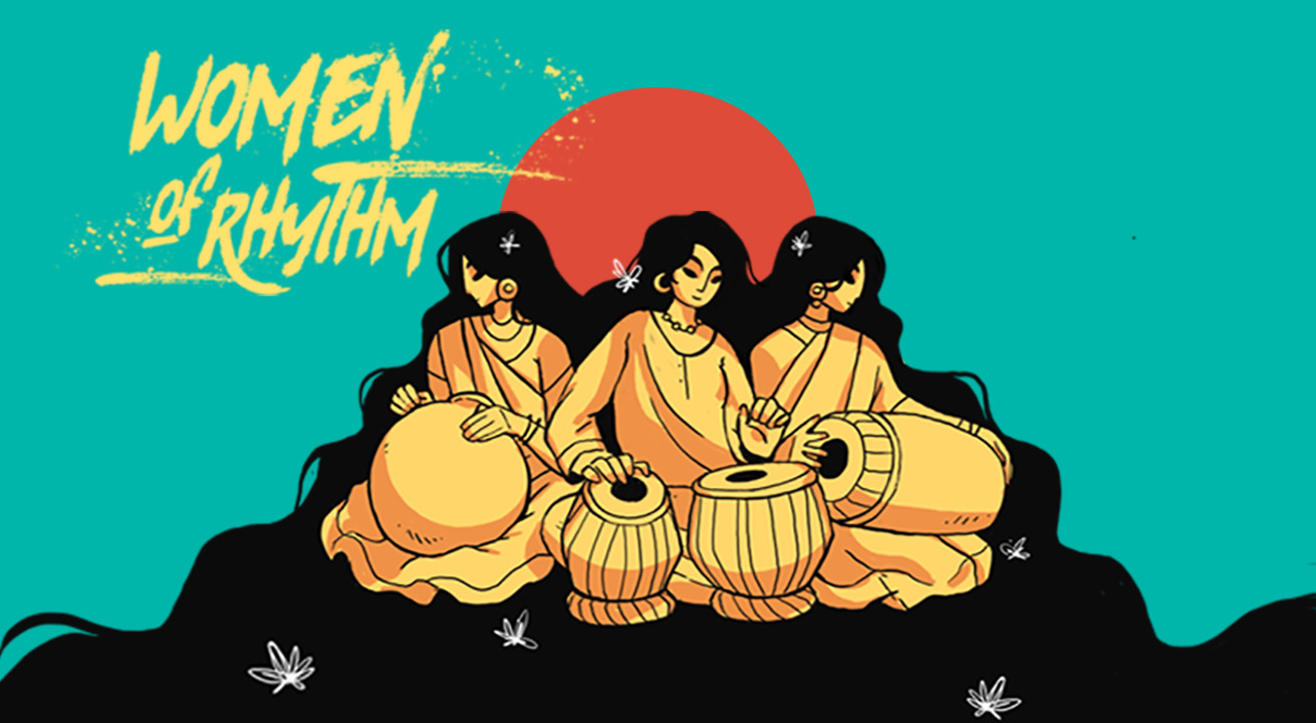 St. Andrew's Auditorium, Mumbai
Step out and enjoy this event
Invite your friends
and enjoy a shared experience
Invite your friends
and enjoy a shared experience
About the Event
They are strong, talented, empowered and highly energetic women. They play percussion and rock at every concert they play. Women of Rhythm brings these amazing percussionists together. On 30th November at St. Andrews Auditorium in Bandra, 15 mind blowing percussionists will perform in 4 sets of 45 minutes each and then come together to jam with each other. From a 16-year-old drummer to the first female ghatam player in the world; and from multi percussionists to a duet of traditional chenda players, this season promises to be as exciting as it gets. So if you want to witness magic, WOMEN OF RHYTHM is where you want to be.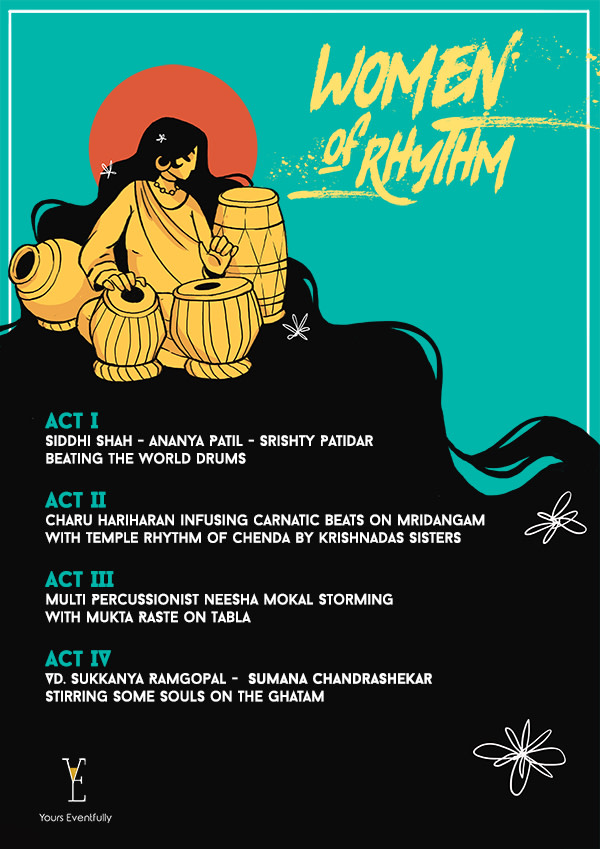 Sukkanya Ramgopal (Ghatam)
Sukkanya Ramgopal is one of the senior most carnatic musicians in India, and the first woman in the world to play the ghatam. She has travelled the world and collaborated with numerous artists. She was recently featured in the Ziro Festival and continues to woo audiences with her mastery of the ghatam. She will be presenting a " Surprise Act" at Women of Rhythm season 3 (and she never fails to impress with her surprises).

Mukta Raste (Tabla)
Mukta Raste has magic in her fingers. Years of regular practice and after learning from the best gurus in the Indian classical music industry, her mastery over the tabla is exhibited clearly in her performance. She is also a fabulous singer. She might just sing a few songs as she plays rhythms for them on her tabla. Something unique and we hope she does.

Neesha Mokal (Multi Percussion)
Percussion is all about fingering techniques on the instrument. And Neesha is a master. Having learnt the tabla for over 9 years, her love for dholki took her to one of the finest teachers. She started learning the dholki (Maharashtrian folk and dance percussion) and soon was playing it like a pro. She started learning the conga and bongo from Shyam Edwankar a little over 7 years ago. Neesha displays tremendous speed and technique on any percussion instrument you give her. She can make any of her contemporaries run real fast for their money.

Charu Hariharan
Charu was born to music. Her mother Dr B Arundhati is a renowned playback and classical singer in South India and her father S. Hariharan is a renowned carnatic musician and teacher.
Charu is one of the very few female musicians who has chosen mridangam as her main instrument. She also plays the khanjira, cajon and other hand percussions.
Charu has recently completed a tour in Europe with jazz musicians and blends in harmoniously using Indian sounds and rhythm.
Charu has also composed music for a few Malayalam movies and is a star in the making.

Siddhi Shah (Multi percussion)
Siddhi Shah is a rockstar. She taught herself to drum at the age of 18 and went on to play with a few all-girls bands before going to Swarnabhoomi Academy of Music in Tamil Nadu to complete her degree in drumming and music. Siddhi also teaches drumming and is currently working in Singapore International School as a full-time drum teacher. Siddhi loves to play the drums and is getting better at it day by day with her extensive practice and commitment.

Ananya Patil (Multi Percussion)
Ananya Patil is a 16-year-old metalhead from Pune. Ananya got attracted to percussion early when she would witness the dhol tasha players during the Ganapati Festival. Soon she was asking her parents to buy her a drum kit and off she went. Ananya continued her drum education at the Furtados School of Music in Pune and is a total heavy metal head. Interested in Indian classical rhythm as well, Ananya has now begun taking lessons to fulfil that dream of hers.

Shrishty Patidar (Multi Percussion)
A drummer by passion, a keyboardist by hobby, and a software engineer by chance.. She played drums continuously for 31 hours, and ended up breaking the previous world record of 24 hours 12 minutes set by a Mexican girl (recognised by Golden Book of World Records). Playing and setting the record was not her goal. It was the perseverance, struggle, financial imbalances, endless days and nights of practice that transformed her entirely as a person and as a musician too.She has been playing various instruments since childhood, but drum are her personal favourite. She has played with various bands based in Indore. Currently working with Namita Choudhary ft. Dorian Nation. She admires various genre and drummers but Anika Nilles and Jost Nickel are her inspirations.

Shobhita Krishnadas (Chenda) & Rahitha Krishnadas (Chenda)
Sisters Shobita and Rahitha are from Trivandrum and are daughters of the world famous chenda master Krishnadas. They began learning the chenda from their father very early and soon were giving stage performances. Chenda is a heavy instrument usually only played by men in the temples of Tamilnadu and Kerala as a part of the Panch Vadyam. It's a rare sight when girls play this instrument and hammer the hell out of the guys.
St. Andrew's Auditorium, Mumbai
St. Dominic Road, Bandra West, Mumbai
GET DIRECTIONS